Back at it again, but this time with all the splendour of adults books. I am sooooo excited about this list, and I can't wait to share all these books with you.
In case you missed it, you can check out my young adult anticipated books here.
Now on with the show…
thank you to Charlotte and Fadwa for some of the fantasy recs.
My Top Anticipated Adult Books: 2022 (part 1)
FANTASY BOOKS
Daughter of the Moon Goddess by Sue Lynn Tan
RELEASE DATE: JANUARY 11TH
REASONS I WANT TO READ:
our main character goes on a quest including legendary creatures
ancient Chinese mythology, inspired by the legend of Chang'e
themes of immortality
the romance between an outcast warrior and gentle prince *please be good*
there is a celestial kingdom !!
author says has YA themes (crossover age group)
SYNOPSIS:
Growing up on the moon, Xingyin is accustomed to solitude, unaware that she is being hidden from the feared Celestial Emperor who exiled her mother for stealing his elixir of immortality. But when Xingyin's magic flares and her existence is discovered, she is forced to flee her home, leaving her mother behind.

Alone, powerless, and afraid, she makes her way to the Celestial Kingdom, a land of wonder and secrets. Disguising her identity, she seizes an opportunity to learn alongside the emperor's son, mastering archery and magic, even as passion flames between her and the prince.

To save her mother, Xingyin embarks on a perilous quest, confronting legendary creatures and vicious enemies across the earth and skies. But when treachery looms and forbidden magic threatens the kingdom, she must challenge the ruthless Celestial Emperor for her dream—striking a dangerous bargain in which she is torn between losing all she loves or plunging the realm into chaos.

Daughter of the Moon Goddess begins an enchanting, romantic duology which weaves ancient Chinese mythology into a sweeping adventure of immortals and magic—where love vies with honor, dreams are fraught with betrayal, and hope emerges triumphant.
The Amber Crown by Jacey Bedford
RELEASE DATE: JANUARY 11TH
REASONS I WANT TO READ:
outcasts who work together *music to my ears*
following the orders of the dead king's ghost
the desire to hand all the power to the queen
the joining together of three failures; a bodyguard, witch and assassin (I am fully expecting a 'maybe the real treasure was the friends we made along the way' moment)
secret mission to save the kingdom
SYNOPSIS:
In this new epic fantasy, three societal outcasts must work together to fulfill the orders of a dead king's ghost or risk their nation falling to a tyrant
The king is dead, his queen is missing. On the amber coast, the usurper king is driving Zavonia to the brink of war. A dangerous magical power is rising up in Biela Miasto, and the only people who can set things right are a failed bodyguard, a Landstrider witch, and the assassin who set off the whole sorry chain of events.
Valdas, Captain of the High Guard, has not only failed in his duty to protect the king, but he's been accused of the murder, and he's on the run. He's sworn to seek justice, but his king sets him another task from beyond the grave. Valdas doesn't believe in magic, which is unfortunate as it turns out.
Mirza is the healer-witch of a Landstrider band, valued and feared in equal measure for her witchmark, her scolding tongue, and her ability to walk the spirit world. When she's given a task by Valdas' dead king, she believes that the journey she must take is one she can never return from.
Lind is the clever assassin. Yes, someone paid him to kill the king, but who is to blame, the weapon or the power behind it? Lind must face his traumatic past if he's to have a future.
Can these three discover the real villain, find the queen, and set the rightful king on the throne before the country is overcome?
Scorpica by G. R. Macallister
RELEASE DATE: FEBRUARY 22ND
REASONS I WANT TO READ:
a tale of five QUEENDOMS *matriarchal society for the win*
political relationships falling apart
multiple POV, multiple stories, multiple excitement
WOMEN !! *it's all I care about*
compared to game of thrones, but feminist
SYNOPSIS:
A centuries-long peace is shattered in a matriarchal society when a decade passes without a single girl being born in this sweeping epic fantasy that's perfect for fans of Robin Hobb and Circe.
Five hundred years of peace between queendoms shatters when girls inexplicably stop being born. As the Drought of Girls stretches across a generation, it sets off a cascade of political and personal consequences across all five queendoms of the known world, throwing long-standing alliances into disarray as each queendom begins to turn on each other—and new threats to each nation rise from within.
Uniting the stories of women from across the queendoms, this propulsive, gripping epic fantasy follows a warrior queen who must rise from childbirth bed to fight for her life and her throne, a healer in hiding desperate to protect the secret of her daughter's explosive power, a queen whose desperation to retain control leads her to risk using the darkest magic, a near-immortal sorcerer demigod powerful enough to remake the world for her own ends—and the generation of lastborn girls, the ones born just before the Drought, who must bear the hopes and traditions of their nations if the queendoms are to survive.
The Justice of Kings by Richard Swan
RELEASE DATE: FEBRUARY 22ND
REASONS I WANT TO READ:
following an Emperor's Justice (detective, judge and executioner)
…one of the most hated Justices
politics
investigating a murder
but his authority gets challenged
and there is a conspiracy ??
is this the beginning to a lawless empire?
SYNOPSIS:
The Justice of Kings, the first in a new epic fantasy trilogy, follows the tale of Sir Konrad Vonvalt, an Emperor's Justice – a detective, judge and executioner all in one. As he unravels a web of secrets and lies, Vonvalt discovers a plot that might destroy his order once and for all – and bring down the entire Empire.
As an Emperor's Justice, Sir Konrad Vonvalt always has the last word. His duty is to uphold the law of the empire using whatever tools he has at his disposal: whether it's his blade, the arcane secrets passed down from Justice to Justice, or his wealth of knowledge of the laws of the empire. But usually his reputation as one of the most revered—and hated—Justices is enough to get most any job done.
When Vonvalt investigates the murder of a noblewoman, he finds his authority being challenged like never before. As the simple case becomes more complex and convoluted, he begins to pull at the threads that unravel a conspiracy that could see an end to all Justices, and a beginning to lawless chaos across the empire.
The City of Dusk by Tara Sim
RELEASE DATE: MARCH 22ND
REASONS I WANT TO READ:
vengeful gods
defiant chosen ones
multiple POV aka let's follow the heirs of noble houses and see the mistakes they make
promises unique worldbuilding; four realms: life, death, light and darkness
multiple types of magic
working together to save the world
SYNOPSIS:
Set in a gorgeous world of bone and shadow magic, of vengeful gods and defiant chosen ones, The City of Dusk is the first in a dark epic fantasy trilogy that follows the four heirs of four noble houses—each gifted with a divine power—as they form a tenuous alliance to keep their kingdom from descending into a realm-shattering war.
The Four Realms—Life, Death, Light, and Darkness—all converge on the city of dusk. For each realm there is a god, and for each god there is an heir.
But the gods have withdrawn their favor from the once vibrant and thriving city. And without it, all the realms are dying.
Unwilling to stand by and watch the destruction, the four heirs—Risha, a necromancer struggling to keep the peace; Angelica, an elementalist with her eyes set on the throne; Taesia, a shadow-wielding rogue with rebellion in her heart; and Nik, a soldier who struggles to see the light— will sacrifice everything to save the city.
But their defiance will cost them dearly.
The Bone Orchard by Sara A. Mueller
RELEASE DATE: MARCH 22ND
REASONS I WANT TO READ:
a gothic world
a whodunit plot
the emperor is dying and he charges one of his concubines with solving his murder
the suspects are his three sons
involves necromantic workers, ghosts and a witch
a prisoner fighting for freedom
should she seek justice or revenge ??
SYNOPSIS:
Sara A. Mueller's The Bone Orchard is a fascinating whodunit set in a lush, gothic world of secrets and magic–where a dying emperor charges his favorite concubine with solving his own murder, and preventing the culprit, which undoubtedly is one of his three terrible sons, from taking control of an empire.
Charm is a witch, and she is alone. The last of a line of conquered necromantic workers, now confined within the yard of regrown bone trees at Orchard House, and the secrets of their marrow.
Charm is a prisoner, and a survivor. Charm tends the trees and their clattering fruit for the sake of her children, painstakingly grown and regrown with its fruit: Shame, Justice, Desire, Pride, and Pain.
Charm is a whore, and a madam. The wealthy and powerful of Borenguard come to her house to buy time with the girls who aren't real.
Except on Tuesdays, which is when the Emperor himself lays claim to his mistress, Charm herself.
But now–Charm is also the only person who can keep an empire together, as the Emperor summons her to his deathbed, and charges her with choosing which of his awful, faithless sons will carry on the empire—by discovering which one is responsible for his own murder.
If she does this last thing, she will finally have what has been denied her since the fall of Inshil — her freedom. But she will also be betraying the ghosts past and present that live on within her heart.
Charm must choose. Her dead Emperor's will or the whispers of her own ghosts. Justice for the empire or her own revenge.
Wild and Wicked Things by Francesca May
RELEASE DATE: MARCH 29TH
REASONS I WANT TO READ:
historical fantasy (post-WW1)
dark magic, romance and murder
our main character reunites with her best friend from the past
there is an enigmatic new neighbour, surrounded by rumours of witchcraft
extravagant parties… will illicit magic (may cause death)
SYNOPSIS:
In the aftermath of World War I, a naive woman is swept into a glittering world filled with dark magic, romance, and murder in this lush and decadent debut.
On Crow Island, people whisper, real magic lurks just below the surface. New to the idyllic summer getaway, Annie Mason is confident those are only rumors. Magic—the kind that leaves soldiers shell shocked and families heartbroken—has been prohibited since the war ended. Now, the closest anyone gets are party tricks designed for the rich and aimless.
Neither real magic nor faux magic interests Annie. Not after it stole her future. She's only on the island to settle her late father's estate and, hopefully, reconnect with her long-absent best friend, Beatrice, who fled their dreary lives for a more glamorous one.
Yet Crow Island is brimming with temptation, and the biggest one may be her enigmatic new neighbor.
Mysterious and alluring, Emmeline Delacroix is a figure shadowed by rumors of witchcraft. And when Annie witnesses a confrontation between Bea and Emmeline at one of the island's extravagant parties, she is drawn into a glittering, haunted world. A world where the boundaries of wickedness are tested, and the cost of illicit magic might be death.
Vagabonds! by Eloghosa Osunde
RELEASE DATE: MARCH 31ST
REASONS I WANT TO READ:
follows people who lives are outlawed- vagabonds- living is a form of resistance
multiple characters
intertwining stories of characters, as they confront or support each other
set in Nigeria, Lagos
vagabonds are seized and challenged by spirits who command the city's dark energy
mixing fantasy with realism
SYNOPSIS:
In the bustling streets and cloistered homes of Lagos, a cast of vivid characters—some haunted, some defiant—navigate danger, demons, and love in a quest to lead true lives.

As in Nigeria, vagabonds are those whose existence is literally outlawed: the queer, the poor, the displaced, the footloose and rogue spirits. They are those who inhabit transient spaces, who make their paths and move invisibly, who embrace apparitions, old vengeances and alternative realities.
Eloghosa Osunde's brave, fiercely inventive novel traces a wild array of characters for whom life itself is a form of resistance: a driver for a debauched politician with the power to command life and death; a legendary fashion designer who gives birth to a grown daughter; a lesbian couple whose tender relationship sheds unexpected light on their experience with underground sex work; a wife and mother who attends a secret spiritual gathering that shifts her world.
As their lives intertwine—in bustling markets and underground clubs, churches and hotel rooms—vagabonds are seized and challenged by spirits who command the city's dark energy. Whether running from danger, meeting with secret lovers, finding their identities, or vanquishing their shadowselves, Osunde's characters confront and support one another, before converging for the once-in-a-lifetime gathering that gives the book its unexpectedly joyous conclusion.

Blending unvarnished realism with myth and fantasy, Vagabonds! is a vital work of imagination that takes us deep inside the hearts, minds, and bodies of a people in duress—and in triumph.
The Bladed Faith by David Dalglish
RELEASE DATE: APRIL 5TH
REASONS I WANT TO READ:
a usurped prince
becomes a deadly assassian (kinda)
in the hopes of reclaiming his kingdom, REVENGE
a mysterious group of revoluntionaries were looking for a figurehead
to be a hero with otherworldly skills
it is about building the illusion of a hero to inspire people
SYNOPSIS:
A usurped prince prepares to take up the mantel of a deadly assassin and reclaim his kingdom, his people, and his slain gods in this epic fantasy from a USA Today bestselling author.
Cyrus was only twelve years old when his gods were slain, his country invaded, and his parents—the king and queen—beheaded in front of him. Held prisoner in the invader's court for years, Cyrus is suddenly given a chance to escape and claim his revenge when a mysterious group of revolutionaries comes looking for a figurehead. They need a hero to strike fear into the hearts of the imperial and to inspire and unite the people. They need someone to take up the skull mask and swords and to become the legendary "Vagrant"—an unparalleled hero and assassin of otherworldly skill.
But all is not as it seems. Creating the illusion of a hero is the work of many, and Cyrus will soon discover the true price of his vengeance.
Spear by Nicola Griffith
RELEASE DATE: APRIL 19TH
REASONS I WANT TO READ:
Arthurian inspired story
short novel, 192 pages
a powerful female warrior
MAGIC !
on an adventure to Caer Leon
meets many people and has many fights (with warriors and sorcerers) along the way
can she find her love (f/f) and her fate?
SYNOPSIS:
The girl knows she has a destiny before she even knows her name. She grows up in the wild, in a cave with her mother, but visions of a faraway lake come to her on the spring breeze, and when she hears a traveler speak of Artos, king of Caer Leon, she knows that her future lies at his court.
And so, brimming with magic and eager to test her strength, she breaks her covenant with her mother and, with a broken hunting spear and mended armour, rides on a bony gelding to Caer Leon. On her adventures she will meet great knights and steal the hearts of beautiful women. She will fight warriors and sorcerers. And she will find her love, and the lake, and her fate.
Kaikeyi by Vaishnavi Patel
RELEASE DATE: APRIL 26TH
REASONS I WANT TO READ:
reimagining of a vilified queen
inspired by the Indian epic, Ramayana
experience the growth of her character as she goes from princess to queen
about a powerful young woman challenging her society
Indian culture and mythology
everything about this book is stunning !!
SYNOPSIS:
In the vein of Madeline Miller's Circe comes a bold and sweeping debut that reimagines the life of Kaikeyi, the vilified queen of the Indian epic the Ramayana.
"I was born on the full moon under an auspicious constellation, the holiest of positions—much good it did me."
So begins Kaikeyi's story, that of a young woman determined to create her own destiny in a world where gods and men dictate the shape of things to come. But as she transforms herself from an overlooked princess into a warrior, diplomat, and most-favored queen, Kaikeyi's will clashes with the path that has been chosen for her family. And she must decide if her resistance is worth the destruction it will wreak.
Nettle & Bone by T. Kingfisher
RELEASE DATE: APRIL 26TH
REASONS I WANT TO READ:
the fairytale feel
a shy girl realising no one is coming to save her, so she takes her future into her own hands
a quest to escape…
…with a gravewitch, reluctant fairygodmother, former knight and a chicken possessed by a demon (where else are you going to read about that?)
battle the evil prince
to save her family (and the kingdom)
she needs to complete three impossible tasks and more to do so
SYNOPSIS:
With her signature mix of the grim and the delightful, award-winning author T. Kingfisher takes the old bones of fantasy and fairytale and makes them into something entirely new in this enchanting adventure.
After years of seeing her sisters suffer at the hands of an abusive prince, Marra—the shy, convent-raised, third-born daughter—has finally realized that no one is coming to their rescue. No one, except for Marra herself.
On her quest, Marra is joined by the gravewitch, a reluctant fairy godmother, a strapping former knight, and a chicken possessed by a demon. Together, the five of them intend to be the hand that closes around the throat of the prince and frees Marra's family and their kingdom from its tyrannous ruler at last.
Seeking help from a powerful gravewitch, Marra is offered the tools to kill a prince—if she can complete three impossible tasks. But, as is the way in tales of princes, witches, and daughters, the impossible is only the beginning.
Elektra by Jennifer Saint
RELEASE DATE: APRIL 28TH
REASONS I WANT TO READ:
Greek mythology inspired
following 3 women
set surrounding The Trojan war
deals with the curse of violence and what it means for each of them
can they escape the curse?
SYNOPSIS:
The House of Atreus is cursed. A bloodline tainted by a generational cycle of violence and vengeance. This is the story of three women, their fates inextricably tied to this curse, and the fickle nature of men and gods.
Clytemnestra
The sister of Helen, wife of Agamemnon – her hopes of averting the curse are dashed when her sister is taken to Troy by the feckless Paris. Her husband raises a great army against them, and determines to win, whatever the cost.
Cassandra
Princess of Troy, and cursed by Apollo to see the future but never to be believed when she speaks of it. She is powerless in her knowledge that the city will fall.
Elektra
The youngest daughter of Clytemnestra and Agamemnon, Elektra is horrified by the bloodletting of her kin. But, can she escape the curse, or is her own destiny also bound by violence?
Siren Queen by Nghi Vo
RELEASE DATE: MAY 10TH
REASONS I WANT TO READ:
Chinese American actress who screams ambition and beauty
it reads like a mix of the seven husbands of evelyn hugo and monsters
i quote … " even if that means becoming the monster herself."
again i would like to emphasis it is 1930s Hollywood with magic and monsters
sapphic !!
discusses what it would be like for a Chinese American actress and her determination for success
SYNOPSIS:
From award-winning author Nghi Vo comes a dazzling new novel where immortality is just a casting call away.
It was magic. In every world, it was a kind of magic.
"No maids, no funny talking, no fainting flowers." Luli Wei is beautiful, talented, and desperate to be a star. Coming of age in pre-Code Hollywood, she knows how dangerous the movie business is and how limited the roles are for a Chinese American girl from Hungarian Hill—but she doesn't care. She'd rather play a monster than a maid.
But in Luli's world, the worst monsters in Hollywood are not the ones on screen. The studios want to own everything from her face to her name to the women she loves, and they run on a system of bargains made in blood and ancient magic, powered by the endless sacrifice of unlucky starlets like her. For those who do survive to earn their fame, success comes with a steep price. Luli is willing to do whatever it takes—even if that means becoming the monster herself.
Siren Queen offers up an enthralling exploration of an outsider achieving stardom on her own terms, in a fantastical Hollywood where the monsters are real and the magic of the silver screen illuminates every page.
The Stardust Thief by Chelsea Abdullah
RELEASE DATE: MAY 17TH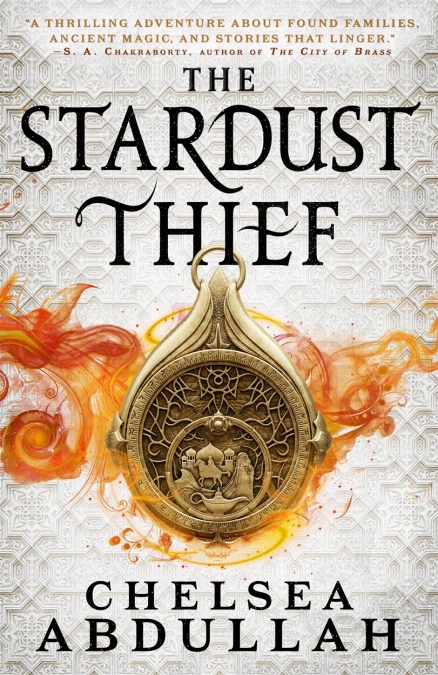 REASONS I WANT TO READ:
involves a jinn bodyguard
she is a merchant, hunting and selling illegal magic
after she saves the life of a cowardly prince, the Sultan (his father) blackmails her into finding an ancient lamp to revive the land
the Sultan's eldest son joins the quest
dealing with ghoul attack, a jinn queen and a killer from her past
a world where story is reality !?!?
SYNOPSIS:
Neither here nor there, but long ago…
Loulie al-Nazari is the Midnight Merchant: a criminal who, with the help of her jinn bodyguard, hunts and sells illegal magic. When she saves the life of a cowardly prince, she draws the attention of his powerful father, the sultan, who blackmails her into finding an ancient lamp that has the power to revive the barren land.
With no choice but to obey or be executed, Loulie journeys with the sultan's oldest son to find the artifact. Aided by her bodyguard, who has secrets of his own, they must survive ghoul attacks, outwit a vengeful jinn queen, and confront a malicious killer from Loulie's past. And, in a world where story is reality and illusion is truth, Loulie will discover that everything—her enemy, her magic, even her own past—is not what it seems.
Wrath Goddess Sing by Maya Deane
RELEASE DATE: JUNE 7TH
REASONS I WANT TO READ:
based on myths of The Iliad, the Trojan War retold
a trans woman's story
to recruit achilles for a war, her divine mother transforms her body into a woman's as she always wanted and is promised victory in war
but the gods have ancient schemes, all blood soaked and nightmarish, for Achilles
and Helen sets out to destroy everything and everyone Achilles cherishes
a battle to the death !!
SYNOPSIS:
Drawing on ancient texts and modern archeology to reveal the trans woman's story hidden underneath the well-known myths of The Iliad, Maya Deane's Wrath Goddess Sing weaves a compelling, pitilessly beautiful vision of Achilles' vanished world, perfect for fans of Song of Achilles and the Inheritance trilogy.
The gods wanted blood. She fought for love.
Achilles has fled her home and her vicious Myrmidon clan to live as a woman with the kallai, the transgender priestesses of Great Mother Aphrodite. When Odysseus comes to recruit the "prince" Achilles for a war against the Hittites, she prepares to die rather than fight as a man. However, her divine mother, Athena, intervenes, transforming her body into the woman's body she always longed for, and promises her everything: glory, power, fame, victory in war, and, most importantly, a child born of her own body. Reunited with her beloved cousin, Patroklos, and his brilliant wife, the sorceress Meryapi, Achilles sets out to war with a vengeance.
But the gods—a dysfunctional family of abusive immortals that have glutted on human sacrifices for centuries—have woven ancient schemes more blood-soaked and nightmarish than Achilles can imagine. At the center of it all is the cruel, immortal Helen, who sees Achilles as a worthy enemy after millennia of ennui and emptiness. In love with her newfound nemesis, Helen sets out to destroy everything and everyone Achilles cherishes, seeking a battle to the death.
An innovative spin on a familiar tale, this is the Trojan War unlike anything ever told, and an Achilles whose vulnerability is revealed by the people she chooses to fight…and chooses to trust.
The Final Strife by Saara El-Arifi
RELEASE DATE: JUNE 23RD
REASONS I WANT TO READ:
an African and Arabian-inspired fantasy
three women band together !!
an Empire that divides people through blood
each woman is from one of the three blood groups
there is blood magic
and trials of combat and skill to find the new leader
powers will shift and cities will burn
bonus: a friends to lovers romance is included !!
SYNOPSIS:
In the first book of a visionary African and Arabian-inspired adult fantasy trilogy, three women band together against a cruel Empire that divides people by blood.
Red is the blood of the elite, of magic, of control.
Blue is the blood of the poor, of workers, of the resistance.
Clear is the blood of the servants, of the crushed, of the invisible.
Sylah dreams of days growing up in the resistance, being told she would spark a revolution that would free the Empire from the red-blooded ruling classes' tyranny. That spark was extinguished the day she watched her family murdered before her eyes.
Anoor has been told she's nothing, no one, a disappointment by the only person who matters: her mother, the most powerful ruler in the Empire. But dust always rises in a storm.
Hassa moves through the world unseen by upper classes, so she knows what it means to be invisible. But invisibility has its uses: It can hide the most dangerous of secrets, secrets that can reignite a revolution.
As the Empire begins a set of trials of combat and skill designed to find its new leaders, the stage is set for blood to flow, power to shift, and cities to burn.
NON-FANTASY BOOKS
Fiona and Jane by Jean Chen Ho
RELEASE DATE: JANUARY 4TH
novel in short stories, fiction, contemporary
REASONS I WANT TO READ:
WITTY
dual POV, in short stories
focuses on a female friendship
navigates sexuality, identity and heartbreaks !!
spans over two decades
captures the emotions of being young and alive, in deep complex ways
SYNOPSIS:
A witty, warm, and irreverent book that traces the lives of two young Taiwanese American women as they navigate friendship, sexuality, identity, and heartbreak over two decades.
Best friends since second grade, Fiona Lin and Jane Shen explore the lonely freeways and seedy bars of Los Angeles together through their teenage years, surviving unfulfilling romantic encounters, and carrying with them the scars of their families' tumultuous pasts. Fiona was always destined to leave, her effortless beauty burnished by fierce ambition–qualities that Jane admired and feared in equal measure. When Fiona moves to New York and cares for a sick friend through a breakup with an opportunistic boyfriend, Jane remains in California and grieves her estranged father's sudden death, in the process alienating an overzealous girlfriend. Strained by distance and unintended betrayals, the women float in and out of each other's lives, their friendship both a beacon of home and a reminder of all they've lost.
In stories told in alternating voices, Jean Chen Ho's debut collection peels back the layers of female friendship–the intensity, resentment, and boundless love–to probe the beating hearts of young women coming to terms with themselves, and each other, in light of the insecurities and shame that holds them back.
Spanning countries and selves, Fiona and Jane is an intimate portrait of a friendship, a deep dive into the universal perplexities of being young and alive, and a bracingly honest account of two Asian women who dare to stake a claim on joy in a changing, contemporary America.
The School For Good Mothers by Jessamine Chan
RELEASE DATE: JANUARY 4TH
sci-fi/dystopian, literary fiction, contemporary
REASONS I WANT TO READ:
deals with motherhood, and the pressure society puts on mothers to be perfect
set in a dystopian-esque world where she is sent to a big-brother like institution that measures the success or failure of a mother's devotion
it's a witty page-turner
examines the violence enacted upon women by the state and each other
themes of a mother's love !!
SYNOPSIS:
In this taut and explosive debut novel, one lapse in judgement lands a young mother in a government reform program where custody of her child hangs in the balance.

Frida Liu is struggling. She doesn't have a career worthy of her Chinese immigrant parents' sacrifices. What's worse is she can't persuade her husband, Gust, to give up his wellness-obsessed younger mistress. Only with their angelic daughter Harriet does Frida finally feel she's attained the perfection expected of her. Harriet may be all she has, but she's just enough.

Until Frida has a horrible day.

The state has its eyes on mothers like Frida — one's who check their phones while their kids are on the playground; who let their children walk home alone; in other words, mothers who only have one lapse of judgement. Now, a host of government officials will determine if Frida is a candidate for a Big Brother-like institution that measures the success or failure of a mother's devotion. Faced with the possibility of losing Harriet, Frida must prove that she can live up to the standards set for mothers — that she can learn to be good.

This propulsive, witty page-turner explores the perils of "perfect" upper-middle-class parenting, the violence enacted upon women by the state and each other, and the boundless love a mother has for her daughter.
Honor by Thrity Umrigar
RELEASE DATE: JANUARY 4TH
literary fiction, contemporary
REASONS I WANT TO READ:
set in India
follows two women's story; one arriving in India to cover a story, the other the subject of the article
a novel about love, hope, familial devotion, betrayal, and sacrifice
shows us two courageous women trying to navigate how to be true to their homelands and themselves at the same time
SYNOPSIS:
In this riveting and immersive novel, bestselling author Thrity Umrigar tells the story of two couples and the sometimes dangerous and heartbreaking challenges of love across a cultural divide.

Indian American journalist Smita has returned to India to cover a story, but reluctantly: long ago she and her family left the country with no intention of ever coming back. As she follows the case of Meena—a Hindu woman attacked by members of her own village and her own family for marrying a Muslim man—Smita comes face to face with a society where tradition carries more weight than one's own heart, and a story that threatens to unearth the painful secrets of Smita's own past. While Meena's fate hangs in the balance, Smita tries in every way she can to right the scales. She also finds herself increasingly drawn to Mohan, an Indian man she meets while on assignment. But the dual love stories of Honor are as different as the cultures of Meena and Smita themselves: Smita realizes she has the freedom to enter into a casual affair, knowing she can decide later how much it means to her.
In this tender and evocative novel about love, hope, familial devotion, betrayal, and sacrifice, Thrity Umrigar shows us two courageous women trying to navigate how to be true to their homelands and themselves at the same time.
Wahala by Nikki May
RELEASE DATE: JANUARY 6TH
thriller, contemporary
REASONS I WANT TO READ:
friendship centric story
following mixed-race women in their 30s, each going through their own personal problems
they are forced to reckon with a crime from their past
commentary on love, family, class, race and colourism
set in London
darkly comic *thankful for this humour, always*
SYNOPSIS:
See me, see trouble.
Ronke, Simi, Boo are three mixed-race friends living in London. They have the gift of two cultures, Nigerian and English, though they don't all choose to see it that way.
Everyday racism has never held them back, but now in their thirties, they question their future. Ronke wants a husband (he must be Nigerian); Boo enjoys (correction: endures) stay-at-home motherhood; while Simi, full of fashion career dreams, rolls her eyes as her boss refers to her 'urban vibe' yet again.
When Isobel, a lethally glamorous friend from their past arrives in town, she is determined to fix their futures for them.
Cracks in their friendship begin to appear, and it is soon obvious Isobel is not sorting but wrecking. When she is driven to a terrible act, the women are forced to reckon with a crime in their past that may just have repeated itself.
A darkly comic and bitingly subversive take on love, race and family, Wahala will have you laughing, crying and gasping in horror. Boldly political about class, colorism and cooking, here is a truly inclusive tale that will speak to anyone who has ever cherished friendship, in all its forms.
Violeta by Isabel Allende
RELEASE DATE: JANUARY 25TH
historical fiction
REASONS I WANT TO READ:
told through letters to someone she loves
spanning from 1920 to 2020, including many momumental moments
set in Chile
witness her whole life from the Spanish flu, Great Depression, moving into the countryside, her first suitor, the fight for women's rights, the rise and fall of tyrants and two pandemics
passion, determination and a sense of humour has seen her through it all
an EPIC, inspiring and emotional story
SYNOPSIS:
This sweeping novel from the New York Times bestselling author of A Long Petal of the Sea tells the epic story of Violeta del Valle, a woman whose life spans one hundred years and bears witness to the greatest upheavals of the twentieth century.
Violeta comes into the world on a stormy day in 1920, the first girl in a family of five boisterous sons. From the start, her life will be marked by extraordinary events, for the ripples of the Great War are still being felt, even as the Spanish flu arrives on the shores of her South American homeland almost at the moment of her birth.
Through her father's prescience, the family will come through that crisis unscathed, only to face a new one as the Great Depression transforms the genteel city life she has known. Her family loses all and is forced to retreat to a wild and beautiful but remote part of the country. There, she will come of age, and her first suitor will come calling. . . .
She tells her story in the form of a letter to someone she loves above all others, recounting devastating heartbreak and passionate affairs, times of both poverty and wealth, terrible loss and immense joy. Her life will be shaped by some of the most important events of history: the fight for women's rights, the rise and fall of tyrants, and, ultimately, not one but two pandemics.
Told through the eyes of a woman whose unforgettable passion, determination, and sense of humor will carry her through a lifetime of upheaval, Isabel Allende once more brings us an epic that is both fiercely inspiring and deeply emotional.
Black Cake by Charmaine Wilkerson
RELEASE DATE: FEBRUARY 1ST
contemporary. literary fiction
REASONS I WANT TO READ:
in production to be a Hulu show
two estranged siblings
dealing with their mother's death and her hidden past
can the siblings reclaim their once-close relationship?
emphasis on relationships and history
SYNOPSIS:
In this moving debut novel, two estranged siblings must set aside their differences to deal with their mother's death and her hidden past–a journey of discovery that takes them from the Caribbean to London to California and ends with her famous black cake.
In present-day California, Eleanor Bennett's death leaves behind a puzzling inheritance for her two children, Byron and Benny: a traditional Caribbean black cake, made from a family recipe with a long history, and a voice recording. In her message, Eleanor shares a tumultuous story about a headstrong young swimmer who escapes her island home under suspicion of murder. The heartbreaking journey Eleanor unfolds, the secrets she still holds back, and the mystery of a long-lost child, challenge everything the siblings thought they knew about their family, and themselves.
Can Byron and Benny reclaim their once-close relationship, piece together Eleanor's true history, and fulfill her final request to "share the black cake when the time is right?" Will their mother's revelations bring them back together or leave them feeling more lost than ever?
Charmaine Wilkerson's debut novel is a story of how the inheritance of betrayals, secrets, memories, and even names, can shape relationships and history. Deeply evocative and beautifully written, Black Cake is an extraordinary journey through the life of a family changed forever by the choices of its matriarch.
Clean Air by Sarah Blake
RELEASE DATE: FEBRUARY 8TH
sci-fi/dystopian
REASONS I WANT TO READ:
climate apocalypse based dystopian where the air became unbreathable and the world is overgrown with trees (yes)
mother main character
the peace of the new world is shattered as the protective domes are being slashed, causing death
Her daughter starts sleep-talking to the murderer, but she doesn't remember it in the morning, so her mother starts to investigate
includes wry humour
themes of motherhood, control and choice
SYNOPSIS:
"We couldn't breathe the air. To some people it seemed quick, sudden even. To some it seemed gradual. In hindsight, everyone said the signs were there."
A decade has passed since The Turning. The climate apocalypse has come and gone, and in the end it wasn't the waters rising, as the scientists predicted, nor the temperature climbing, nor the forest fires spreading. It was pollen—spring allergies becoming worse and worse until the air became unbreathable, the world overgrown with trees.
In the past ten years, humanity has rebuilt, and Izabel has gotten used to the airtight domes that now contain her life. She raises her young daughter and attempts to make peace with her mother's death. She tries hard to be satisfied with this new world, safe and prosperous as it is. Instead she feels stuck.
And then the peace of the new world is shattered. Someone starts slashing through the domes at night, exposing people to the deadly pollen—a serial killer. Almost simultaneously, Izabel's daughter Cami begins sleep-talking, having whole conversations about the murders that she doesn't seem to remember after she wakes. Izabel becomes fixated on the killer, both tracking him down and figuring out the type of man he might be. What could compel someone to kill, after ten years dedicated to sheer survival, with humanity finally flourishing again?
Suspenseful and startling, but also written with a wry, observant humor, Clean Air will appeal to readers of The Need, The Leftovers, and Fever Dream as it probes motherhood and grief, control and choice.
I'm So (Not) Over You by Kosoko Jackson
RELEASE DATE: FEBRUARY 22ND
romance, contemporary
REASONS I WANT TO READ:
it's a swoony rom-com
second chance romance
fake dating too !!
set at a wedding, the wedding of the season
here's hoping it could lead to a big break in his journalist career
romantic feelings, ofc !!!
SYNOPSIS:
A chance to rewrite their ending is worth the risk in this swoony romantic comedy from Kosoko Jackson.
It's been months since aspiring journalist Kian Andrews has heard from his ex-boyfriend, Hudson Rivers, but an urgent text has them meeting at a café. Maybe Hudson wants to profusely apologize for the breakup. Or confess his undying love. . . But no, Hudson has a favor to ask–he wants Kian to pretend to be his boyfriend while his parents are in town, and Kian reluctantly agrees.
The dinner doesn't go exactly as planned, and suddenly Kian is Hudson's plus one to Georgia's wedding of the season. Hudson comes from a wealthy family where reputation is everything, and he really can't afford another mistake. If Kian goes, he'll help Hudson preserve appearances and get the opportunity to rub shoulders with some of the biggest names in media. This could be the big career break Kian needs.
But their fake relationship is starting to feel like it might be more than a means to an end, and it's time for both men to fact-check their feelings.
Tripping Arcadia by Kit Mayquist
RELEASE DATE: FEBRUARY 22ND
gothic, thriller, contemporary
REASONS I WANT TO READ:
Lena ends up working for one of Boston's most elite families to earn money for her family, even if the job is very elusive
dealing with everything from a mysterious illness to lavish parties and the self-destructive tendencies of the family
when she discovers the patriarch is responsible for ruining her own family, she vows revenge.
how much is she willing to sacrifice?
a poison-filled quest !!
SYNOPSIS:
From debut author Kit Mayquist, a propulsive and atmospheric modern Gothic with all the splendor of The Great Gatsby . . . and all the secrets, lies, and darkness that opulence can hide.
Med school dropout Lena is desperate for a job, any job, to help her parents, who are approaching bankruptcy after her father was injured and laid off nearly simultaneously. So when she is offered a position, against all odds, working for one of Boston's most elite families, the illustrious and secretive Verdeaus, she knows she must accept it—no matter how bizarre the interview or how vague the job description.
By day, she is assistant to the family doctor and his charge, Jonathan, the sickly, poetic, drunken heir to the family empire, who is as difficult as his illness is mysterious. By night, Lena discovers the more sinister side of the family, as she works overtime at their lavish parties, helping to hide their self-destructive tendencies . . . and trying not to fall for Jonathan's alluring sister, Audrey. But when she stumbles upon the knowledge that the Verdeau patriarch is the one responsible for the ruin of her own family, Lena vows to get revenge—a poison-filled quest that leads her further into this hedonistic world than she ever bargained for, forcing her to decide how much—and who—she's willing to sacrifice for payback.
The perfect next read for fans of Mexican Gothic, Tripping Arcadia is a page-turning and shocking tale with an unforgettable protagonist that explores family legacy and inheritance, the sacrifices we must make to get by in today's world, and the intoxicating, dangerous power of wealth.
The Swimmers by Julie Otsuka
RELEASE DATE: FEBRUARY 22ND
contemporary, fiction
REASONS I WANT TO READ:
a group of obsessed recreational swimmers
when a crack appears at the bottom of the pool, they lose their place of solace
following Alice's daughter as she witnesses her mother's decline when she can't swim, battling dementia as memories from her childhood and the Japenese internment camp resurface
an intimate story of mothers and daughters
capturing the sorrows of loss
SYNOPSIS:
From the award-winning author of The Buddha in the Attic and When the Emperor Was Divine, a tour de force of economy, precision, and emotional power about what happens to a group of obsessed recreational swimmers when a crack appears at the bottom of their local pool.
The swimmers are unknown to each other except through their private routines (slow lane, fast lane), and the solace each takes in their morning or afternoon laps. But when a crack appears at the bottom of the pool, they are cast out into an unforgiving world without comfort or relief.
One of these swimmers is Alice, who is slowly losing her memory. For Alice, the pool was a final stand against the darkness of her encroaching dementia. Without the fellowship of other swimmers and the routine of her daily laps she is plunged into dislocation and chaos, swept into memories of her childhood and the Japanese internment camp in which she spent the war. Narrated by Alice's daughter, who witnesses her stark and devastating decline, The Swimmers is a searing, intimate story of mothers and daughters, and the sorrows of implacable loss, written in spellbinding, incantatory prose.
The most commanding and unforgettable work yet from a modern master.
Good Intentions by Kasim Ali
RELEASE DATE: MARCH 3RD
contemporary, romance
REASONS I WANT TO READ:
about love, family, obligation and finding your way
Nur has been in love for 4 years but his Pakistani parents don't know about her
Wanting to preserve his image as the golden child, he has hid that he has built a life with a woman he loves and she is black
but now he has promised himself, he is going to tell them
exploring family obligation and racial prejudice alongside the flush of first love
set in Britain
SYNOPSIS:
A heartwrenching and beautifully told debut novel about love, family obligation and finding your way.
Nur and Yasmina are in love
They've been together for four happy years
But Nur's parents don't know that Yasmina exists
As Nur's family counts down to midnight on New Year's Eve, Nur is watching the clock more closely than most: he has made a pact with himself, and with his girlfriend, Yasmina, that at midnight he will finally tell his Pakistani parents the truth. That he has spent years hiding his personal life from them to preserve his image as the golden child. That he has built a life with a woman he loves and she is Black.
Nur wants to be the good son his parents ask him to be, and the good boyfriend Yasmina needs him to be. But as everything he holds dear is challenged, he is forced to ask, is love really a choice for a second-generation immigrant son like him?
Deftly exploring family obligation and racial prejudice alongside the flush of first love, Good Intentions is a captivating and powerful modern love story that announces a thrilling new voice in British fiction.
Lesssons in Chemistry by Bonnie Garmus
RELEASE DATE: APRIL 5TH
historical, contemporary
REASONS I WANT TO READ:
set in 1960's California
scientist female main character who is the only woman in the team
years later, as a single mother, she relectuantly becomes the star of a cooking show
the show takes off with her unique approach.
but not everyone is happy with her as she encourages women to change the status quo
a funny and observant story
SYNOPSIS:
A delight for readers of Where'd You Go, Bernadette and The Marvelous Mrs. Maisel, this blockbuster debut set in 1960s California features the singular voice of Elizabeth Zott, a scientist whose career takes a detour when she becomes the star of a beloved TV cooking show.
Chemist Elizabeth Zott is not your average woman. In fact, Elizabeth Zott would be the first to point out that there is no such thing as an average woman. But it's the early 1960s and her all-male team at Hastings Research Institute takes a very unscientific view of equality. Except for one: Calvin Evans; the lonely, brilliant, Nobel-prize nominated grudge-holder who falls in love with–of all things–her mind. True chemistry results.
But like science, life is unpredictable. Which is why a few years later Elizabeth Zott finds herself not only a single mother, but the reluctant star of America's most beloved cooking show Supper at Six. Elizabeth's unusual approach to cooking ("combine one tablespoon acetic acid with a pinch of sodium chloride") proves revolutionary. But as her following grows, not everyone is happy. Because as it turns out, Elizabeth Zott isn't just teaching women to cook. She's daring them to change the status quo.
Laugh-out-loud funny, shrewdly observant, and studded with a dazzling cast of supporting characters, Lessons in Chemistry is as original and vibrant as its protagonist.
The Hacienda by Isabel Cañas
RELEASE DATE: MAY 10TH
horror, gothic, historical
REASONS I WANT TO READ:
supernatural suspense novel
after losing her father and home, Beatriz agrees to marry the man whose first wife had a mysterious demise.
her new home is not the sanctuary she imagined
visions and voices invade her sleep, the cook marks the doorway with strange symbols and her sister-in-law won't enter the house at night
Beatrix looks to the priest, who has skills as a witch to battle the presence
SYNOPSIS:
Mexican Gothic meets Rebecca in this debut supernatural suspense novel, set in the aftermath of the Mexican War of Independence, about a remote house, a sinister haunting, and the woman pulled into their clutches…
In the overthrow of the Mexican government, Beatriz's father is executed and her home destroyed. When handsome Don Rodolfo Solórzano proposes, Beatriz ignores the rumors surrounding his first wife's sudden demise, choosing instead to seize the security his estate in the countryside provides. She will have her own home again, no matter the cost.
But Hacienda San Isidro is not the sanctuary she imagined.
When Rodolfo returns to work in the capital, visions and voices invade Beatriz's sleep. The weight of invisible eyes follows her every move. Rodolfo's sister, Juana, scoffs at Beatriz's fears—but why does she refuse to enter the house at night? Why does the cook burn copal incense at the edge of the kitchen and mark its doorway with strange symbols? What really happened to the first Doña Solórzano?
Beatriz only knows two things for certain: Something is wrong with the hacienda. And no one there will help her.
Desperate for help, she clings to the young priest, Padre Andrés, as an ally. No ordinary priest, Andrés will have to rely on his skills as a witch to battle the malevolent presence haunting the hacienda.
Far from a refuge, San Isidro may be Beatriz's doom.
You Made a Foold of Death With Your Beauty by Akwaeke Emezi
RELEASE DATE: MAY 24TH
romance, contemporary, fiction
REASONS I WANT TO READ:
following a main character as she discovers joy again
deals with grief and healing
an artist main character
a summer romance
and a trip to a tropical island
the addition of another potential romance, but they are off-limits !!
SYNOPSIS:
A New York Times bestselling author and National Book Award finalist reimagines the love story in this fresh and seductive novel about a young woman seeking joy while healing from loss.
Feyi Adekola wants to learn how to be alive again.
It's been five years since the accident that killed the love of her life and she's almost a new person now—an artist with her own studio, and sharing a brownstone apartment with her ride-or-die best friend, Joy, who insists it's time for Feyi to ease back into the dating scene. Feyi isn't ready for anything serious, but a steamy encounter at a rooftop party cascades into a whirlwind summer she could have never imagined: a luxury trip to a tropical island, decadent meals in the glamorous home of a celebrity chef, and a major curator who wants to launch her art career.
She's even started dating the perfect guy, but their new relationship might be sabotaged before it has a chance by the dangerous thrill Feyi feels every time she locks eyes with the one person in the house who is most definitely off-limits. This new life she asked for just got a lot more complicated, and Feyi must begin her search for real answers. Who is she ready to become? Can she release her past and honor her grief while still embracing her future? And, of course, there's the biggest question of all—how far is she willing to go for a second chance at love?
Akwaeke Emezi's vivid and passionate writing takes us deep into a world of possibility and healing, and the constant bravery of choosing love against all odds.
Thank you for reading. I hope you have been able to find some new books for your TBR.
Are you looking forward to any of these books? What adult books coming out in early 2022 have I missed out?