I love music, therefore, books following music groups, music or wannabe singers are something I am interested in. With the success of Daisy Jones and the Six, I thought they would be more common but as it took me a while to discover these recommendations, I thought I would share the books I found. In case anyone else is looking for some stories about music.
adult books
daisy jones and the six by Taylor Jenkins Reid
genre: historical, romance
Told in interview format, the whirlwind rise of an iconic 1970s rock group and their beautiful lead singer, Daisy Jones and The Six, reveals the real reason why they split at the absolute height of their popularity.
Daisy Jones is a girl coming of age in L.A, the sex and drugs are thrilling, but it's the rock and roll she loves most. The Six is led by the brooding Billy Dunne, soon-to-be father. Daisy and Billy cross paths when a producer realizes the key to supercharged success is to put the two together. What happens next will become the stuff of legend.
the final revival of opal & nev by dawnie Walton
genre: historical, lit fic
Opal believes she can be a star. So when the aspiring British singer/songwriter Neville Charles discovers her at a bar's amateur night, she takes him up on his offer to make rock music together.
As she establishes herself in the early 70s, a rival band brandishes a confederate flag at a concert. Opal's bold protest will set off a chain of events that change the lives of those she loves and a deadly reminder of the repercussions of a Black woman speaking the truth.
Decades later, as Opal considers a 2016 reunion with Nev, music journalist S. Sunny Shelton seizes the chance to curate an oral history about her idols. Sunny thought she knew most of the stories leading up to the cult duo's most politicized chapter. But as her interviews dig deeper, a nasty new allegation from an unexpected source threatens to blow up everything.
bootleg stardust by Glenn Dixon
genre: historical
It's 1974. The music world is rocking with bellbottoms, platform shoes, and lots and lots of drugs. For high school dropout Levi Jaxon, things aren't so great. His dream is to someday be a rock star, but he has a problem—his own band has just broken up.
In a stroke of luck, Levi lands an audition for Downtown Exit, who are recording their second album at Abbey Road Studios. He aces his audition, only to learn he's not really in the band. No, Levi's job is to sit in the wings and cover for the band's real guitarist when he inevitably starts tripping on stage.
He must first navigate egos, jealousies, and deceptions as the band tours through Europe and struggles to finish their new album. Along the way, Levi comes face to face with unanswered questions from his past and the impossible price that fame demands.
mary jane by Jessica Anya Blau
genre: historical, coming-of-age
In 1970s Baltimore, fourteen-year-old Mary Jane is shy, quiet, and bookish, and glad when she lands a summer job as a nanny for the daughter of a local doctor. A respectable job, Mary Jane's mother says. The house may look respectable on the outside, but inside it's a literal and figurative mess. And even more troublesome, the doctor is a psychiatrist who has cleared his summer for one important job—helping a famous rock star dry out. A week after Mary Jane starts, the rock star and his movie star wife move in.
Now Mary Jane has a front-row seat to a liberal world of sex, drugs, and rock-and-roll (not to mention group therapy). Caught between the lifestyle she's always known and the future she's only just realized is possible, Mary Jane will arrive with a new idea about what she wants out of life, and what kind of person she's going to be.
the people we keep by Allison Larkin
genre: historical
Little River, New York, 1994: April Sawicki is failing out of school, picking up shifts at Margo's diner, she's left fending for herself in a town where she's never quite felt at home. When she "borrows" her neighbour's car to perform at an open mic night, she realizes her life could be much bigger than where she came from.
As April moves through the world, meeting people who feel like home, she chronicles her life in the songs she writes and discovers that where she came from doesn't dictate who she has to be.
how to kill a rock star by Tiffanie deBartolo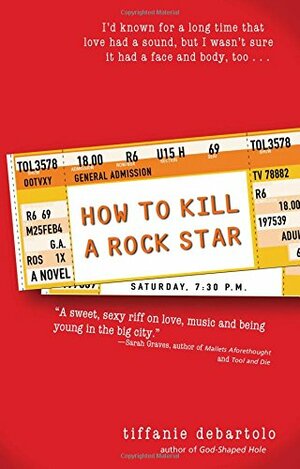 genre: contemporary, romance
Eliza Caelum, a young music journalist, is finally getting her footing in New York when she meets Paul Hudson, a talented songwriter and lead singer of the band Bananafish. They soon realize they share more than a reverence for rock music and plunge headlong into love.
When Bananafish is signed by a big corporate label, and Paul is on his way to becoming a major rock star, Eliza's past forces her to make a heartbreaking decision that might be the key to Paul's sudden disappearance.
a visit from the goon squad by Jennifer Egan
genre: lit fic
A collection of narratives around the lives of Bennie Salazar, an ageing former punk rocker and record executive, and Sasha, the passionate, troubled young woman he employs. Although Bennie and Sasha never discover each other's pasts, the reader does, in intimate detail, along with the secret lives of a host of other characters whose paths intersect with theirs, over many years, in locales as varied as New York, San Francisco, Naples, and Kenya.
This is a book about the interplay of time and music, about survival, about the stirrings and transformations set inexorably in motion by even the most passing conjunction of our fates.
the unravelling of Cassidy holmes by Elissa r. Sloan
genre: historical/contemporary, mystery
Cassidy Holmes isn't just a celebrity. She is "Sassy Gloss," the fourth member of the hottest pop group America has ever seen. Fans couldn't get enough of them, their music, and the drama that followed them until the group's sudden implosion in 2002. And at the centre of it all was Sassy Cassy. But now she's dead. Suicide.
The world is reeling from this unexpected news, but no one is more shocked than the three remaining Glossies. Fifteen years ago, Rose, Merry, and Yumi had been the closest to Cassidy, and this loss is hitting them hard. Even after years apart, each of them is wondering: what could they have done?
Told in multiple perspectives—including Cassidy herself—and different timelines, this is a behind-the-scenes look into the rise and fall of a pop icon, and a penetrating examination of the dark side of celebrity and the industry that profits from it.
don't sleep with your drummer by Jen sincero
genre: contemporary, romance
At twenty-eight, Jenny Troanni has decided to become the rock goddess she was always meant to be. After auditioning every musician in the greater Los Angeles area, Jenny finds the perfect lineup, and 60-Foot Queenie is born.
But while revelling in free tequila shots, autograph hunters, and other perks of minor stardom, Jenny realizes with a shock that 60-Foot Queenie is poised to become even bigger than she imagined. Suddenly, she's learning the real lessons of Rock and Roll High School, including the danger of trusting a record company executive who ties a ponytail in his goatee, and the ten telltale signs your bass player is living in your practice space.
Part diary, part crash course in rock stardom, this is a guide through the pleasures and pitfalls of the music industry- from the beginning to the bitter end, and back again.
sorrow by Tiffanie deBartolo
genre: contemporary, lit fic, romance
Joe Harper has backpedalled throughout his life. A once-promising guitar prodigy, he's been living without direction since abandoning his musical dreams. Now into his thirties, having retreated from every opportunity he's had to level up, he has lost his family, his best friend, and his own self-respect.
But Joe finds an unlikely path to redemption when he starts working as a carpenter for the bohemian conceptual artist October Danko. The job returns him to his hometown, loaded with bittersweet reminders of his former life, in the shadows of his beloved redwood trees. As Joe's relationship with October develops, he yearns to take a daring step toward a bold future but struggles to escape the craven decisions of his past.
the ground beneath her feet by Salman Rushdie
genre: lit fic, magical realism
Vina Apsara, a famous and much-loved singer, is caught up in a devastating earthquake and never seen again by human eyes. This is her story, and that of Ormus Cama, the lover who finds, loses, seeks, and again finds her, over and over, throughout his own extraordinary life in music.
Narrated by Ormus's childhood friend and Vina's sometime lover, her "back-door man," the photographer Rai, whose astonishing voice, filled with stories, images, myths, anger, wisdom, humour, and love, is perhaps the book's true hero. Telling the story of Ormus and Vina, he finds that he is also revealing his own truths: his human failings, and his immortal longings. He is a man caught up in the loves and quarrels of the age's goddesses and gods but dares to have ambitions of his own. And lives to tell the tale.
the song is you by Arthur Phillips
genre: contemporary, romance
Julian Donahue is in love with his iPod. Each song that shuffles through that greatest of all human inventions triggers a memory. But when his family falls apart, even music loses its hold on him, and he has nothing. Until one night in Brooklyn, when his life's soundtrack "and life itself" starts to play again. He stumbles into a bar and sees Cait O'Dwyer, a flame-haired Irish rock singer, performing with her band, and a strange and unlikely love affair is ignited.
Julian and Cait's passion for music and each other is played out, though they never meet. Cait's star is on the rise, and Julian gently guides her along her path to fame "but always from a distance" and she responds to the one voice who understands her, more than a fan but still less than a lover. What follows is a love story and a uniquely heartbreaking dark comedy about obsession and loss.
groupies by sarah priscus
genre: historical, coming-of-age
After her mother's death, Faun, a naïve college dropout goes to Los Angeles. In the City of Angels, she reconnects with her childhood friend Josie, now an up-and-coming model and muse. To make their reunion even sweeter, Josie is now dating Cal Holiday, the frontman of the superstar rock band Holiday Sun, and Faun is positively mesmerized.
Except it's not just the band she can't get enough of. It's also the proud groupies who support them in myriad ways. Among the groupies are: a doting high school girl at war with her mother; a drug-dealing wife and new mom who longs to be a star herself; and a cynical mover-and-shaker with a soft spot for Holiday Sun's bassist.
Faun obsessively photographs every aspect of this dazzling new world as she becomes reckless with friendship, romance, her ethics, and her bank account. But just as her boring, old life is falling away, Faun realizes just how blind she has been to the darkest corners of this glamorous musical dreamland as the summer heats up and everything spirals out of control
music from standing waves by Johanna Craven
genre: contemporary, romance
Music is Abby's lifeline. She dreams of being a concert violinist; escaping her tiny Australian home town- and disastrous relationship with her childhood best friend Justin.
At eighteen, she is given a chance at her dream: a place at the Melbourne Conservatorium. But when she falls for charismatic composer Matt, Abby discovers love for a person can be as consuming as love for music. Their passionate relationship has her questioning everything she thought she ever wanted. Abby realises that to face the future, she must first confront the past; uncovering some uncomfortable truths about herself, her family and the passion that has shaped her life.
from nothing by ken Goldstein
genre: contemporary
Victor Selo had blown up his life. A wannabe rock star turned tech savant, he'd wagered his Silicon Valley executive position on a corporate inside straight and lost. Now, he is in the hospital, broken, broke, and with no prospects. Until a shadowy stranger with questionable motives came in with an offer: a chance to get his life back – and better – if he simply cooperates. It requires hiding in the spotlight and playing guitar in a Vegas cover band.
Reluctantly, Victor accepts and begins an odyssey he never could have imagined. One that involves a charismatic lead singer who owns the stage but aspires to own an Elvis wedding chapel, a mesmerizing woman who can play anything on her keyboards and can really play with Victor's head, and two spectres from his old life offering competing devil's bargains. Multiple futures are opening up in front of Victor. All of them offer opportunity – and each comes with potentially catastrophic risk.
industry darling by Caitlin Rantala
genre: new adult, thriller, romance
In 2040, the music industry is more cutthroat than ever. When Riley, the daughter of once multi-platinum selling artist, Kelly Brite, lands in Nashville with no money and nowhere to go, she's signed by Crazy Kings label. Immediately rebranding her as Ryman Brite, the label has hungry hopes of recapturing the fame and success of her long-lost mother, no matter the cost.
Ryman will do anything to become the new industry darling with the help of an equally ambitious and attractive sound engineer Slate Stern. Together the two ride and abuse each other's coattails to the top. But when Ryman and Slate uncover the deadly secret Music Row executives have been hiding and craft a plan to reveal it at the Grammy's, the truth comes out about what actually happened to Kelly Brite and whether Ryman belongs to anyone at all.
the unsinkable Greta James by Jennifer e. smith
genre: contemporary, romance
Greta James's meteoric rise to indie stardom was hard-won. Her first fan was her mother, Helen, but not everyone encouraged Greta to follow her dreams. While many daydream about a crowd chanting their name, her father, Conrad, saw only a precarious life ahead for his daughter.
Greta has spent her life trying to prove him wrong, but three months after Helen's sudden death, and weeks before the launch of her high-stakes sophomore album, Greta has an onstage meltdown that goes viral. Attempting to outrun the humiliation and heartbreak, she reluctantly agrees to accompany her father on a week-long Alaskan cruise, the very one that her parents had booked to celebrate their fortieth anniversary.
This could be the James family's last chance to heal old wounds and will prove to be a voyage of discovery for them. In the end, Greta must make the most challenging decision of all: to listen to the song within her or make peace with those who love her.
young adult books
I was born for this by Alice oseman
genre: contemporary
For Angel Rahimi, life is only about one thing: The Ark – a pop-rock trio of teenage boys who are currently taking the world by storm. Being part of The Ark's fandom has given her everything – her friendships, her dreams, her place in the world.
Jimmy Kaga-Ricci owes everything to The Ark too. He's their frontman – and playing in a band is all he's ever dreamed of doing. It's just a shame that recently everything in his life seems to have turned into a bit of a nightmare.
Because that's the problem with dreaming – eventually, inevitably, real life arrives with a wake-up call. And when Angel and Jimmy are unexpectedly thrust together, they will discover just how strange and surprising facing up to reality can be.
on the come up by Angie Thomas
genre: contemporary
Sixteen-year-old Bri wants to be one of the greatest rappers of all time. Or at least make it out of her neighbourhood one day. As the daughter of an underground rap legend who died before he hit big, Bri's got big shoes to fill. But now that her mom has unexpectedly lost her job, food banks and shutoff notices are as much a part of Bri's life as beats and rhymes. With bills piling up and homelessness staring her family down, Bri no longer just wants to make it—she has to make it.
On the Come Up is Angie Thomas's homage to hip-hop, the art that sparked her passion for storytelling and continues to inspire her to this day. It is the story of fighting for your dreams, even as the odds are stacked against you; of the struggle to become who you are and not who everyone expects you to be, and of the desperate realities of poor and working-class black families.
Debbie harry sings in french by Meagan brothers
genre: contemporary, romance
Johnny's had kind of a tough life so far, and he's always been a bit of a freak. His goth look usually includes black nail polish and a little mascara. When he discovers Debbie Harry, the lead singer of Blondie, he not only likes her music but realizes that he kind of, sort of, wants to BE her. He'd like to be cool and tough and beautiful like her. He'd like to dress like her. He's not gay, at least he doesn't think so. So what does it mean? And what should he tell his amazing new girlfriend?
This wise, hip novel introduces shades of grey into the black-and-white ideas of sexuality and gender. Anyone who has ever wished they could be a little bit tough and a little bit glamorous will recognize themselves in Johnny.
solo by kwame alexander
genre: poetry, contemporary
Blade never asked for a life of the rich and famous. In fact, he'd give anything not to be the son of Rutherford Morrison, a washed-up rock star and drug addict with delusions of a comeback. Or to no longer be part of a family known most for lost potential, failure, and tragedy. The one true light is his girlfriend, Chapel, but her parents have forbidden their relationship, assuming—like many—that Blade will become just like his father.
In reality, the only thing Blade has in common with Rutherford is the music that lives inside them. But not even the songs that flow through Blade's soul are enough when he's faced with two unimaginable realities: the threat of losing Chapel forever, and the revelation of a long-held family secret, one that leaves him questioning everything he thought was true. All that remains is a letter and a ticket to Ghana—both of which could bring Blade the freedom and love he's been searching for, or leave him feeling even more adrift.
xoxo by axie oh
genre: contemporary, romance
Cello prodigy Jenny has one goal: to get into a prestigious music conservatory. When she meets mysterious, handsome Jaewoo, it's clear he's the kind of boy who would uproot her careful plans. But in a moment of spontaneity, she allows him to pull her out of her comfort zone for one unforgettable night of adventure…before he disappears without a word.
Three months later, when Jenny and her mother arrive in South Korea to take care of her ailing grandmother, she's shocked to discover that Jaewoo is a student at the same elite arts academy where she's enrolled for the semester. And he's not just any student. He's a member of one of the biggest K-pop bands in the world—and he's strictly forbidden from dating.
When a relationship means throwing Jenny's life off the path she's spent years mapping out, she'll have to decide once and for all just how much she's willing to risk for love.
I wanna be your joey Ramone by Stephanie Kuehnert
genre: contemporary, coming-of-age
The Clash. Social Distortion. Dead Kennedys. Patti Smith. The Ramones. Punk rock is in Emily Black's blood. Her mother, Louisa, hit the road to follow the incendiary music scene when Emily was four months old and never came back.
Now Emily's all grown up with a punk band of her own, determined to find the tune that will bring her mother home. Because if Louisa really is following the music, shouldn't it lead her right back to Emily?
KISS & TELL BY ADIB KHORRAM
genre: contemporary, romance
Hunter never expected to be a boy band star, but, well, here he is. He and his band Kiss & Tell are on their first major tour of North America. Hunter is the only gay member of the band, and he just had a very painful breakup with his first boyfriend–leaked sexts, public heartbreak, and all–and now everyone expects him to play the perfect queer role model for teens.
But Hunter isn't really sure what being the perfect queer kid even means. Does it mean dressing up in whatever The Label tells him to wear for photo shoots and pretending never to have sex? (Unfortunately, yes.) Does it mean finding community among the queer kids at the meet-and-greets after K&T's shows? (Fortunately, yes.) Does it include a new relationship with Kaivan, the drummer for the band opening for K&T on tour? (He hopes so.) But when The Label finds out about Hunter and Kaivan, it spells trouble–for their relationship, for the perfect gay boy Hunter plays for the cameras, and, most importantly, for Hunter himself.
k-pop confidential by Stephan lee
genre: contemporary, romance
Candace Park knows a lot about playing a role. For most of her life, she's been playing the role of the quiet Korean girl who takes all AP classes and plays a classical instrument, keeping her dreams of stardom-and her obsession with SLK, K-pop's top boyband-to herself. But, Candace secretly enters a global audition held by SLK's music label and gets a coveted spot in their trainee program.
Under the strict supervision of her instructors at the label's headquarters in Seoul, Candace must perfect her performance skills to within an inch of her life, learn to speak Korean fluently, and navigate the complex hierarchies of her fellow trainees, all while following the strict rules of the industry. Rule number one? NO DATING, which becomes impossible to follow when she meets a dreamy boy trainee.
If she doesn't have what it takes to become a perfect, hair-flipping K-pop idol, what will that mean for her family, who have sacrificed everything to give her the chance? And is a spot in the most hyped K-pop girl group of all time worth risking her friendships, future, and everything she believes in?
THE BEAUTY THAT REMAINS BY ASHLEY WOODFOLK
genre: contemporary, romance
Autumn always knew exactly who she was: a talented artist and a loyal friend. Shay was defined by two things: her bond with her twin sister, Sasha, and her love of music. And Logan has always turned to writing love songs when his real love life was a little less than perfect.
But when tragedy strikes each of them, somehow music is no longer enough. Now Logan is a guy who can't stop watching vlogs of his dead ex-boyfriend. Shay is a music blogger who's struggling to keep it together. And Autumn sends messages that she knows can never be answered.
Despite the odds, one band's music will reunite them and prove that after grief, beauty thrives in the people left behind.
swimming through the dawn by r. p. Rioux
genre: contemporary
18-year-old Heather Moon is not your average wannabe idol. With a shimmering personality, powerful voice, and magnetic stage presence, her future seemed bright. An unexpected liaison with a powerful company executive, however, leaves those aspirations in shambles. Booted from a Korean agency that had long nurtured her talent, Heather returns to Los Angeles for college. But dreams of stardom seldom die easily.
Bolstered by a plucky band of misfits, she forms Made in Heaven, a seven-member girl group. While initial efforts seem promising, it's clear not everyone shares their vision. To make matters worse, Heather's father issues an ultimatum that will shape the rest of her life. Can she and her friends realize their ambitions before they're derailed once and for all by the pressures of impending adulthood?
you'd be mine by Erin Hahn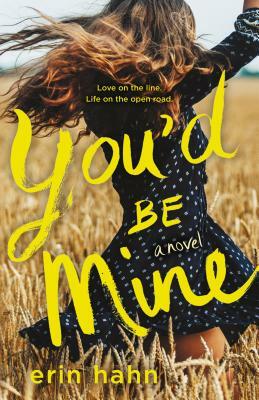 genre: contemporary, romance
Annie Mathers is America's sweetheart and heir to a country music legacy. Full of things her Gran has warned her about, including Superstar Clay Coolidge. But unfortunately for Clay, if he can't convince Annie to join his summer tour, his music label is going to drop him.
Swayed by Clay's undeniable charm and good looks, Annie and her band agree to join the tour. From the start fans want them to be more than just tour mates, and Annie and Clay can't help but wonder if the fans are right. But if there's one part of fame Annie wants nothing to do with, it's a high-profile relationship. She had a front-row seat to her parents' volatile marriage and isn't interested in repeating history. If only she could convince her heart that Clay, with his painful past and head-over-heels-inducing tenor, isn't worth the risk.
What are your favourite books featuring music? Did you find any new recommendations from this post? What are your favourite real-life artists?