Hey everyone!
Welcome to this new series of a sort. Every post will focus on a single author who I have read most, if not all, of their books. I will be discussing what their most popular and loved books are according to their Goodreads stats, as well as the lowest. Bringing in discussions of my favourite and if that matches popular consensus. Hopefully, I will be able to shine a light on some "less popular" works of authors too.
The only rule for these posts is I CANNOT use the word 'overhyped' or 'overrated'. Hype comes from thousand of opinions and I can't dictate what others' opinions are or be mad just because I don't think people see what I see.
It is rare when I have read all of an author's books but I am excited to do these posts when the opportunity arises. Today it is all about Alice Oseman and their Osemanverse.
Alice Oseman is an award-winning author, illustrator, and screenwriter, and was born in 1994 in Kent, England. She has written four YA contemporary novels about teenage disasters: Solitaire, Radio Silence, I Was Born for This, and Loveless. She is the creator of LGBTQ+ YA romance webcomic Heartstopper, which is now published in physical form by Hachette Children's Group, and she is the writer, creator, and executive producer for the television adaptation of Heartstopper, which is set to be released on Netflix.
Alice's first novel Solitaire was published when she was nineteen. Her YA novels have been nominated for the YA Book Prize, the Inky Awards, the Carnegie Medal, and the Goodreads Choice Awards.
BOOKS (IN PUBLISHING ORDER)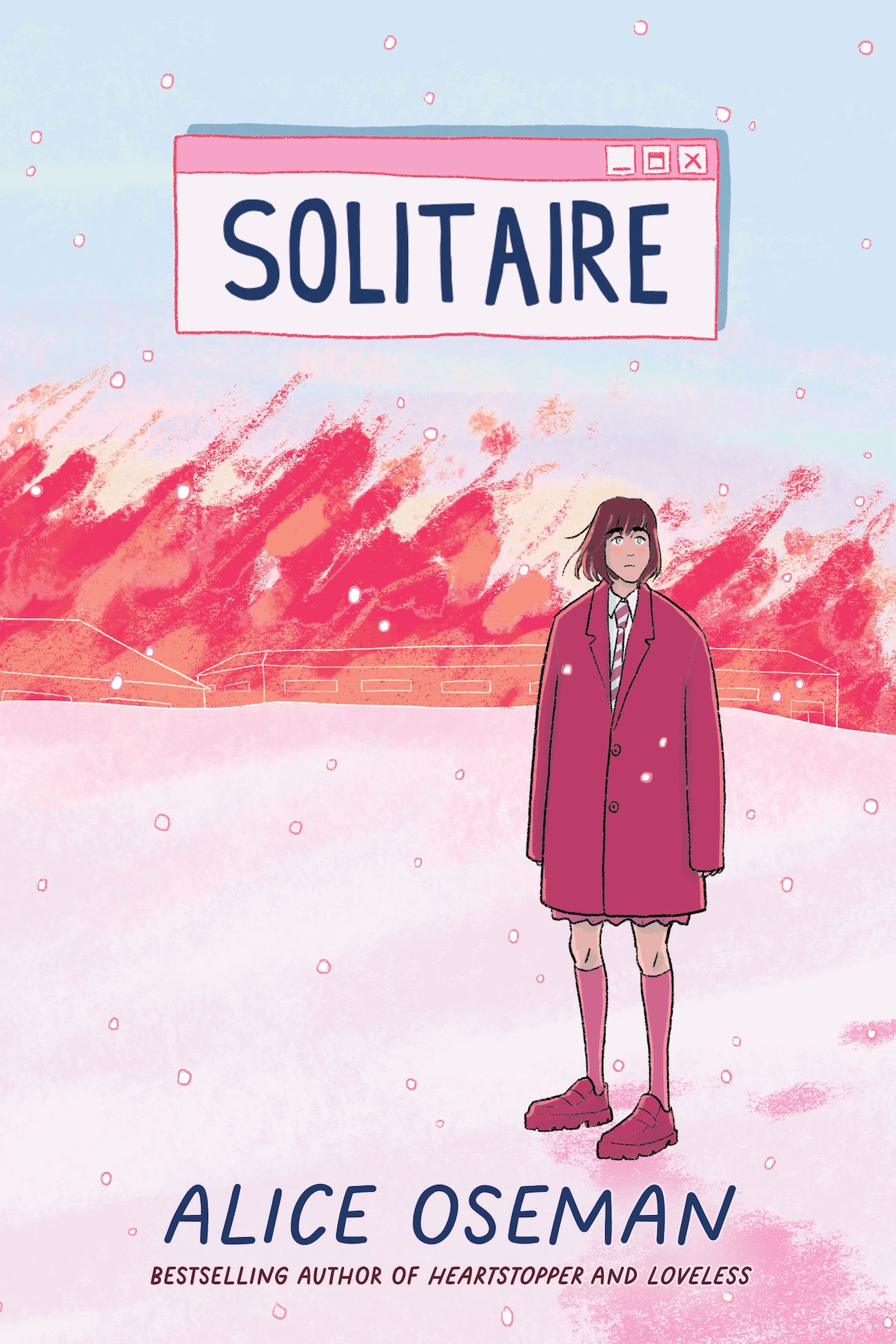 Solitaire
In case you're wondering, this is not a love story.
My name is Tori Spring. I like to sleep and I like to blog. Last year – before all that stuff with Charlie and before I had to face the harsh realities of A-Levels and university applications and the fact that one day I really will have to start talking to people – I had friends. Things were very different, I guess, but that's all over now.
Now there's Solitaire. And Michael Holden.
I don't know what Solitaire are trying to do, and I don't care about Michael Holden.
I really don't.
Heartstopper
Heartstopper follows two teenage boys, Nick and Charlie, as they meet at a British grammar school, quickly become friends and fall in love. Each volume navigates the ups and downs of first love, friendships, coming out, and mental health, beautifully framed by a warm cast of supporting characters.
🍄 Reading Heartstopper For The First Time
bonus heartstopper content
Radio Silence
What if everything you set yourself up to be was wrong?
Frances has always been a study machine with one goal, elite university. Nothing will stand in her way; not friends, not a guilty secret – not even the person she is on the inside.
But when Frances meets Aled, the shy genius behind her favourite podcast, she discovers a new freedom. He unlocks the door to Real Frances and for the first time she experiences true friendship, unafraid to be herself. Then the podcast goes viral and the fragile trust between them is broken.
Caught between who she was and who she longs to be, Frances' dreams come crashing down. Suffocating with guilt, she knows that she has to confront her past…
She has to confess why Carys disappeared…
Meanwhile, at uni, Aled is alone, fighting even darker secrets.
It's only by facing up to your fears that you can overcome them. And it's only by being your true self that you can find happiness.
Frances is going to need every bit of courage she has…
I Was Born For This
For Angel Rahimi, life is only about one thing: The Ark – a pop-rock trio of teenage boys who are currently taking the world by storm. Being part of The Ark's fandom has given her everything – her friendships, her dreams, her place in the world.
Jimmy Kaga-Ricci owes everything to The Ark too. He's their frontman – and playing in a band is all he's ever dreamed of doing. It's just a shame that recently everything in his life seems to have turned into a bit of a nightmare.
Because that's the problem with dreaming – eventually, inevitably, real life arrives with a wake-up call. And when Angel and Jimmy are unexpectedly thrust together, they will discover just how strange and surprising facing up to reality can be.
Loveless
It was all sinking in. I'd never had a crush on anyone. No boys, no girls, not a single person I had ever met. What did that mean?
Georgia has never been in love, never kissed anyone, never even had a crush – but as a fanfic-obsessed romantic she's sure she'll find her person one day.
As she starts university with her best friends, Pip and Jason, in a whole new town far from home, Georgia's ready to find romance, and with her outgoing roommate on her side and a place in the Shakespeare Society, her 'teenage dream' is in sight.
But when her romance plan wreaks havoc amongst her friends, Georgia ends up in her own comedy of errors, and she starts to question why love seems so easy for other people but not for her. With new terms thrown at her – asexual, aromantic – Georgia is more uncertain about her feelings than ever.
Is she destined to remain loveless? Or has she been looking for the wrong thing all along?
This wise, warm and witty story of identity and self-acceptance sees Alice Oseman on towering form as Georgia and her friends discover that true love isn't limited to romance.
Goodreads Stats (as of 23rd Nov 2022):
highest to lowest:
Heartstopper Volume 1 // 455,597 ratings // average rating 4.53 🌟
Heartstopper Volume 2 // 331,802 ratings // average rating 4.59 🌟
Heartstopper Volume 3 // 288,292 ratings // average rating 4.62 🌟
Heartstopper Volume 4 // 241,341 ratings // average rating 4.66 🌟
Radio Silence // 79,798 ratings // average rating 4.21 🌟
Nick and Charlie // 67,525 ratings // average rating 4.22 🌟
Loveless // 57,960 ratings // average rating 4.29 🌟
Solitaire // 58,766 ratings // average rating 3.89 🌟
This Winter // 37,568 ratings // average rating 4.16 🌟
I Was Born For This // 22,869 ratings // average rating 4.10 🌟
The Heartstopper Yearbook // 5,417 ratings // average rating 4.63 🌟
Note: I have not read all the 'Bonus Heartstoppper content'.
The most read book is… HEARTSTOPPER VOLUME ONE
The famous graphic novel volume takes the lead. It does not surprise me one bit because it is free to read online, people's comfort read and it has a very popular Netflix show. Although I believe it has always had the top spot. In my opinion, it is not what I would put at the top of the 'Osemanverse' as it focuses mostly on a cute love story and I prefer the written novels exploring those more intense emotions. But, that is not to say I don't think Heartstopper deserves its place, because it does. It is a classic love story for queer identities. It is great to see this type of story celebrated and to see how it creates safe spaces for so many people. It is also well done; sweet characters, healthy conversations, good humour and realistic teenagers.
The most read non-graphic novel book is… RADIO SILENCE
Radio Silence wasn't always the most popular book but it makes me so happy to see that it is now. Because it is the best story from Oseman imo. No question. The characters, Frances & Aled, are the softest characters ever. It would be a challenge to not fall in love with them as they both are very endearing. Frances cares so much and Aled is struggling but finds his power/ownership throughout the story. This story is about friendship, creativity, pressure and being true to yourself. It is why I think it is so popular because it is very heartwarming in its message and will bring readers a lot of comfort. It is still to this day one of the only books I've read talking about the expectation to go to university so it really stood apart from the crowd for me.
The least read books are… THE HEARTSTOPPER YEARBOOK & I WAS BORN FOR THIS
The Yearbook doesn't surprise me as it has only been out a month (as of writing this post) so it hasn't had the same chance as the other. Plus, it is a fan indulgent project so I don't think everyone will be interested in it, but those that do will appreciate it. Luckily Heartstopper is a good fandom to have a project like this.
I Was Born For This doesn't surprise me either despite loving it. I think it is the most controversial book of Osemans and it is more negative than it first appears. I say controversial because I don't think the characters are as likeable or as emotionally healthy as the other characters we've seen from Oseman. Whilst Alice often talks about mental health topics, I felt like this book took risks in approaching how to heal. The characters struggled a lot which is why it can feel like a hard, sad read as the two main characters are dealing with one of their roughest times ever. I personally liked how it showcased how your mental health can influence other factors, such as nothing feels right or safe when it is bad, even those spaces that often helped you previously. It ultimately gives a good message by the end but the journey is pretty intense. Often characters can be too self-aware, having an issue and being able to emotionally solve it in an hour. They are great characters to look up to, but I also need characters who can be messy and imperfect as they learn to understand their mental health over years, not hours.
The highest star-rated book is… HEARTSTOPPER VOL 4
The latest instalment of the graphic novel series. To me, it makes sense for it to be the highest rated as only fans of the comics will have read all four volumes. Therefore the audience is already made up of fans who know they like the comics. It is nice to see that the graphic novels stay true to themselves.
I personally don't think it is the strongest of the series. Volume 3 has been my favourite story of the novels so far. The pacing felt off, but it is still delightful and had the best quotes!
The highest star-rated non-graphic novel book is… LOVELESS
This book is one of the most celebrated aroace books. Asexuality is not as commonly talked about as other queer identities so I think having an accessible YA book talking about self-discovery in relation to asexuality was really important. It really focused on the personal discovery by having open and safe conversations. Georgia doesn't have a straightforward journey but I like how it showed all her questions and emotional answers to come to a satisfying conclusion. This book also had amazing side characters who had vibrant personalities making the text very engaging. It is a story that will mean a lot to people and possibly help people learn about themselves or others. A solid read worthy of its high rating.
The lowest star-rated book is… SOLITAIRE
I am not surprised by this. This was the third novel I had read by Oseman after loving the first two, it felt mediocre and messy. Don't get me wrong, I like messy books with messy characters, and actually, I love Tori (and Michael) as a character, but the plot was messy in an unsatisfying way. It had some extreme events which felt unnecessary with an overreliance on silence as the solution. I think it was almost there but it needed more work with a stronger plot. I believe it was going in for re-edits at some point. I wonder if this would make a large difference to my opinion or not? The only thing I can say with confidence is don't judge Oseman's works by this book.
Are you a fan of the Osemanverse? What stories are your favourite? Have there been any books you didn't enjoy? Do you prefer the UK or US covers?