Hello to those who are fans of the Raven Cycle by Maggie Stiefvater,
Why the selective greeting? Not because I think others are unwelcome but simply because this post is not for you. I mean to appeal to those who have survived the pages of The Raven Cycle and probably pulled a wtf face at the plot and still decided it was a masterpiece. Because those wtf moments mean so much more, of which I can give essays on. But I am not. Oh no, I am giving an essay on The Dreamer Trilogy by Maggie Stiefvater. The spin-off series from the raven cycle following Ronan and others affected by dreaming.
"The dreamers walk among us…and so do the dreamed. Those who dream cannot stop dreaming – they can only try to control it. Those who are dreamed cannot have their own lives – they will sleep forever if their dreamers die.
And then there are those who are drawn to the dreamers. To use them. To trap them. To kill them before their dreams destroy us all."
Spin-offs are a tricky business because fans will be wary of them. Either undecided on reading them or on loving them. But successes do exist. What I expected from The Dreamer Trilogy was a new story that wanted to distance itself from The Raven Cycle. Maggie stated that this new series can be read without prior knowledge of The Raven Cycle. Along with other sentences that made me feel this is its own thing. I found this a positive note as the books were made because there was something new to be said, not just for love.
Therefore if you are seeking extra content for The Raven Cycle, fanfiction is your treasure trove. The Dreamer Trilogy is for those in love with the world, magic and writing found in The Raven Cycle, not the characters, themes or goals.
The Raven Cycle is about discovery, found family, closeness and possibility. But, The Dreamer Trilogy has established rules of magic and discusses danger, fear, loneliness, isolation and running away from change. In some ways, they are oppositions of each other. The same way a mirror reverses everything. It looks the same, but you follow opposite instructions when picking something up. I loved both explorations of emotions, especially because Maggie's writing is a dream at expressing itself.
A brief interlude to admire Stiefvater's writing:
Oh, the writing. I experience some form of writing on a daily basis, preferably the fictional kind. Therefore I am not always thinking about writing techniques when reading because I have seen a lot, and I am not always an analytical reader. So for something to get my attention, it will need to be 'take-notice'. Sure, in most books, the occasional quote gets an eyebrow raise, but that's about it. However, with Stiefvater, it's a downright different experience. The writing style and writing decisions are so intentional, changing everything. I get lost in it, and it is an extraordinary gift. Every Steifvater book I've read transports you, whether to new locations or into the characters' emotions. The writing is so alive. It is seriously scary good.
You should not read The Dreamer Trilogy if you are seeking the same feelings as The Raven Cycle or for Ronan alone. Please do not read it for Pynch, either. Adam was the only part that felt like he was there because of TRC. As a fan, you will enjoy his scenes, but there are only there for old readers. If you were new to the series, I doubt you would understand the importance of Adam (as the man and the boyfriend).
You may be wondering why not read it for Ronan if it is a Ronan spin-off? Because if you do, you will only resent the pages he is not in and suffer the consequences. The Dreamer Trilogy is a multiple-perspective novel, and Ronan takes up about 1/4 of the plot of the entire series. To enjoy this series and get the most from it, you will have to love… or love to examine… or love to judge the other characters. Let's quickly meet them…
~ characters ~
RONAN – boy has some secrets he keeps from himself.
HENNESSY – dream magic is wondrous. A dreamer has nightmares, then dream magic is torturous. Get to know a dreamer who is afraid to dream.
JORDAN – a dream you can hold is magical but tethered by belonging. Shouldn't a dream should be free to be itself?
DECLAN – a liar, a plain liar, until you see him in the right light.
FAROOQ-LANE – what would you do to save the world? Kill the dreamers, but what's left?
The rest of the characters you can discover on your own.
It may seem like I am convincing you to avoid this series, but that is not the case. But I do think the right expectations for the series will lead to the best outcome for all involved.
Please read this series because I did enjoy it. Not as much as the raven cycle, but that would have been a miracle. I appreciated what this new step in this world provided, and I liked the new characters. Plus, it gave a conclusion to characters who were always waiting for one. Focusing on them in unexplored circumstances so they could earn it.
~ here are my brief thoughts on each book ~
Call Down The Hawk
The set-up. It is always the most important at the time but the first to be forgotten. There are lots of moving parts in this series. The world has already been established, so first, you need to build more to explore. To prove this series is not the same. Enter dream logic and black markets. I love how it shows how the world monopolised magic to its sin and how each player plays a part in the game. It made the series edgier. Next, you must introduce the characters with their individual backgrounds, goals and personalities. Start slow, then reach out. Ensuring the characters are not separate entities but structurally connected. This book was jam-packed because it did all of this. It set the board; this complex, busy board. It was treated carefully but assembled quickly. It was still effective and made you think of illogical answers to whimsical questions. The characters were all imperfect and holding tight to fears in the dark, which made me think of logical answers to unquestioning silences.
Mister Impossible
The second book in a trilogy is often doomed. It is the peak of the arch sat right in the middle, with not enough time to develop its own curves. Second books are about a journey with no overall catalyst or end. Journeys can be good, and this book was half good and half meh. It had action, it had emotion, it had personality, it had whimsy, it had twists and revelations, and it had an impactful ending. You could not miss this book out of the series without losing what the series means, so it was good. But I don't think this book is why you will pick up the series because it is primarily about the characters being lost so they can be saved in the third book. On its own, it is just a bit lonely and "waiting in the wind", but completely necessary for the series.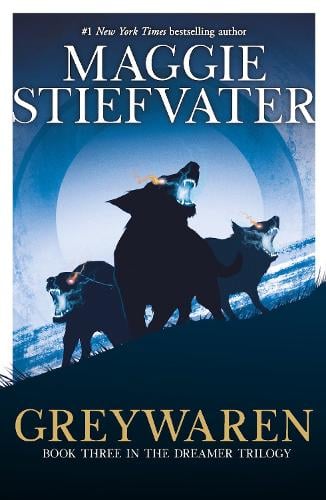 Greywaren
The closing chapter was surprisingly my favourite of the series (at least on the first read). Surprising because it required a lot of patience in waiting for the end, yet it still felt like necessary action. And by action, I mean both emotional and physical. It was the final prophecy, facing trauma, understanding what you want (no need), and an epic conclusion. The history that was revealed in this book was exciting and revelationary. I loved that it added to the characters in such a powerful way. Declan's and Hennessy's emotional journeys were the strongest of the series. I loved them! Even though the final emotions got no breathing room after all the work, I was still satisfied with the finale. It was characters believing in their happy endings after never knowing or forgetting to dream (in the mortal way, but the other way had its part to play too)
What are your thoughts are spin-offs? Have you read this one? What are your thoughts on the books? Do you like the new characters?