"When you're afraid, you'll do and say things you never thought you'd do or say. All these things we're taught about respect, ambition, loyalty, honesty, love– fear takes all those teachings and gorges on them, then spits out the bones."
~ Reprieve, James Han Mattson ~
Hey everyone!
Welcome to a monthly 'diary' for the month of October. I read a lot of books and watched some spooky movies, so I am excited to share my thoughts. To give it more of a diary feel, I added some songs I listened to and photos I have taken this past month (spoiler alert: there are trees). I felt like I took in a lot of content for October (the highest amount for all year!), so let's begin!
Week 1: a new favourite webcomic
Lies Within by Lacey
I wanted to read something fast-paced after The Secret History by Donna Tartt. Enter this webcomic. Lysander is attacked by an intruder and it is his quiet neighbour, Simon, who comes to the rescue, exposing a deadly secret in the process. Monsters are real and they are tired of living in the shadows. It is a fun supernatural adventure with a decent plot and world-building. The characters are easy to love which is a massive benefit to the comic; I mean it's a snarky "demon" and a gentle vampire. The art style is classic cartoon with its own small twist. I love it, it isn't the most distinct style out there but I think it is effective.
The Old Woman with The Knife by Gu Byeong-Mo
This book follows an ageing assassin. A genius idea. Assassins play a big part in the spy genre; the cool, collected, undefeatable villains. Oh, the power and prowess *faints*. Therefore assigning this role to a non-typical body was inspiring and revitalised the persona. I think it is a story I would love to see on the screen as it brings those action scenes to life in another capacity, and I loved how it discussed an ageing physique, morals, and what it means to be human. It added more depth to the stream of murders. It was interesting, however, it sadly didn't capture my attention all the way. The story would just pass me by, it made me feel like an outsider instead of experiencing the centre of emotions and plot.
Ghosts Season 4
Ghosts is a quirky TV show that brings friendly ghosts into a hotel, but the host can see them following a near-death experience. What ensues are the mishaps of handling 8 ghosts from completely different periods of history, and the owners trying to get the hotel running. It is a great wholesome comedy show, perfect for autumn. As it is now in season 4, it is well-established. Whilst I think this has been the weakest series so far, I still enjoyed this show a lot. The unorthodox characters and unique plots always make me smile. I imagine it will end fairly soon as I believe it has run its course, but an absolute delight nonetheless.
Hocus Pocus 1 & 2
This was my first time watching Hocus Pocus. Witches are summoned to the present day (back then, the 90s), and terrorised the town to complete a spell to keep them alive. But the witches are funny because it is a Disney movie. They sing songs, laugh and if they weren't trying to kill children, they would be a very positive life force. This is why I am sure I would have adored Hocus Pocus as a kid. Whilst I would say that it was very enjoyable and fun, without that nostalgia, it stayed at the medium level for me. The sequel was very similar, just a different time period. Whilst the plot was technically different, it was the same thing, different clothing. It was on par with the first one, but I can see fans missing the spark for it because it won't bring back the memories and it isn't anything original. It wasn't needed, but a fun nod to the previous one.
Week 2: the cinema & pumpkins
Don't Worry Darling
My aunt loves Harry Styles so for her birthday we went to see Don't Worry Darling. Obviously, there was a lot of drama surrounding this movie, but I just went for a fun time (and the Maltesers). It was a decent film, a psychological thriller as we discover why the lead is trapped in this suburban community. This concept has been done before so it was nothing ground-breaking. It tended to focus on the aesthetic atmosphere and slowly building suspense. I love aesthetics so I did enjoy the production, but it had a simple development overall. Relatively forgettable, if not for the cast's background.
Fangs by Sarah Andersen
I was surprised by how much I enjoyed this graphic novel. I read it for free on Tapas which suited me as it was a quick 5-minute read. Following a werewolf and vampire dating (cute). Every spread was a new scenario as they get to know each other and the specificities of their supernatural side e.g. not showing up in photos, not touching silver, and drinking blood. It had a great comedic tone and the art style suited it so well. It was a pure supernatural delight and I would recommend it to everyone.
My Best Friend's Exorcism by Grady Hendrix
This was free on audible so I gave it a shot. The premise is exactly as the title says, her best friend seems to be possessed. At first, the main character doesn't know what to make of this until she hears about demon possession and looks into performing an exorcism. The majority of the book is set before the exorcism takes place which took away from the horror. I think the author intended the 80s setting to have a strong presence in the book but it did nothing to make me invested in this side of the story. I just wanted to get into the creepiness. When it got into different incidents, it made the story feel more alive and distinct, but it didn't last long. I found the book 'okay' and it does deliver on what it says technically, but I wanted it to be so much more. Also, there were some unnecessary comments that literally had no purpose.
Week 3: wardrobe horrors & a favourite book
Horrorstor by Grady Hendrix
I was disassembling a wardrobe ( a struggle in itself; I didn't have the right tools to remove the nails on the backing so I had to get resourceful with household items). I couldn't resist the chance to listen to a horror set in a furniture store (an Ikea spin-off) whilst doing it. It was a creative and intriguing idea. I thought the initial character set-up was intriguing but to me, it lost that later on. It was more about the haunting which was relatively low-impact to me, but I enjoyed the overall innovation of torture devices displayed in an Ikea catalogue. The ending did get my interest as the characters' stories concluded with a greater emotional significance than I expected. However, I can't help feeling that the concept would have been better in a music video rather than a novel. Still, it was different.
Legendborn by Tracy Deonn
I have gushed about this book in my dark academia post already, but here we go again. I loved it. It holds many classic elements of YA fantasy, yet it was a fresh breath of air. Following Bree as she gets involved in a secret society at her new university because she is trying to unravel the mystery behind her mother's death. But she discovers more secrets along the way. It had a really nice pace with regular reveals to hook audiences and strong characters. It explored a lot of emotion making Bree easy to love and follow. It ensured the novel was more than a well-developed magic system, but a story that had something to say. Discussions of grief, legends, duty and ancestors provided a greater impact on me as a reader. The sequel will be just as good, I can feel it.
Rosaline
A comedic re-imagining of Romeo and Juliet, following an entirely new POV, Rosaline, Romeo's Ex. I love getting a historical comedy because it is refreshing over stoic dramas. I only know the key points of the famous fictitious play, but I enjoyed how Rosaline orchestrated events amid the pinings of lust. It didn't take itself seriously but still developed a logical plot. I felt like the ending was the most important part (as in the play) and I liked how it did the end, a sprinkling of tensity, and easy comedy. The boat ride at sea, the final scene, felt very well-deserved and hilarious. That was probably my favourite bit.
When I Was Ten by Fiona Cummins
Whilst I seem to struggle with thriller books, I am happy to say I found this one alright. Not anything special, but entertaining enough. The novel was split into three parts; who, why and when. You meet the character in the present day, then flashback to the incident and finally to the fallout of events. It was a unique structure, especially as it was told in multiple POVs. It helped with pacing, suspense and getting to know the characters more intimately. I wouldn't say any of the twists were mind-blowing, but the use of the writing made for a much more interesting, layered story. I did appreciate that. Overall, an average read but given my luck with the genre, that's not bad.
Week 4: a movie weekend* featuring zombies & a guilty pleasure
*I had a weekend alone and watched a lot of movies, okay!
Train to Busan
I picked this movie up on a whim and it was the best decision I ever made. Following a zombie outbreak, passengers on a train from Seoul to Busan try to survive. Normally I turn away from zombies because they are gross and don't actually do much past grunting. However, this movie was ah-mazing. It examined human nature, what people will do to each other in dire times and what will actually help you survive. It is fast-paced, risk-taking, compelling and emotional. I cannot rate this movie enough and even if it isn't a movie you would typically watch, I would ask you to reconsider.
Reprieve by James Han Mattson
The escape room horror was a weird experience if I am being honest. It was more literary fiction than horror, alternating between the 'incident' to reflecting on what led the characters to their involvement. This careful consideration of what makes humans act the way they do and an appreciation of how horror can open up this conversation best definitely made the story interesting, and the right audience will love this book. For me, it fell slightly flat because it lacked the atmosphere and intensity of fear. It occasionally went that way, but those emotions were always cut short spending most of the time in the past. I am glad I read this book but if you are going to read it, go in with the right expectations for its tone.
Boo Bitch
A high school ghost decides to live her "best life", before she has to leave forever, to make up for not taking advantage whilst she was alive. This is a comedy limited series that doesn't take itself too seriously. It follows a straightforward plot and is very reminiscent of movies like The Duff and Mean Girls. I enjoyed how it was silly, yet sometimes touching, and the added uniqueness of having a ghost main character. Yet I still feel it didn't have to be as generic as it was. There was an opportunity for it to go to another level, but it picked the simplest road. At least, it was easy to watch.
Moonlight
The award-winning film was on TV so I decided to give it a shot. We follow our main character for a couple of days at three different ages in his life, focusing on identity and sexuality. It was a very artsy film and picks apart human emotion to reveal a lot. It is trusting with the audience; one for how vulnerable it is and two because it is the unspoken things it wants you to hear. These types of films be a hit or a miss for me, but there is always something to admire about them either way. I found myself getting a little bored at times, but the emotions were so convincing on the screen. Probably a miss for me, but still I can see why it has been so well-loved.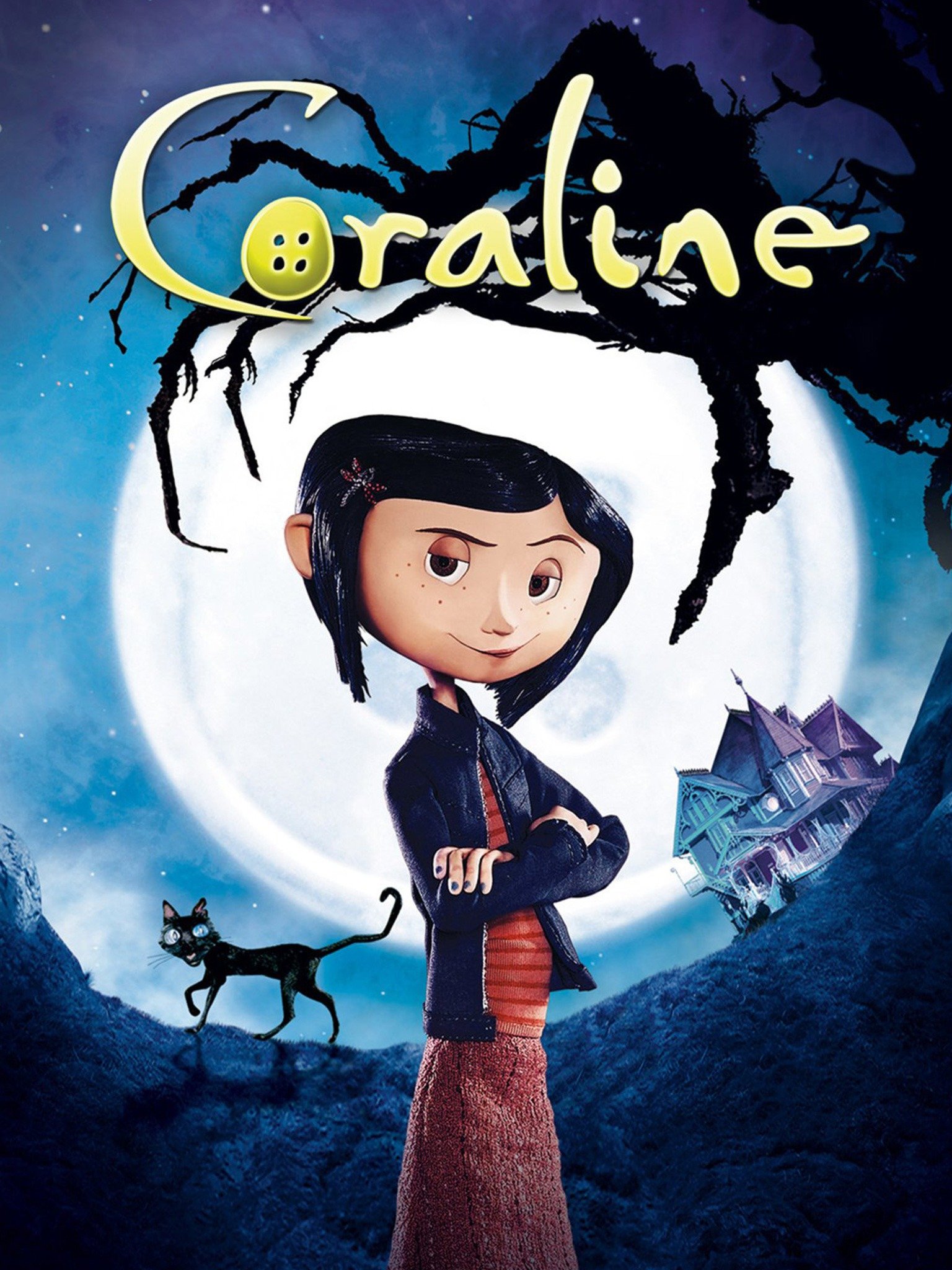 Coraline
I have heard a lot about Coraline and I didn't know what to expect. It is a good horror for children as the imagery really makes it distinct and creepy. It was weird, gothically colourful and whimsical. Therefore it is no surprise that the biggest strength of the film for me was the art. The plot was a simple concept, Coraline is stuck and needs to get out, but the imagery made it fun to experience. I didn't get invested in the characters, so I will probably never watch it again. But I'm glad to have ticked it off the watch list.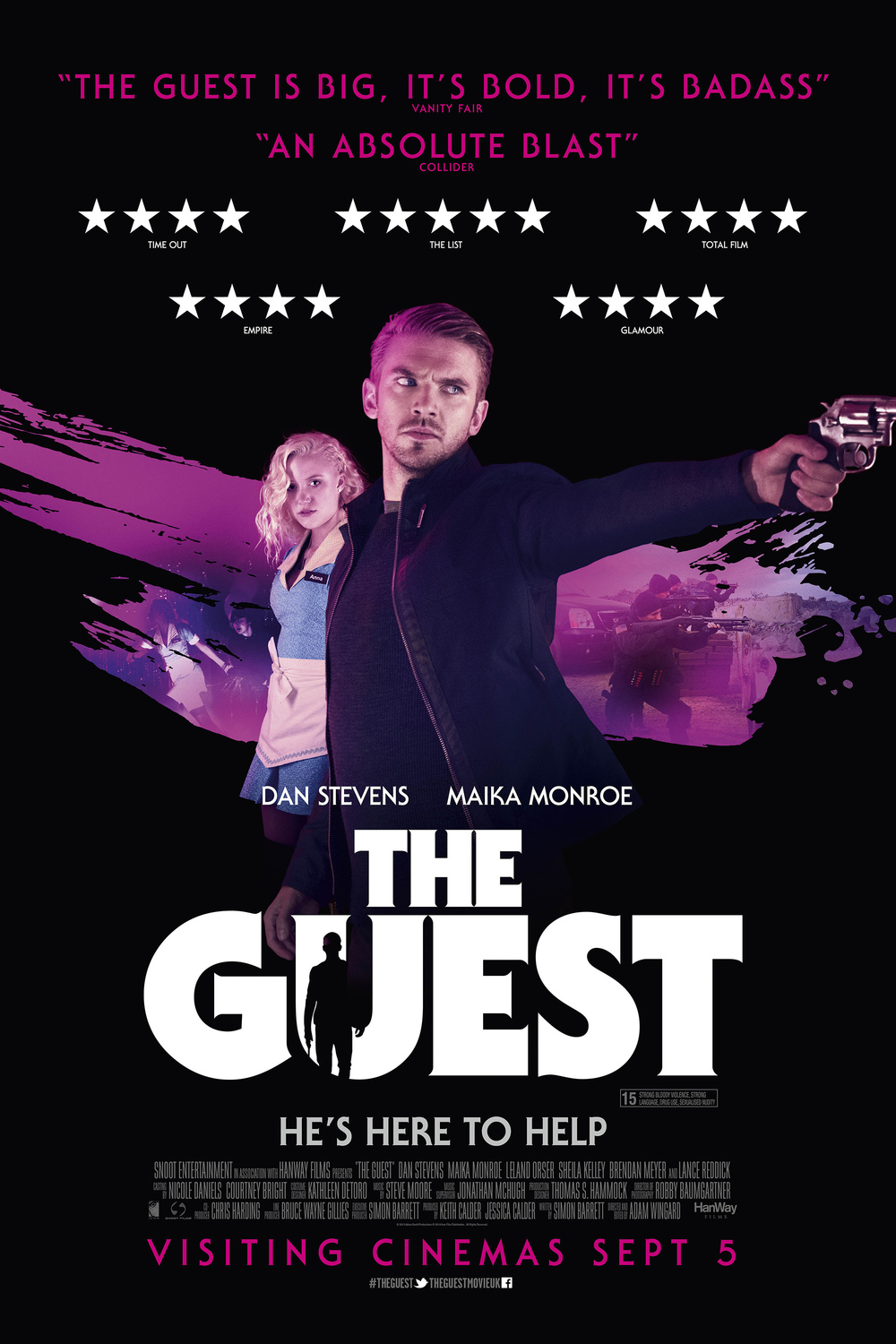 The Guest
This is the only rewatch I did this month and I did it on a whim, but I am so glad I did. This movie is like a guilty pleasure for me. It has a very linear plot with under-whelming reasoning, to be honest, yet I love it. It could be described as an "aesthetic dick flick", it has slow build-up, neon lights and then multiple action sequences in a row. I think it is the calm, controlled manner of "the guest" that I love and even when he is violent or injured he has this air to him, the helpful guest who isn't going to lose control. I like it a lot.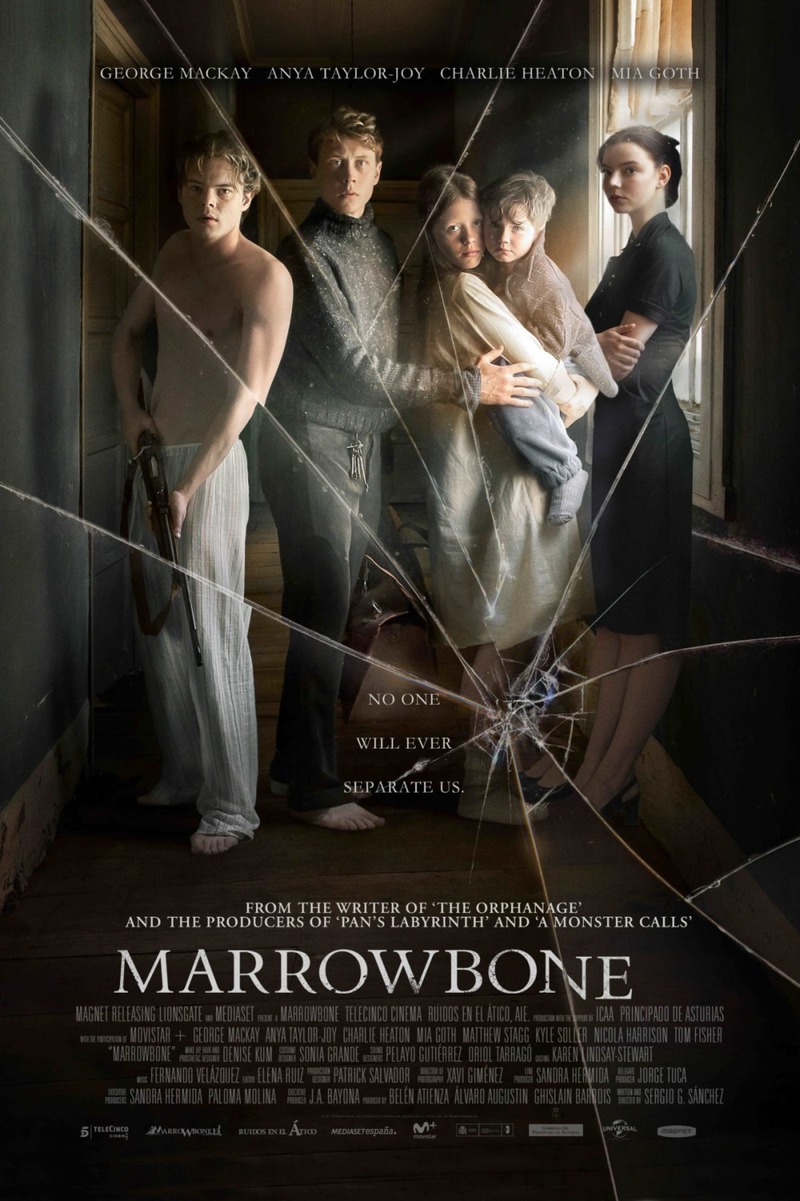 Marrowbone
I had hardly heard of this movie which surprised me because the cast is pretty A-list. Anyway, it looked like a historical horror which immediately intrigued me. However, it disappointed me. I saw one review mention how it couldn't decide what genre to be, and that sums up my thoughts. It went from period drama to horror without any blending. It felt uncomfortably disjointed, even though the scenes on their own were decent. Especially the few horror scenes it had, they were really creepy and I would have loved it to carry out those moments for the entire film. I think it would have been more successful if it had done so. Thankfully, the ending did a lot. It had a twist which was very unique and heart-breaking. It made the movie memorable so I am glad I watched it for that reason.
If You Could See The Sun by Ann Liang
This was an anticipated 2022 release and it wasn't entirely what I expected, but, nonetheless delightful. If you are thinking of reading this book, go in with the right expectations. Described as a shy girl who uses her invisibility to complete tasks & sell secrets in exchange for money to pay for her school fees. These tasks flirt with the criminal line and her own morality. Whilst it sounds quite edgy, it is a cute rivals-to-lovers romance with some unexplained magic on the side. The magic and plot do give it a different edge than typical YA contemporary, the writing and journey are definitely more traditional. It was completely delightful and sweet, I just thought it would lean more towards the magic and what the main character does with it. Some good discussions on academia and wealth though.
Halloween
Why yes, I did watch this movie on Halloween. This was my first time watching it and honestly, it was underwhelming. I love the Scream movies which I now feel were inspired by Halloween, but I personally think Scream is better and more entertaining. Therefore, it just felt like a downgrade to no fault of its own. Maybe at the time, it was iconic and creepy as it did have some fun directional tricks that built up the suspense. Plus, the disruption of a familiar suburban life makes it feel closer to home but this was nothing new to me.
my halloween content
content from around the blogosphere
halloween themed:
non-halloween themed:
Did Halloween influence what you read and/or watched? What are your favourite horror movies or books? What is your favourite season?