issue no. 2
WOMEN TAKE THE LEAD! ♀️🔪
I love movies when women have the lead role. As a very real bonus, it is wonderful for actresses to showcase their range in a substantial part. I especially love it when women take the lead. To own their story and display a point that means something to each individual woman. Sometimes this creates unorthodox plots and resolutions, aka the rise of the unhinged females. But these plots are powerful when you pay attention. Therefore, I thought I would watch 8 films that fit this vibe.
🎥 issue no. 1: book-to-movie adaptations
movie one: Promising Young Woman [2020]
synopsis: A young woman, traumatized by a tragic event in her past, seeks out vengeance against those who crossed her path. [view trailer]
age rating: 15
genre: mystery, drama, crime
my rating: ★★★★★★★★ 8/10
favourite character(s): Cassandra
Promising Young Woman was a production. Full of purposeful style choices, music, direction, cinematography, colour and more. I loved it for this. Film is a multimedia format. What it does visually is meant to be something. Some may hate it as Hollywood obsessions with looks, but it makes an impression whether you want it to or not.
The movie makes the production mean something, and you could write essays for that alone, but for now, let's focus on the story.
(TW: rape) I know this movie has a bit of hate. Mostly down to being called a surface-level, tied-hand version of a 'rape-revenge movie' with an unsatisfying end. Basically, if Cassie was mad, why wouldn't she murder people? But I think these reviews are missing the point. I do not consider this move an empathetic exploration of rape or an angry revenge thriller. It showed the continued injustice in rape cases, emphasis on the "nice guy" persona and rape culture. In my understanding of the movie, it was a success.
final thoughts: I loved it ✨
🍄 MIX IT UP | matching books with the 'Promising Young Woman' soundtrack
movie two: Lady Bird [2017]
synopsis: In 2002, an artistically inclined seventeen-year-old girl comes of age in Sacramento, California. [view trailer]
age rating: 15
genre: drama, comedy
my rating: ★★★★★★ 6/10
favourite character(s): Lady Bird & Marion
Coming-of-age films are needed to ensure those who feel alone know they are not. This movie does it better than any awkward comedy. You may not like it more, but I think it undoubtedly does this task better.
Lady Bird is from a small town and tries to find herself whenever everyone encourages her to keep to the norm. You experience her different relationships and internal struggles with a bite of distinctive personality and humour.
I liked the style of Ladybird. It had a melancholy feel. If I had to fit this movie into a sentence, it would be 'this movie felt like a Conan Gray song'. She feels lost but ready to be found. It captured the contradictory nature of growing up and, in doing so, established imperfect relationships. It made for a powerful film in its own way. It made you feel, and I will compliment that above everything else. Not everything was perfect or resolved into pretty packages, but you felt the emotion and possibility in everything.
final thoughts: I'd recommend it to the right audience
movie three: I, Tonya [2017]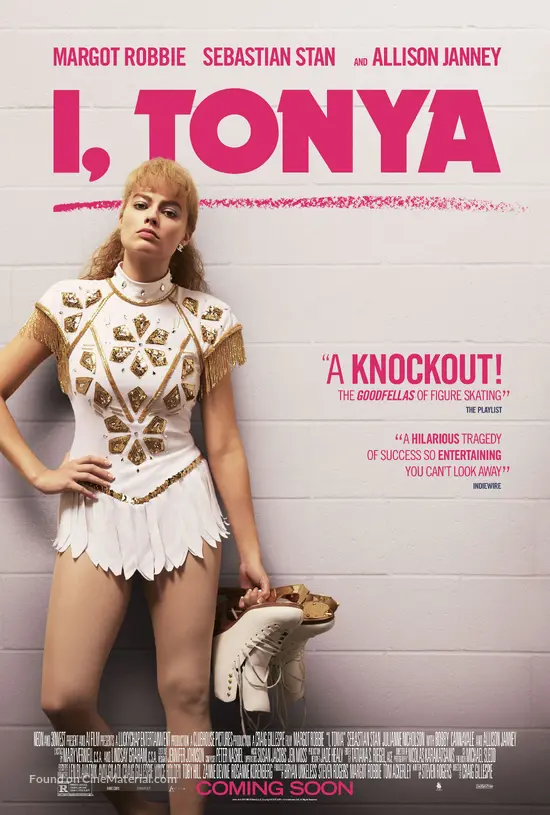 synopsis: Competitive ice skater Tonya Harding rises amongst the ranks at the U.S. Figure Skating Championships, but her future in the activity is thrown into doubt when her ex-husband intervenes. [view trailer]
age rating: 15
genre: biography, drama, comedy
my rating: ★★★★★★ 6/10
favourite character(s): Tonya
How many perspectives do you need to tell the complete story? How many can you trust? Why do people lie about their stories? These are all questions relevant to this film capturing the journey of one Tonya Harding. It effectively built multiple distinct character voices and welcomed the discussion of how people see themselves and/or want to be seen.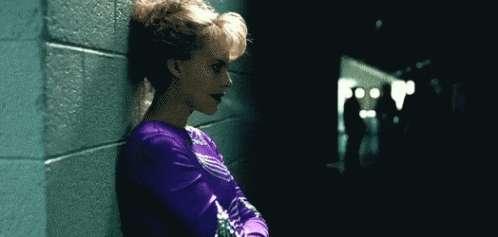 But the most favourable aspect is how it goes big on emotion. It was big personal and dark emotions too. Then mixed with a dark comedic edge, created a twisted balance I applaud. It made it a very unique, memorable movie.
Of course, I have to mention Tonya. A legend of her own right but mostly recognised as a loud-mouthed, angry woman. You can imagine the media's heyday. Therefore focusing on her story is overdue, and I appreciated the unique film experience this provided. Tonya's character was not rose-tinted, but it worked in her favour. She felt more human, so she was an empathetic and gripping person to follow.
final thoughts: I'd recommend it to the right audience
movie four: Gone Girl [2014]
synopsis: With his wife's disappearance having become the focus of an intense media circus, a man sees the spotlight turned on him when it's suspected that he may not be innocent. [view trailer]
age rating: 18
genre: drama, mystery, thriller
my rating: ★★★★★★★★ 8/10
favourite character(s): Amy & Tanner
The missing wife. A stale premise. But revive it with feminism, clever twists and unlikeable characters, and you have my interest. What I love about this movie is I don't think you are supposed to like any of the main characters, but what they showcased in the film made them refreshing and entertaining.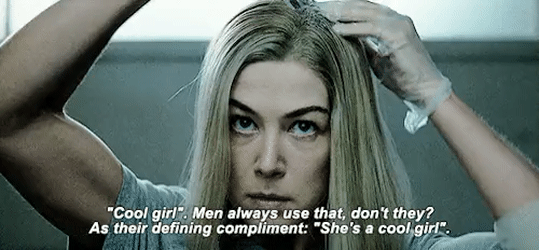 This is a film best going in with no expectations, so it limits what I can say, but Amy Dunne is an OG "unhinged" woman. Amy Dunne is an excellent feminist character to analyse. Not because she embodies inspiration but because of what she has to say and how she says it.
I felt like the whole film has a clever plot and adds unique conversations to the feminist discussions in twisty, dark ways. I recommend watching it at least once because it is a unique experience (beware for trigger warnings).
final thoughts: I loved it ✨
movie five: Midsommar [2019]
synopsis: A couple travels to Northern Europe to visit a rural hometown's fabled Swedish mid-summer festival. What begins as an idyllic retreat quickly devolves into an increasingly violent and bizarre competition at the hands of a pagan cult. [view trailer]
age rating: 18
genre: drama, mystery, horror
my rating: ★★★★★ 5/10
favourite character(s): Dani
This is a unique kind of horror, so much so that I feel uncomfortable using the horror term. Don't get me wrong, it was disturbing, and relying on human nature to showcase horror feels very… how shall I put this?… honest. The correct use of a bright, happy start is far more unsettling than any dark corridor with slamming doors. I liked how the film was set out to get progressively worse. In that way, it was a film you would NOT turn off. 
The apparent premise is about the pagan cult, but it is about displaying more. In fact, if you love analysing films, this is one for you. The characters' tentative relationships with each other disintegrate in different formats throughout the film. I mean… it was poetic. Does it represent the inevitable downfall of relationships or encourage our worst qualities? 
The movie's artistic talent and purpose are solidified with an ending that has a bite and will remain in your head. It is neither the cliché ending nor unearned as it was worked up to in the movie.
I think it is a good film for what it is, but ultimately not my cup of tea, so I would only ever watch it once.
final thoughts: I'm mostly glad I've seen it once
movie six: The Love Witch [2016]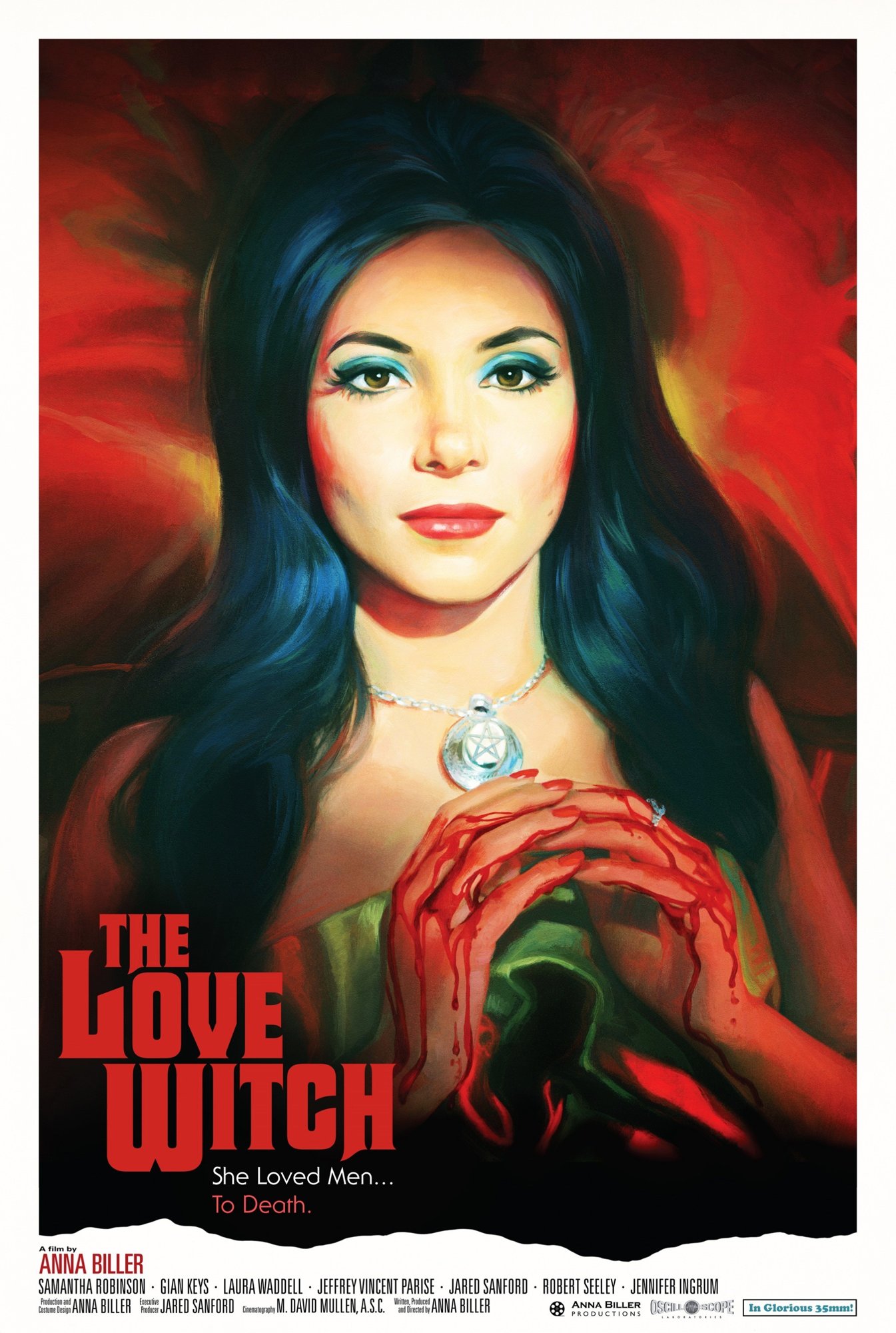 synopsis: A modern-day witch uses spells and magic to get men to fall in love with her, with deadly consequences. [view trailer]
age rating: 15
genre: comedy, horror, romance
my rating: ★★ 2/10
favourite character(s): Trish? No-one.
The most successful part of this movie was how it felt like it was filmed in the 80s. The style and acting embodied the past in a very complete way. The actual plot was unique, and I could see the messages it was trying to bring forth, but it was such a drag to watch in the end.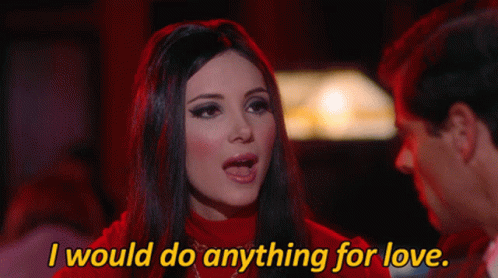 Drag is the perfect word for this movie. I was bored, and then I was bored of thinking, "I am bored". It was long-winded and picked up themes when it wanted, only to later drop them. In fact, I felt annoyed that it never went through with discussions. Perhaps it was hoping the conversations to end with the audience. But, there was an overarching plot. Sadly, I genuinely gave up caring about it.
Despite my moaning, I can (almost) appreciate how this is an "open to analysis" film, especially around relationships women have with men. You could get different standpoints from it, such as the freedom of women to express what they want, how society punishes certain traits and more. The imagery is another clever layer of the film. Yet, I really did NOT enjoy this movie when looking at it all together. For me, the good moments could not make a good movie.
final thoughts: I regret everything!
movie seven: Perfect Blue [1997]
synopsis: A pop singer gives up her career to become an actress, but she slowly goes insane when she starts being stalked by an obsessed fan and what seems to be a ghost of her past. [view trailer]
age rating: 18
genre: animation, crime, drama
my rating: ★★★★★★ 6/10
favourite character(s): Nini
When people called this movie the seed for 'The Black Swan', they were not lying.
This film will mess with your head, but that is very much what it hopes to inspire in the audience. It invites you to embrace the confusion of losing your mind. What is going on? Is it real? Who is what?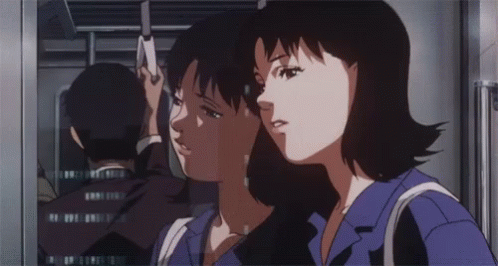 This discomfort is hard to achieve in a film, so it is no surprise that this movie is well-loved for successfully doing it. Especially as it is in hand with a well-written, meaningful plot.
I will admit the confusion (for me) was a lot at times. But then something would be revealed, and I think I would have made sense of it, just for another surprise to be around the corner. It was quite jarring, but you are in the main character's head, who is being pulled in many different ways. I think I need to rewatch it to understand and unpick more, but what a thrilling experience. I especially liked how it was symbolic of what it is like to be a woman in the media. It would make for an intelligent conversation piece. Then there is the ending! The breath of air after drowning, or was it?
final thoughts: I'd recommend it to the right audience
movie eight: The Forty-Year Old Version [2020]
synopsis: Radha is a down-on-her-luck NY playwright, who is desperate for a breakthrough before 40. Reinventing herself as rapper RadhaMUSPrime, she vacillates between the worlds of Hip Hop and theatre in order to find her true voice. [view trailer]
age rating: 15
genre: comedy, drama
my rating: ★★★★★★★★ 8/10
favourite character(s): Radha, Elaine
This was an excellent movie, and it deserves more love. But go in with the right expectations. This is not a comedy. It is a movie that does humour well in the right moments. Yes, they are different things. Overall this movie is a drama… a literary fiction book in film.
It is about a playwright coming up to 40, questioning what she has done with her life and what she can do going forward. I think this is a really ever-relevant theme. Having protagonists near 40 isn't rare, but I wouldn't call it common either. Therefore, I love how this movie created space for a 39-year-old to express feelings towards reflection, hope, goals, creativity, fear, change, love, doubt etc. Especially as the film valued honesty. You could feel that in how the movie talked about expressiveness and hope.
It was filmed in black and white giving it a home video, artistic, sombre feel. It accentuated the quiet moments meaning it transported a lot of emotion. Yet the use of well-timed humour and strong characters added more layers. I loved Radha. You rooted for her as you could feel what she had to lose and gain. The side characters similarly gave the plot a lot of realness and emotion. It had a lot of personality and depth. The school class, in particular, were entertaining.
final thoughts: I loved it ✨
Thank you for joining me for this watch party. I am sorry it was a bit longer, I will stick to 4 movies per post in the future. So, until next time…
follow me on letterboxd to stay up-to-date.
Have you watched any of these movies? What were your thoughts on them? What are your favourite movies with women leads?