Hello everyone!
After a 2 year break, the who's who fictional character game is back! What is that? I hear you chant.
Well…. you need two people and a list of characters for a start. Then going through each fictional character one by one, you pick who, out of the two of you playing, is most like said character and explain why.
Ideally, you do it where you don't know each other's answers. Me and Beth were successful in that area so let's see if our answers match.
Last time, it was a mix of random fictional characters. Today they are all from the hit US sitcom, The Office. I picked it because the characters are all so different and unlikeable therefore I thought it might be the most fun.
MICHAEL SCOTT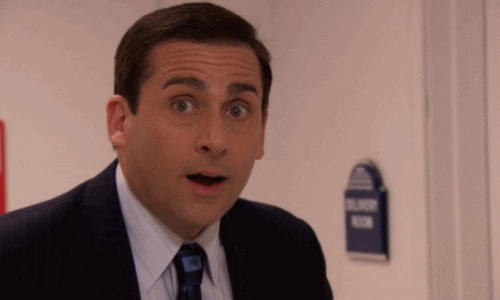 SOPHIE🍄: Michael is half ditzy and half pretend-arrogance. Or something along those lines… he is an enigma, but the most basic one. I would say Beth has the ditzy energy, but I have the 'i just made up this fact and you are never going to convince me it is wrong' energy. Because I think the latter is more Michael Scott, I am going to say I'm more like him.
BETH🌻: Ah Michael, hmm, I'm saying me. I'm more likely to throw my dummies out if I don't get my own way, more likely to start a 'thing' with a work colleague and more likely to talk absolute nonsense. But always pulls something out the bag in the end, I've been known to do this. I can think of at least one occasion.
DWIGHT SCHRUTE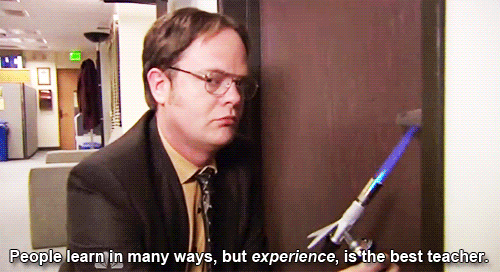 SOPHIE🍄: Me. Jim and Dwight are well known for their pranks across the series. Jim has an aloofness, whereas Dwight is all for the game but deadly serious about it. It is a mission, too sour about failures and too joyous about successes. I feel like this is very me. Too intense in my games, and no regrets about it.
BETH🌻: I feel like Dwight is 100% more like Soph, he's thorough, loyal, has a strong sense of self – all values that match Sophie to an absolute T, one of the differences being where Dwight is 'Bears, Beets and Battlestar Galatica' Sophie is 'Beans(coffee), Books and Books!' and he's my favourite character so yeah, wink wink.
STANLEY HUDSON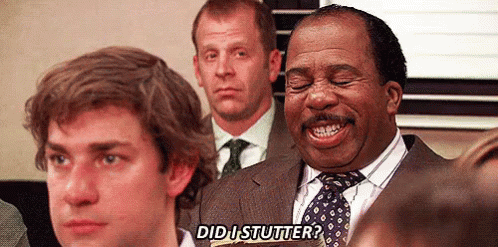 SOPHIE🍄: I am giving Stanley to Beth because I am half convinced Stanley's external dialogue is what her internal dialogue sounds like. Fed up with everyone's BS, loves food and the genuine joy for pretzel day.
BETH🌻: So me. He loves food and it's one of my greatest weaknesses (strengths), plus he can't wait to retire/leave work/not do work – and I'm all about that. Just give me a burger and let me sit at home OK? 
PHYLLIS VANCE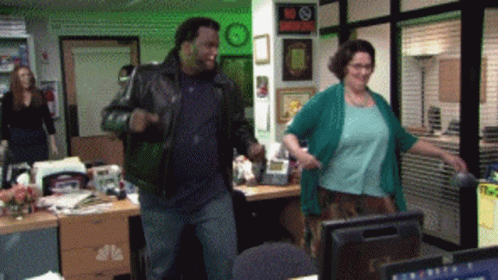 SOPHIE🍄: Another one for Beth. Phyllis is nice, reliable, cheeky, sure of herself and the secret life of the party. You just get good vibes from Phyllis, she is up for anything and has some iconic lines that are golden. I think she is very much a slice of Beth in the best way.
BETH🌻: Not as lovely as you might think, behind the floaty skirts and cute cut she's a bit of a minx with a surprising sassy side and I'm going to cheat and say this is me AND Soph, sweet and quiet on first impressions but we have a juicy zest once you know us well. You've got a lot to learn about this town sweetie.
KELLY KAPOOR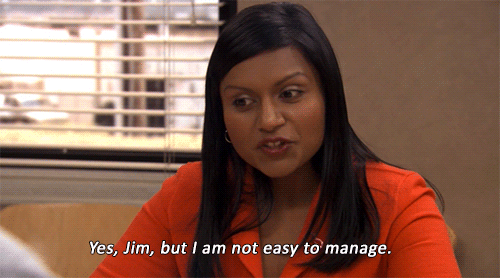 SOPHIE🍄: This is a tricky one, but I would probably say me. Kelly is messy, stubborn, and maintains a careless attitude. I feel like this is more me than Beth. Plus, I am more likely to say the things she says over Beth, even if I'm not that similar.
BETH🌻: Kelly does not give up. I mean she ends up with Ryan for goodness sake, the slipperiest serpent of them all. And this is more like Soph, she's made of tough, determined stuff and doesn't give up easily – whereas I'm on diet number 764,335 and have a million things I've started and haven't finished.
TOBY FLENDERSON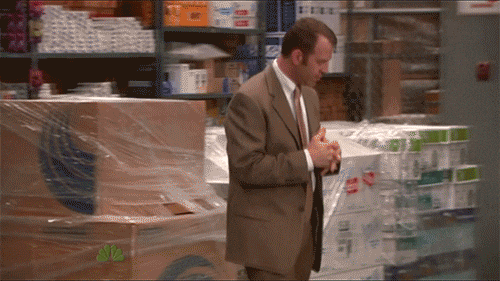 SOPHIE🍄: Toby is a nice guy who no one appreciates. He doesn't cause any problems. He is amicable and a peacekeeper. I can see these qualities in Beth. She is calm, distracts people from awkward moments and stirs people towards good, positive moments. But, as I am hoping you can guess, Beth is better than Toby and much more liked. In fact, people have literally told me how easy to like Beth is.
BETH🌻: I'm going to say Sophie on this, but no I don't hate her, hear me out, he's very by the book and knows his stuff – and Sophie is also very by the rules, there's a proper way of doing things, folks! But as far as I know, she's not obsessed with small-town-big-time stranglers. 
CREED BRATTON
SOPHIE🍄: Just to contradict myself (from the Toby section), this is Beth. Beth simply has more criminal in another life vibes than me.
BETH🌻: Golly, Creed. I can't in good conscience say that he's really like either of us – but if Creed put a gun to my head, I'd probably say more like me – I'm more likely to do something dubious and accidentally become a criminal I think. I said 'I think' everyone, stay calm… don't look at me like that … I'M NOT CRAZY… oh damn. Also, I have a worm guy. 
Thank you for joining us on the fun game and perhaps you go to know us a little better. We both loved doing it, so hopefully, we will be doing a similar post in the future.
who is your favourite character from the office? which character do you feel you are most like from the show?