Welcome fellow fantasy enthusiasts and other mortals who have found my blog,
This is the special section on my blog dedicated to the beauty of fantasy stories. Please stick around to share the love, find new favourites and discuss all the details.
Reacting to The British Fantasy Awards Shortlists 2022
what are these awards?
The British Fantasy Awards have been around since 1971, they are held by The British Fantasy Society (founded 1970). It is a celebration of the fantasy books published over the past year. The awards categories have changed over the years, so there are now 14. If you are interested in discovering more about the history of these awards, please head over to the website.
Best Newcomer (The Sydney J. Bounds Award)
Jurors: Anna Agaronyan, Clara Cohen, E.M. Faulds, Mina Ikemoto Ghosh, João F. Silva
J.T. Greathouse, for The Hand of the Sun King (Gollancz)
A story of a man who is torn between the legacy of his father and mother. Trying to find a path where both sides can find peace will change the world, but his search for freedom will entangle him in a war between the gods themselves. I have seen this book around but I knew very little of it. The premise sounds traditional but with a lot of potential depending on how it is executed. As it is on this list it gives me hope it will be a great read.
Ian Green, for The Gauntlet and the Fist Beneath (Head of Zeus)
A mother must become the weapon she was trained to be when her daughter is abducted. She will have to chase across a land of twisted monsters and ancient gods, to pursue the mysterious orbs, whose presence could herald the return of the Empire she spent her entire life fighting. It definitely sounds like an adventure book and I love that it features a mother main character.
Shelley Parker-Chan, for She Who Became the Sun (Tor)
In Mongol-occupied imperial China, a peasant girl refuses her fate of an early death. Stealing her dead brother's identity to survive, she rises from monk to soldier, then to rebel commander. I have heard a lot about this book. It sounds amazing and it is waiting on my shelf to be read, in fact, I've read one chapter. I've just got to finish my current read then I will be ready to go straight in. It makes me so happy to see it on this list.
Lorraine Wilson, for This is Our Undoing (Luna Press Publishing)
Set in In a near-future Europe. When an old enemy dies, Lina's dangerous past resurfaces, putting her family's lives at risk. Facing pressure from all sides, Lina realises that to save her family she too must become a monster. I hadn't heard of this book before but it sounds interesting. The mix of dystopian and thriller gives it a fresh feel. I want to know how it ends.
C.A. Yates, for We All Have Teeth (Fox Spirit)
A collection of short stories for those seeking weird, genre-bending stories. Welcome to the worlds of C.A. Yates, where fish sing, bikinis kill, and we all have teeth. Open the door and step inside; you'll need a cup of tea to survive. My first impression is that these will be weird stories to make you think and I do love riding that rollercoaster every once in a while.
Xiran Jay Zhao, for Iron Widow (Penguin Teen)
A young adult book this time and one with a steampunk vibe. When seeking revenge for her sister's killer, Zetian earns the label Iron Widow, a much-feared and much-silenced kind of female pilot who can sacrifice boy soldiers to power up Chrysalises instead of themselves. To tame her, she is paired up with the most powerful soldier but she is determined to fight the system. The plot is pretty epic and another book on my TBR. I love that it questions a misogynist system, and in such high stakes as she has to literally bet her life on it. The relationships should be interesting to explore in it too.
Best Film / Television Production
Jurors: Shona Kinsella, S. Naomi Scott, Marie Sinadjan, Neil Williamson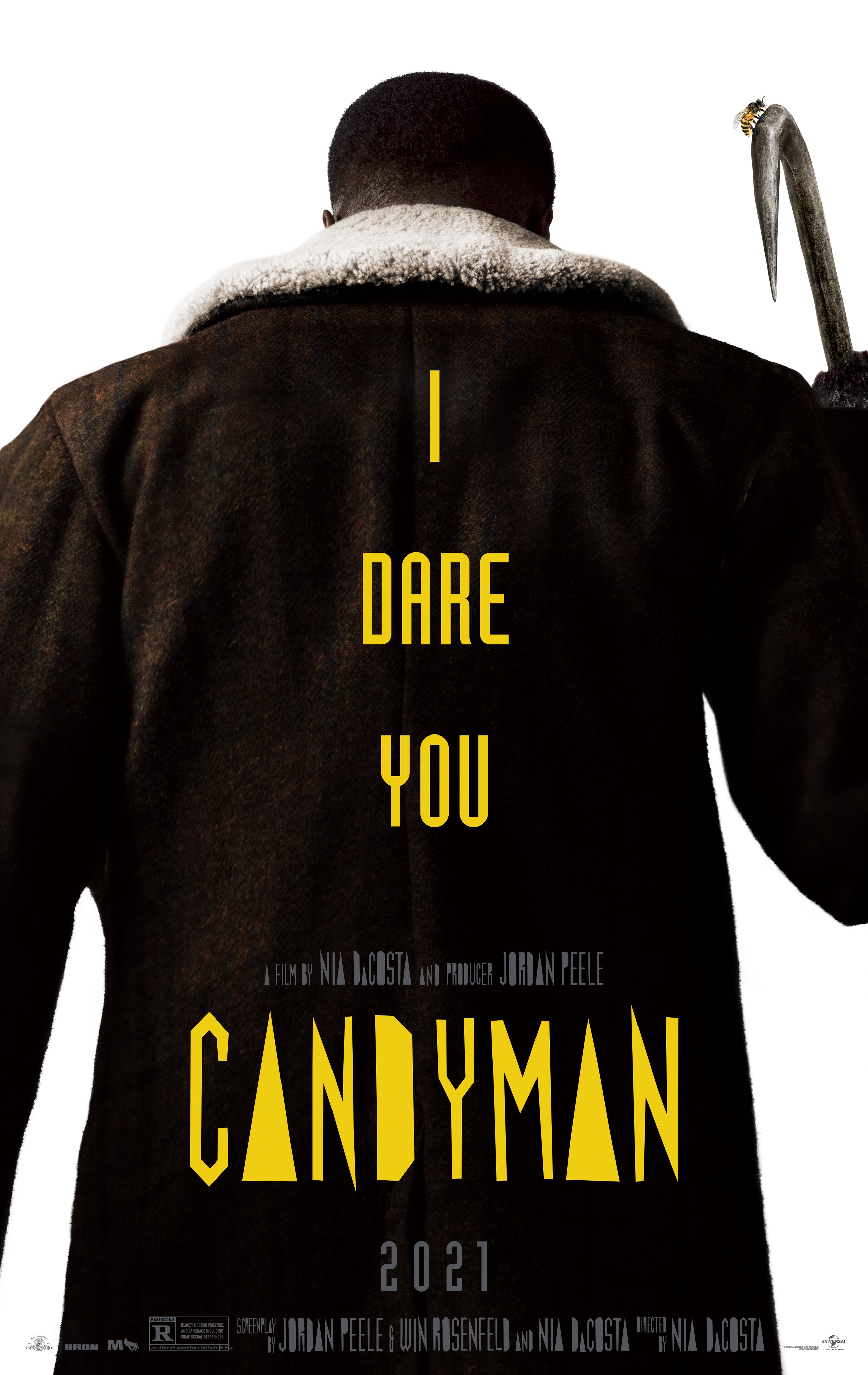 Candyman
A sequel to the horror film Candyman (1992) that returns to the now-gentrified Chicago neighbourhood where the legend began. I am not familiar with the original movie but I would definitely watch this horror. The setting seems really good and fun to play with in this genre.
Dune
A noble family becomes embroiled in a war for control over the galaxy's most valuable asset while its heir becomes troubled by visions of a dark future. I am not surprised to see this one on this list. Fantasy/Sci-Fi movies are so expensive to make so when one is out it is talked about a lot. I haven't seen it myself but I know it has been popular.
The Green Knight
A fantasy retelling of the medieval story of Sir Gawain and the Green Knight. I really want to watch this movie because I need more knight films in my life. (any "a knight's tale" fans?)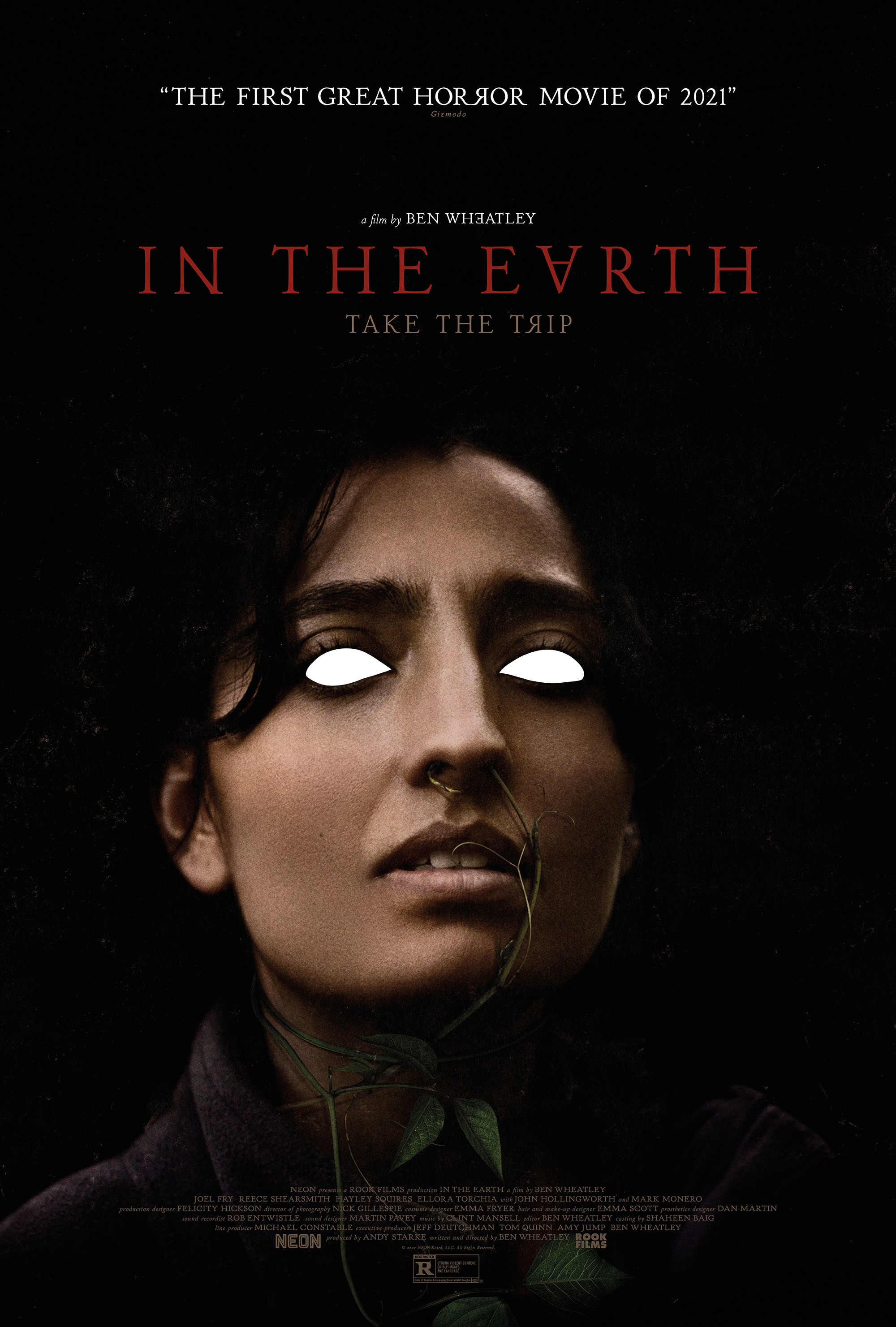 In the Earth
As the world searches for a cure to a disastrous virus, a scientist and park scout venture deep into the forest for a routine equipment run. Love the setting but I'm not sure how the plot will bulk out the whole movie. Also, I think I can guess when this movie was written.
Last Night in Soho
An aspiring fashion designer is mysteriously able to enter the 1960s where she encounters a dazzling wannabe singer. But the glamour is not all it appears to be and the dreams of the past start to crack and splinter into something darker. I didn't realise this was a horror movie in truth, but that only makes me more intrigued to watch it. Again, such a cool setting which should enhance the plot.
Space Sweepers
Set in the year 2092 and follows the crew of a space junk collector ship called The Victory. When they discover a humanoid robot named Dorothy that's known to be a weapon of mass destruction, they get involved in a risky business deal. This honestly sounds like a classic adventure movie and I say that as a compliment. Hopefully, I will watch it soon.
Best Non-Fiction
Jurors: Alba Arnau Prado, Gautam Bhatia, Jessica Lévai, Patrick McGinley, Aparna Sivasankar
After Human: A Critical History of the Human in Science Fiction from Shelley to Le Guin, Thomas Connolly (Liverpool University Press)
This book examines the history of the human in science fiction and the genre's complex engagements with humanism and posthumanism. This book will scratch your mind in the best way. Fantasy and Sci-Fi are great at being metaphors for the human conditions so a book analysing that sounds amazing. I imagine it will be a dense read though.
Dangerous Visions and New Worlds: Radical Science Fiction, 1950-1985, ed. Andrew Nette & Iain McIntyre (PM Press)
This book details, celebrates and evaluates how science fiction novels and authors depicted, interacted with, and were inspired by the cultural and political movements throughout the 'long sixties' in America and Great Britain. I know no great detail of the political events during this time (only bullet points at best) but it would be very interesting to see the effects of the times on literature (and vice versa).
The Full Lid, Alasdair Stuart, ed. Marguerite Kenner
A weekly newsletter for a weekly pop culture enthusiasm download. Movies, games, books, comics, music, ketchup recipes. As a blogger, I love seeing an online service getting recognition. Plus, a pop newsletter sounds fun.
Ginger Nuts of Horror, Jim Mcleod
Another online service/blog which I love. This one with an emphasis on horror, including book reviews, films, interviews, game reviews and more.
Worlds Apart: Worldbuilding in Fantasy and Science Fiction, ed. Francesca T. Barbini (Luna Press Publishing)
Worlds Apart has fifteen papers by a diversity of commentators. Tenured academics and fiction authors ponder how created or borrowed worlds affect mood, relationships and action. The papers define aspects of fantasy and sci-fi worldbuilding, offering insightful analyses. As a big fan of creating and exploring worlds, this book immediately interests me. To really think and deep dive into what these worlds mean/influence sounds amazing.
Writing the Uncanny, ed. Dan Coxon & Richard V. Hirst (Dead Ink)
Writing the Uncanny sees some of the best contemporary authors explain what drew them to horror, ghost stories, folklore and beyond, and reveal how to craft unsettling fiction which resonates. Horror is a fascinating, weird genre so I think hearing people discuss their interest in it would just be as fascinating and weird (in the best way).
Best Artist
Jurors: Eugen Bacon, Marc Gascoigne, Alex Gushurst-Moore, John Newsome, Paul Yates
I don't know the art world well enough to comment on this part. But, all these artists have beautiful work. I think any art is amazing as a creative outlet so I love that there is a spot to showcase and appreciated artists, especially in the fantasy genre.
Olga Beliaeva
Randy Broecker
Alison Buck
Jenni Coutts
Vincent Sammy
Daniele Serra
Best Comic / Graphic Novel
Jurors: Ben Appleby-Dean, Hannah Barton, Dan Coxon, Rajani Thindiath, Mob W
2000AD (Rebellion)
2000 AD is a weekly British science fiction-oriented comic magazine. This comic has been established since 1977 but I hadn't actually heard of it. Nonetheless, I bet there is a rich community and love surrounding the comics which is always wonderful to see.
DIE Vol. 4, Kieron Gillen & Stephanie Hans (Image)
A pitch-black fantasy where a group of forty-something adults have to deal with the returning unearthly horror they barely survived as teenage role-players. If Kieron's in a rush, he describes it as "Goth Jumanji." I have wanted to read this graphic novel series for a while therefore I am glad to see the later editions getting some love. It seems like a fun horror and I bet the art is awesome.
Djeliya, Juni Ba (TKO Studios)
Inspired by West African folklore and stories handed over centuries. Following the adventures of Mansou, the last prince of a dying kingdom, and Awa, his loyal Djeliya, or 'royal storyteller' as they journey to meet the great wizard who destroyed their world and then withdrew into his tower, never to be seen again. This graphic novel sounds amazing and I'm mad I'd never heard of it before. It should be a classic adventure plot with art to bring it to life.
ExtraOrdinary, V.E. Schwab & Enid Balam (Titan Comics)
After surviving a deadly crash, Charlotte Tills becomes "ExtraOrdinary", gaining the ability to foresee a person's death. But when she looks into her own future, only the face of notorious EO killer Eli Ever stares back! A spin-off from Schwab's Villains series. I didn't like Vicious so I wouldn't pick it up, but I hope the fans enjoy it.
The Girl from the Sea, Molly Knox Ostertag (Graphix)
One night, Morgan is saved from drowning by a mysterious girl named Keltie. The two become friends and maybe more (even though they are each hiding secrets from each other). As the girls start to fall in love, everything they're each trying to hide will find its way to the surface. This graphic novel has had a lot of hype recently. It sounds like a heartwarming, first love story alongside pretty island imagery. What's not to love?
Usagi Yojimbo: Homecoming, Stan Sakai (IDW Publishing)
Miyamoto Usagi is a rabbit bodyguard, a samurai who wanders the mountains, plains, and villages of 17th-century Japan populated almost exclusively by anthropomorphic animals. Sometimes violent, sometimes funny, Usagi's adventures are filled with fascinating historical detail. I'd definitely read this graphic novel. It sounds entertaining but I am also very interested in the historical detail too.
Best Magazine / Periodical
Jurors: Nicole Chen, Adri Joy, Andrew Lindsay, Suzie Wilde
Anathema Magazine
Anathema: Spec from the Margins is a free, online tri-annual magazine publishing speculative fiction (SF/F/H, the weird, slipstream, surrealism, fabulism, and more) by queer people of colour on every range of the LGBTQIA spectrum. 😍
Apex Magazine
Apex Magazine is an online zine of fantastical fiction. They publish short stories filled with marrow and passion, works that are twisted, strange, and beautiful. Creations where secret places and dreams are put on display. They publish in two forms: an every-other-month eBook issue and a gradual release of an entire issue online over a two-month period. Additionally, they produce a monthly podcast of narrated original short fiction.
Black Static
Black Static, formerly The 3rd Alternative, was founded in 1994 and is the UK's only professional horror fiction magazine, publishing new stories by some of the finest writers working in the field today
Ginger Nuts of Horror
Ginger Nuts of Horror is one of the premium sites dedicated to the coverage of the horror genre. They offer reviews of books, films, comics, toys, video games and all other manners of horror-related products.
Interzone
Interzone is a British fantasy and science fiction magazine. Published since 1982, Interzone is the eighth-longest-running English language science fiction magazine in history, and the longest-running British science fiction magazine.
Shoreline of Infinity
Shoreline of Infinity features brand-new science fiction stories from writers from all over the world.
Best Independent Press
Jurors: David Green, Susan Maxwell, Alia McKellar, Kate Sibson
i love this category.
Black Shuck Books
An independent publisher of horror fiction based in the depths of the Kent countryside. Whether novels, novellas, collections or anthologies, Black Shuck is committed to producing and publishing the best in modern and classic horror.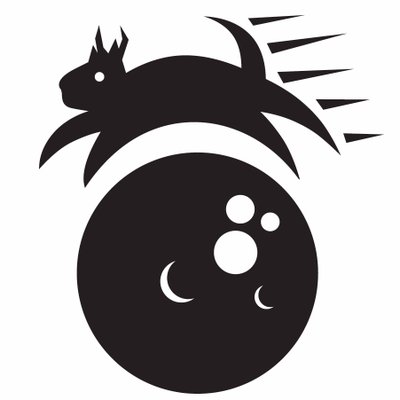 Luna Press Publishing
An award-winning independent UK press, founded in 2015 by author Francesca T. Barbini. We deal with Speculative Fiction, Science Fiction, Fantasy and Dark Fantasy, in both fiction and academia.
Unsung Stories
Unsung Stories are publishers of literary and ambitious speculative fiction that defies expectation. We publish stories that you'll never forget, from the varied worlds of genre fiction – science-fiction, fantasy, horror, and all the areas in-between.
Wizard's Tower Press
Wizard's Tower is a small press publisher specializing in science fiction, fantasy and related fields.
Best Audio
Jurors: Marcus Gipps, Ann Landmann, Adam McDowall, Tam Moules, Dion Winton-Polak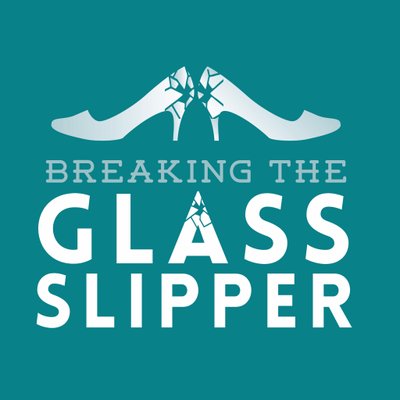 Breaking the Glass Slipper, Megan Leigh, Lucy Hounsom & Charlotte Bond
Science fiction, fantasy, and horror are genres created and loved by women as much as men, and yet the majority of the dialogue surrounding them still suggests that women are in the minority. We are here to prove to all genre lovers that there is a place for female writers and great female characters amongst the men folk! 😍
Daughter of Fire and Water, Lyndsey Croal
Brida is the daughter of the goddess Callie and bound by a spell her mother has cast, she is held captive beneath Callie's mountain fortress. Longing to escape so that she may travel freely around the world, Brida has tried many ways in vain to break the spell but the visit of a prince from the world beyond the mountain may suggest ways in which her captivity can be ended.
Monstrous Agonies, H.R. Owen
From werewolves in the doghouse to new ghouls at work, there's no problem too strange for this weekly advice segment, from the UK's only dedicated radio service for the creature community.
PodCastle, Escape Artists
PodCastle is a weekly fantasy podcast producing audio performances of fantasy short fiction, including all the subgenres of fantasy, including magical realism, urban fantasy, slipstream, high fantasy, and dark fantasy.
PseudoPod, Escape Artists
The horror fiction podcast. For over a decade, Pseudopod has been bringing you the best short horror in audio form, to take with you anywhere. They pay authors' professional rates for original fiction and reach more people every week than any other short fiction horror market.
Best Anthology
Jurors: Colleen Anderson, Caroline Mersey, Graham Millichap, Siân O'Hara, Fabienne Schwizer
Dreamland: Other Stories, ed. Sophie Essex (Black Shuck Books)
These twenty-one stories from female-identifying writers embody the disconnect between reality and the subconscious, the desire for meaning and the need for escape, the too-blue sky and the abyss. This sounds poetic and transcendent. I hope I am smart enough for this book but that question would have to be answered after reading.
Out of the Darkness, ed. Dan Coxon (Unsung Stories)
This collection harnesses the power of fiction to explore and explain the darkest moments in our lives. Horror isn't just about the chills—it's also about the healing that comes after. This book focuses on exploring mental health in horror which I think is a great opportunity for rich, meaningful stories and to increase awareness. A bonus in it is in collaboration with the charity, Mental Wellbeing. I love to see it.
Sinopticon: A Celebration of Chinese Science Fiction, ed. Xueting C. Ni (Solaris)
Thirteen stories, all translated for the first time into English — represents a unique exploration of Chinese speculative fiction from the late 20th Century onwards. I love this. It is such a great opportunity for English readers to begin to experience a variety of Chinese literature in one book.
There Is No Death, There Are No Dead, ed. Aaron J. French & Jess Landry (Crystal Lake)
A horror anthology that tackles all aspects of the spiritualist movement: from the true believers to the nay-sayers, the hoaxes to hauntings, the real mediums to the scam artists. From ghosts to possessions, from profound loss to insurmountable grief, these short stories explore limitless genres. This book seems to cover all bases for spirits and I like that. It can include multiple types of stories and themes. It is more than just horror which is a good thing for me.
When Things Get Dark, ed. Ellen Datlow (Titan)
A collection of new and exclusive short stories inspired by, and in tribute to, Shirley Jackson. This sounds ideal for Shirley Jackson fans and horror fans. I am neither so I am probably not the target audience.
The Year's Best African Speculative Fiction, ed. Oghenechovwe Donald Ekpeki (Jembefola Press)
Speculative fiction stories by some of the most exciting voices, old and new, from Africa and the diaspora, published in 2020. It features twenty-nine stories, by twenty-five writers. Africa is a vast continent will many stories to tell so an anthology is a great place to start exploring. As this particular anthology is titled "the best", it seems perfect start.
Best Short Fiction
Jurors: Laura Burge, Rick Danforth, Peter Haynes, Phillip Irving, Roseanna Pendlebury
This category focuses on specific short stories, mostly from anthologies or magazines. As they are specific stories, I can't find information on them. But, I love the spot for these stories to shine and be appreciated.

Bathymetry, Lorraine Wilson (in Strange Horizons)
Fill the Thickened Lung with Breath, C.A. Yates (in Dreamland: Other Stories, Black Shuck Books)
A Flight of Birds, E.M. Faulds (in Shoreline of Infinity #25)
Henrietta, T.H. Dray (in BFS Horizons #13)
O2 Arena, Oghenechovwe Donald Ekpeki (in Galaxy's Edge)
Sky Eyes, Julie Travis (in Dreamland: Other Stories, Black Shuck Books)
Best Collection
Jurors: Wendy Bradley, Jay Faulkner, Brian Kinsella, Abbi Shaw, Filip Drnovšek Zorko
The Ghost Sequences, A.C. Wise (Undertow Publications)
A lush and elegant collection of tales teeming with frightful and tragic events, yet profoundly and intimately human. These chilling tales will engross and enthral. These stories sound very eerie and personal which I think is a strength in horror stories.
I Spit Myself Out, Tracy Fahey (Sinister Horror Company)
Eighteen unsettling narratives map the female experience from puberty to menopause. I Spit Myself Out is a collection of female-voiced stories exploring the terror that lurks beneath the surface of the skin. I think using the female body itself as 'the terror' is very fascinating and I would be very interested to see what the stories are like.
The Museum for Forgetting, Pete W. Sutton (Grimbold Books)
We are made from memories, they are stories we tell ourselves to build our personalities. So what does it mean to forget?
A collection of eleven tales about memory and its fallibility. About hauntology, the weird, and the eerie. This book sounds like it will make you think and consider what memories mean. I love books that push your mind to new levels so I would read this one too.
Never Have I Ever, Isabel Yap (Small Beer Press)
Spells and stories, urban legends and immigrant tales: the magic in Isabel Yap's debut collection jumps right off the page, from the joy in her new novella, 'A Spell for Foolish Hearts' to the terrifying tension of the urban legend 'Have You Heard the One About Anamaria Marquez'. I love urban legends and exploring them through fictional writing, so a collection including multiple genres sounds really intriguing. This book is also set in the Phillippines which greatly appeals to me as you can sink into the locations and stories.
We All Have Teeth, C.A. Yates (Fox Spirit)
A collection of short stories for those seeking weird, genre-bending stories. Welcome to the worlds of C.A. Yates, where fish sing, bikinis kill, and we all have teeth. Open the door and step inside; you'll need a cup of tea to survive. My first impression is that these will be weird stories to make you think and I do love riding that rollercoaster every once in a while.
Best Novella
Jurors: Verity L. Allan, Allyson Bird, Kshoni Gunputh, Mick Rohman, Ellis Saxey
& This is How to Stay Alive, Shingai Njeri Kagunda (Neon Hemlock)
Nyokabi's world unravels after her brother Baraka's death by suicide. When an eccentric auntie gives Nyokabi a potion that sends her back in time to when Baraka was still alive, it becomes her only goal to keep him that way. I think books dealing with mental illnesses are important and using fantastical aspects is a great way to pull conversations into new areas therefore this book sounds right up my alley.
Defekt, Nino Cipri (Tordotcom)
To test his commitment to the job, Derek is assigned to a special inventory shift, hunting through the store to find defective products. Helping him is the inventory team — four strangers who look and sound almost exactly like him. Are five Dereks better than one? This sounds like a robot story questioning the workplace and human condition. I am not much of a robot fan but this has me intrigued. I like the questions it has inspired me to think already.
Matryoshka, Penny Jones (Hersham Horror)
There's something wrong with her husband, Mark. Lucy had heard all the rumours about him, the whispered warning behind her back. Now it appears that whatever's the matter with Mark is spreading; tainting, infecting both strangers and those that she loves the most. So, Lucy will go to any lengths to protect both her young daughter and her unborn child. I'm not going to lie my immediate interest is not piqued, but it could explore some interesting themes.
A Spindle Splintered, Alix E. Harrow (Tordotcom)
Charm is intent on making Zinnia's last birthday special with a full sleeping beauty experience, complete with a tower and a spinning wheel. But when Zinnia pricks her finger, something strange and unexpected happens, and she finds herself falling through worlds, with another sleeping beauty, just as desperate to escape her fate. A retelling with a twist. Honestly, I probably wouldn't read it as I tend to avoid retellings of the 'Disney princesses' and this has no other element that intrigues me.
These Lifeless Things, Premee Mohamed (Solaris)
They invaded without warning, killed nearly all of humanity, and relentlessly attack everyone who was left. 50 years later, a journal is found which could shed light on the Invasion, turning the unyielding mystery of the short war into a story of hope and defiance. It sounds like an interesting way to learn about war and survival with emphasise on emotions. I could be convinced to read this book.
Treacle Walker, Alan Garner (4th Estate)
Joe Coppock squints at the world with his lazy eye. He reads his comics, collects birds' eggs and treasures his marbles. When Treacle Walker appears off the Cheshire moor one day – a wanderer, a healer – an unlikely friendship is forged and the young boy is introduced to a world he could never have imagined. The premise does not give a lot away but I like unlikely friendships and new worlds.
Best Horror Novel (The August Derleth Award)
Jurors: Edward Crocker, Laura Lucas, Ian Muneshwar, Amanda Rutter, Judith Schofield
The Book of Accidents, Chuck Wendig (Penguin)
Meet the Graves, Nathan, Maddie, and their son, Oliver. Nathan and Maddie have their past traumas and their hometown carries something sinister too. When they move back home, dark magic puts them at the heart of a battle of good versus evil and a fight for the soul of the family—and perhaps for all of the world. But the Graves family has a secret weapon in this battle: their love for one another. This sounds like most horror movies I've seen but with interesting characters and great writing, it could become a solid book.
A Broken Darkness, Premee Mohamed (Solaris)
Sequel to Beneath the Rising. It's been a year and a half since the Anomaly when They tried to force their way into the world from the shapeless void. Nick Prasad is piecing his life together and has joined the secretive Ssarati Society to help monitor threats to humanity. But then portals start opening up again, throwing them all back to darkness. I haven't read the first book and I doubt I ever will. It has an alien vibe which is not me.
A Dowry of Blood, S.T. Gibson (Nyx Publishing / Orbit)
Saved from the brink of death by a mysterious stranger, Constanta is transformed from a medieval peasant into a bride fit for an undying king, Dracula. But when Constanta realises her beloved is capable of terrible things, she finds comfort in the arms of her rival consorts and begins to unravel their husband's dark secrets. People love this book and I need it. Dracula's brides deserve all the stories and this one with beautiful writing and dark themes sounds… *chef's kiss*.
The Last House on Needless Street, Catriona Ward (Viper Books)
This is the story of a serial killer. A stolen child. Revenge. Death. And an ordinary house at the end of an ordinary street. All these things are true. And yet they are all lies… You think you know what's inside the last house on Needless Street. You think you've read this story before. That's where you're wrong. I am not much of a horror reader but the narrative approach has got me incredibly curious. One I'd like to read reviews about first.
My Heart is a Chainsaw, Stephen Graham Jones (Titan)
Jade Daniels is an angry, half-Indian outcast with an abusive father, an absent mother, and an entire town that wants nothing to do with her. And, she loves horror movies. Jade narrates the quirky history of Proofrock as if it is one of those movies. Yet, even as Jade drags us into her dark fever dream, a surprising and intimate portrait emerges… a portrait of the scared and traumatized little girl beneath the Jason Voorhees mask. I would love to check out Jones' books and this horror movie narrative sounds really intriguing, especially as it is part of a wider discussion.
Nothing but Blackened Teeth, Cassandra Khaw (Titan)
A Heian-era mansion stands abandoned, its foundations resting on the bones of a bride and its walls packed with the remains of the girls sacrificed to keep her company. It's the perfect wedding venue for a group of thrill-seeking friends. But a night of food, drinks, and games quickly spirals into a nightmare. For lurking in the shadows is the ghost bride with a black smile and a hungry heart. The cover is perfect. Sadly this book does have a low rating on GoodReads, but the premise sounds good.
Best Fantasy Novel (The Robert Holdstock Award)
Jurors: Danny Boland, Jessie Goetzinger-Hall, Elloise Hopkins, Kate Towner, Jen Williams
The Black Coast, Mike Brooks (Orbit)
Saddling their war dragons, the Naridans rush to defend their home only to discover that the clanspeople of Iwernia have not come to pillage at all. They have been driven from their own homeland by the rise of a daemonic despot who prophesies the end of the world. They are all about to be caught in the cross-fire of the coming war for the world – if only its new mismatched society can survive. I was not too familiar with this book but after reading the synopsis, I like it. It has a lot of moving parts which I would like to explore.
The Jasmine Throne, Tasha Suri (Orbit)
A captive, vengeful princess and a maidservant in possession of forbidden magic become unlikely allies on a dark journey to save their empire from the princess's traitor brother. A book I've read, finally (I never thought this day would come). I really enjoyed this book. It was a great start to a new series. The characters were great. I love Malini (princess) soo much. The world was interesting and I loved the themes. I understand why it is in this category because ah-mazing.
She Who Became the Sun, Shelley Parker-Chan (Tor)
In Mongol-occupied imperial China, a peasant girl refuses her fate of an early death. Stealing her dead brother's identity to survive, she rises from monk to soldier, then to rebel commander. I have heard a lot about this book. It sounds amazing and it is waiting on my shelf to be read. In fact, I've read one chapter. I've just got to finish my current read then I will be ready to go straight in. It makes me so happy to see it on this list.
Sistersong, Lucy Holland (Tor)
Riva can cure others, but can't seem to heal her own deep scars. Keyne battles to be accepted for who he truly is—the king's son. And Sinne dreams of seeing the world, of finding adventure. These three siblings, entangled in a web of treachery and heartbreak, must fight to forge their own paths. Their story will shape the destiny of Britain. This book is at my library and on my 'reading list' but after reading the synopsis properly and seeing it on this list, it has made me realise I need to prioritise this one.
This is Our Undoing, Lorraine Wilson (Luna Press Publishing)
Set in In a near-future Europe. When an old enemy dies, Lina's dangerous past resurfaces, putting her family's lives at risk. Facing pressure from all sides, Lina realises that to save her family she too must become a monster. I hadn't heard of this book before but it sounds interesting. The mix of dystopian and thriller gives it a fresh feel. I want to know how it ends.
The Unbroken, C.L. Clark (Orbit)
Touraine is a soldier. Her company has been sent back to her homeland to stop a rebellion, and the ties of blood may be stronger than she thought. Luca is a princess who needs someone who can sway the rebels toward peace. Through assassinations and massacres, in bedrooms and war rooms, Touraine and Luca will haggle over the price of a nation. But some things aren't for sale. This is absolutely perfect because this is my favourite book of the year (so far). I adored The Unbroken, it had rich politics, human characters, a twisty plot and interesting relationships. I really, really loved it.
The winners will be announced at FantasyCon in September. Good luck to all the nominees.
Thank you for reading. Please let me know your thoughts on these books, awards and categories. It was fun to explore all the nominees as I didn't know much going in. I really appreciated how the awards celebrate many mediums of fantasy.