Welcome fellow fantasy enthusiasts and other mortals who have found my blog,
This is the special section on my blog dedicated to the beauty of fantasy stories. Please stick around to share the love, find new favourites and discuss all the details.
Was The Empire of Gold, the final Daevabad book, by S. A. Chakraborty everything I wanted?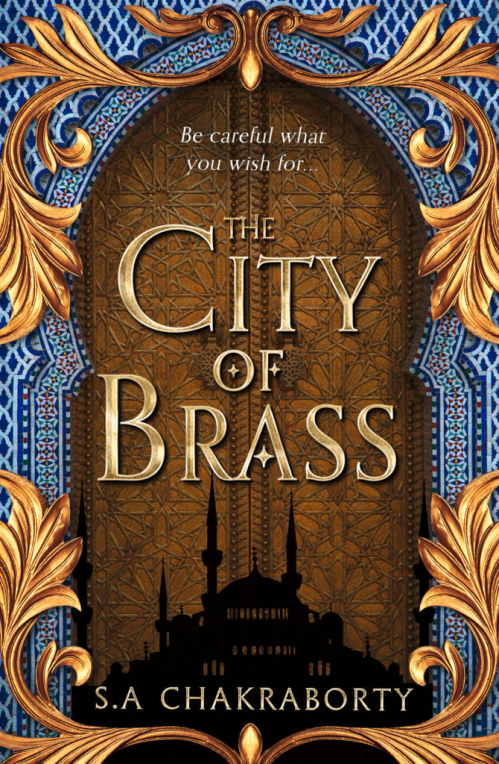 about the series
Nahri has never believed in magic. Certainly, she has power; on the streets of 18th century Cairo, she's a con woman of unsurpassed talent. But she knows better than anyone that the trade she uses to get by—palm readings, zars and a mysterious gift for healing—are all tricks; both the means to the delightful end of swindling unwitting Ottoman nobles and a reliable way to survive.

But when Nahri accidentally summons Dara, an equally sly, darkly mysterious djinn warrior to her side during one of her cons, she's forced to reconsider her beliefs. For Dara tells Nahri an extraordinary tale: across hot, windswept sands teeming with creatures of fire and rivers where the mythical marid sleep, past ruins of once-magnificent human metropolises and mountains where the circling hawks are not what they seem, lies Daevabad, the legendary city of brass—a city to which Nahri is irrevocably bound.

In Daevabad, within gilded brass walls laced with enchantments and behind the six gates of the six djinn tribes, old resentments run deep. And when Nahri decides to enter this world, her arrival threatens to ignite a war that has been simmering for centuries.

Spurning Dara's warning of the treachery surrounding her, she embarks on a hesitant friendship with Alizayd, an idealistic prince who dreams of revolutionizing his father's corrupt regime. All too soon, Nahri learns that true power is fierce and brutal. That magic cannot shield her from the dangerous web of court politics. That even the cleverest of schemes can have deadly consequences.

After all, there is a reason they say to be careful what you wish for…
READING THE EMPIRE OF GOLD
🚫⚠️ warning: spoilers ahead ⚠️🚫
Part 1
The Kingdom of Copper was a glorious book. The ending was phenomenal due to all the action and emotionally driven scenes. I wanted, nay needed, the sequel to match its level. However, it started off so much slower than necessary. It seemed like part 1 was Nahri and Alizayd going on holiday. *tumbleweed*
I was waiting for the political events and twists to begin. I mean, this is the third and final book. You don't need to ease me in… Just take me there already!!
But, I will admit their "holiday" time in Cairo gave us time to explore their emotions and enjoy the bond between Nahri and Ali. I particularly liked how it was reverse roles compared to The City of Brass. Instead of Ali showing Nahri Daevabad, it was her showing him Cairo. It felt like a satisfying full-circle moment. But give me the freaking action.
I have enjoyed Dara's perspective the most so far. He is in the middle of all the plot and politics. It is naturally more gripping, and I like how he had more to say than just admiring Nahri for once.
---
Part 2
Nahri and Ali. They are still not at Daevabad. I am at the end of part 2, and 3/4 of the way into the book, yet I am waiting for what I thought the whole book would be about. Like more should have happened by now, right???
Well, to be fair, the plot did begin to move more as Nahri and Ali started their journey. Whilst clearly not as plot-heavy as I expected for the finale, it was still fun. I genuinely love them together. Ali is an innocent puppy who is actually a highly skilled warrior. Then Nahri is good-hearted with an edge, she doesn't believe people will choose the right thing, but she is interested in making them.
""I envy you sometimes, …I wish I had your faith in people's goodness.""
One of my favourite scenes was when they got captured by the pirates. I loved it. Ali was flustered by Fiza, and then Nahri's reaction hinted at jealousy. It was perfect. I think the overall ship for Nahri and Ali is underdeveloped, but there are still some golden moments.
Moving on, they arrived at Ta Ntry. Nahri went back into defensive mode. Seeing her revert back to her old ways made me realise the freedom she found both in Cairo and with Ali. Whilst I have talked (moaned) about how I wish they had a more political plot, I recognise and appreciate the purpose of that momentary peace.
At Ta Ntry, we met up with Jamshid. I actually loved this decision. Jamshid is nice (except to Ali). Like actually nice and essentially in the middle-ground of a lot of politics. Although being a prisoner naturally made him tense. The main plot was him discovering he was Manizheh's son and Nahri's brother. He heard those titles and became them. You might call it simplistic character design, but I found it very endearing. Their sibling relationship has a lot of potential. Up to Nahri poisoning and leaving Jamshid at the end, but that's usual sibling stuff. (I'm editing having read the book, and I loved that she changed her mind, teamwork is the dreamwork).
"If you make me cry, I'm going to stab you."
One of the most dominant plots in this section was Ali and the marid. Talking about his ancestry and gifts. It was good to unlock and explore the history, especially as I love anything to do with water, but it got too much page time. Thankfully I still enjoyed Ali's character in these scenes, particularly in the fight with Sobek.
"Kill him. Kill him, you idealistic fool."
Plus, it led to a separation scene and (hopefully reunion) for Nahri and Ali. I LOVE goodbye and reunion scenes. I shall never get bored of them. Nahri and Ali kissed… Yay. It ended abruptly and was slightly unforgettable, but I was still glad to see it.
Anyways, Ali has lost his djinn powers and even changed appearances. I don't know how to feel. That's quite a significant change, and I haven't had much time to explore it. It happened very suddenly.
Now I'm getting the feeling of lots of powers joining forces against Daevabad. FINALLY. I hope the long wait will be worth it. It is giving me Avengers vibes. do. not. let. me. down.
Speaking of Daevabad, Dara. He was my least favourite point of view, but how the tables have turned. I love his perspective. We see lots of the politics and handling of a fractured Daevabad. Dara's perspective enhances this because of his own tortured soul. The past he remembers and the Daevabad he dreams of making. You feel his anguish, pain and desperate need for hope. The way all these feelings motivate his decisions is very believable.
Whilst I loved Dara's perspective, I wouldn't have said no to more insights into the working parts of Daevabad during this time, aka Zaynab and Muntadhir perspectives, please. Especially as Muntadhir's surprise coup was a great twist. I would soak up plenty of details surrounding it, even if less surprising. Kaveh's death was brutal. It was very significant and showcased Muntadhir's despair. Dara's devastation had a lot of weight in this scene too. I very much felt it with him.
"We were supposed to be the saviours of Daevabad."
Of course, this affected Manizheh too. She has also been written as unhinged, but even more so after losing Kaveh. Her cruelty is only increasing with time. Even reading it, it felt like she was just getting started on the rampage. Muntadhir's eye being taken, despite being horrific, was light punishment.
Dara being imprisoned (again) was the most soul-destroying consequence. I genuinely felt heartbroken. The cruelty of that act from someone he trusted (mostly) was physically painful. More so because he was so alone, and it felt like no one would notice or care. His last chapter in part two was awful. How he hates himself is just awful. That's why Zaynab realising he was enslaved was only a tiny detail, but it gave me great relief.
"Dara was too desperate not to beg."
Back on schedule to tragedy and pain, Nahri might kill Dara, and I am scared she might succeed. I am not ready. She better not.
It is all coming together now, and I am incredibly excited for part 3.
---
Part 3
Enter Daevabad. It went down… in less than 100 pages. The prep was sooo much longer. Whyyy??
Moving on, Nahri owned this part of the book. She went in charging (picking teamwork over solitary. Progress.) and attacked.
Firstly, the fight with Dara. I was waiting, no I was begging, for her to realise he was enslaved. It was the biggest relief when she did. But the fact that even when she didn't know, she still went to save him did things to my heart. It was a sweet moment for, you know, a battle.
Then, Manizheh! She's dead, finally dead… and actually Nahri's aunt. At this point, you should always expect a final family reveal in fantasy books. Dara killing her was perfect. Especially as it was by using her words of protecting Daevabad against her. It was satisfying. The only thing was it happened rather quickly. Where was the suspense?
Finally, we witnessed Nahri becoming extremely powerful and all-around fabulous. Bow down to her. Especially as it was due to who she is, not despite it. All her human tricks and being Shafit only made her more powerful.
"I am who I am because of that human world. It wasn't the Banu Nahida who'd driven the peris to their knees, it was the con artist of Cairo, and Nahri wouldn't cast her away."
I fully expected Dara to die to be honest. The moment was there. It could have happened. But thankfully, he didn't, and I was shocked to find myself so pleased about it.
Ali was there. I dunno what else to say. His new powers were snazzy, but he didn't really bring anything into this part of the book.
---
Part 4
The final curtain. This was very much the wake after the battle (the battle that was the smallest part of this book). After three books with these characters, it was nice to have a final send-off.
It was quite a happy ending considering it all. No major deaths and the beginning of a new, peaceful era. Part 4 was looking back at their achievements and putting the characters to bed.
It was satisfying. Nahri got her happy ending, Zaynab got her freedom, Muntadhir & Jamshid got to be together, and Ali has achieved his goals. Not to forget, Nahri and Ali appear to have a future together *cute*. It was nice but almost too clean for such an epic fantasy series. I'm not going to cry about it because I love the characters. Yet I know it was just the predictable Disney end which didn't invoke as much interest or emotions as it could have.
Of course, Dara. I haven't forgotten about him. His ending made sense, even if sad, as he didn't feel like he could belong in Daevabad. I liked that it wasn't an all-tragic end for him. He had a future that he chose (although a bit more complicated than that). The moment between Nahri and Dara at the end was very bittersweet in a good way.
---
Overall
I really like the Daevabad trilogy, and the finale was a continuation of many of its glorious attributes. The writing was a dream. I love the style and flow so much. Plus, I don't remember the previous books having such good quips. It made me smile and felt natural. I love this world and all the creatures described in the book. And, of course, the characters are as wonderful as ever. This is, simply put, a very likeable cast. I love and savour their interactions. They can be cliché at times, but I still love them. Good thing because they made this last book. In fact, Dara carried this book.
The only problem was the plot. It was not all it could have been. There was so much time spent on things that didn't add to the grandeur feeling of a finale. It didn't live up to The Kingdom of Copper, and I missed the stakes and politics of that novel. This was the finale! Why was the main hub of activity underused?
✨ the end ✨
ABOUT THE AUTHOR
Shannon Chakraborty is the author of the critically acclaimed and internationally best-selling The Daevabad Trilogy. Her work has been translated into over a dozen languages and nominated for the Hugo, Locus, World Fantasy, Crawford, and Astounding awards. When not buried in books about thirteen-century con artists and Abbasid political intrigue, she enjoys hiking, knitting, and re-creating unnecessarily complicated medieval meals. You can find her online or on Twitter and Instagram at @SAChakrabooks, where she likes to talk about history, politics, and Islamic art. She currently lives in New Jersey with her husband, daughter, and an ever-increasing number of cats.
What is your favourite adult fantasy series? What do you look for in finales? Did you enjoy reading The Empire of Gold? Who was your favourite character?