Welcome to The Nook. This is the one area of this blog that is Sophie-free because it is run by Beth (Sophie's sister, for any wondering). This feature is free for Beth to talk about anything she wants… Life, tropical fish, TV and, of course, books.
Welcome all… (the temptation to say "dear readers" is too strong after Watching Bridgerton Season 2)… buckle in for a juicy new blog feature from yours truly, *drum roll please*…
The feature where I go through a themed list of books and decide if I want to read them (or not).
Today's special theme is:
Sophie's Favourites
Yep, you read it right. Whilst this is my (Beth's) Nook 🌻, Sophie has indeed forced herself into the post by sharing some of her very own favourites. The only question that remains is whether I will be taken away by these books.
Let's begin…
jade city by fonda lee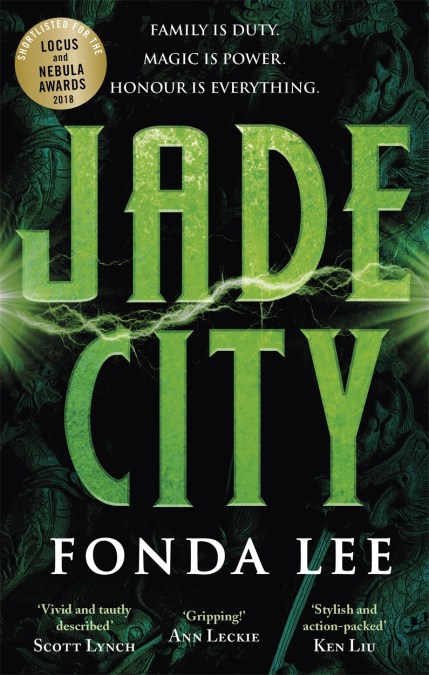 In this epic saga of magic and kungfu, four siblings battle rival clans for honour and power in an Asia-inspired fantasy metropolis.
Jade is the lifeblood of the island of Kekon. It has been mined, traded, stolen, and killed for — and for centuries, honourable Green Bone warriors like the Kaul family have used it to enhance their magical abilities and defend the island from foreign invasion.
Now, the war is over and a new generation of Kauls vies for control of Kekon's bustling capital city. They care about nothing but protecting their own, cornering the jade market, and defending the districts under their protection. Ancient tradition has little place in this rapidly changing nation.
When a powerful new drug emerges that lets anyone — even foreigners — wield jade, the simmering tension between the Kauls and the rival Ayt family erupts into open violence. The outcome of this clan war will determine the fate of all Green Bones — from their grandest patriarch to the lowliest motorcycle runner on the streets — and of Kekon itself.
Jade City is the first novel in an epic trilogy about family, honour, and those who live and die by the ancient laws of blood and jade.
sophie: Hands up, I know this isn't your type of book, but it is my current favourite. An adult urban fantasy series. Whilst it is a fantasy, it is more a family gangster saga dealing with politics, family and power. It is extraordinarily well-crafted, with a dark, gritty plot, morally grey characters, and a lot of heart. It is worth giving the series a chance.
🌻 REASONS TO READ THE GREEN BONE SAGA BY FONDA LEE
I completely agree that this is not typically my genre anymore, however, I do love family themes, especially when they're gangster! Plus, as your current fave, it's always charming to be part of something that someone you loves enjoys so you can discuss it and gush over your favourite characters! So I cast my vote as, an open-minded, to read!
the seven husbands of Evelyn Hugo by taylor jenkins reid
In this entrancing novel "that speaks to the Marilyn Monroe and Elizabeth Taylor in us all" (Kirkus Reviews), a legendary film actress reflects on her relentless rise to the top and the risks she took, the loves she lost, and the long-held secrets the public could never imagine.
Ageing and reclusive Hollywood movie icon Evelyn Hugo is finally ready to tell the truth about her glamorous and scandalous life. But when she chooses unknown magazine reporter Monique Grant for the job, no one is more astounded than Monique herself. Why her? Why now?
Monique is not exactly on top of the world. Her husband has left her, and her professional life is going nowhere. Regardless of why Evelyn has selected her to write her biography, Monique is determined to use this opportunity to jumpstart her career.
Summoned to Evelyn's luxurious apartment, Monique listens in fascination as the actress tells her story. From making her way to Los Angeles in the 1950s to her decision to leave show business in the '80s, and, of course, the seven husbands along the way, Evelyn unspools a tale of ruthless ambition, unexpected friendship, and a great forbidden love. Monique begins to feel a very real connection to the legendary star, but as Evelyn's story nears its conclusion, it becomes clear that her life intersects with Monique's own in tragic and irreversible ways.
sophie: I know I want you to read all these books, but this one you should definitely read. A story of a Hollywood legend full of love, pain and fame. Told in a memorable way with lots of intrigue and important themes. Plus, I have to mention Evelyn Hugo herself… ambitious, strong and feminine. I can already see you loving this book.
🌻 The Seven Husbands of Evelyn Hugo | What makes this book SO good?
I have to say I was hooked at just reading this snippet, I mean, 7 husbands? Forbidden love? Linked destinies!? Sounds like a rollercoaster with strong characters to boot. Also, I'm loving the green covers here people. To read!
the black flamingo by dean atta
This is Michael's story.
Join him as he enters the world, with tiny feather eyelashes. Travel from school to college, where he discovers his flock, and comes to term with his identity as a mixed-race gay teen. At university, take a seat in the audience and watch him find his wings as a drag artist, The Black Flamingo.
A bold story about discovering that only YOU get the privilege of choosing who you are. There is power in embracing your uniqueness. What's your story?
sophie: This is an easy read that covers so many topics, told in verse with multi-media aspects throughout. It is an all-encompassing journey that felt personal and pure in the best way. It is a powerful read all about the beauty of being yourself, what's not to love?
Simply put my dears, I love the eyelashes and I love the message, the voice that it gives. It's not my usual go to, as in a book which makes me 'err' as I love so much my soppy romances and family dramas so on this one, I'm leaning: not to read.
the female of the species by mandy mcginnis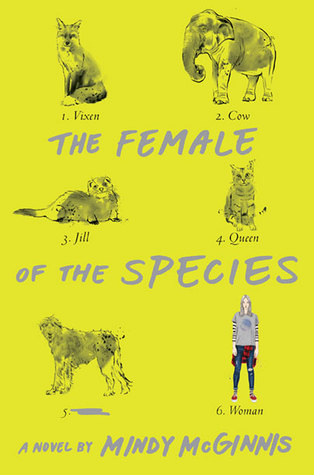 Alex Craft knows how to kill someone. And she doesn't feel bad about it.
Three years ago, when her older sister, Anna, was murdered and the killer walked free, Alex uncaged the language she knows best—the language of violence. While her own crime goes unpunished, Alex knows she can't be trusted among other people. Not with Jack, the star athlete who wants to really know her but still feels guilty over the role he played the night Anna's body was discovered. And not with Peekay, the preacher's kid with a defiant streak who befriends Alex while they volunteer at an animal shelter. Not anyone.
As their senior year unfolds, Alex's darker nature breaks out, setting these three teens on a collision course that will change their lives forever.
sophie: A dark read that examines rape culture in a high school setting. As you loved the movie 'Promising Young Woman' so much, I'd recommend this book as it is in a similar vein. It creates a distant reading experience by following unique, morally grey characters, each having a different purpose for the novel.
Promising Young Woman is one of my favourite movies so I absolutely like the premise of this tale, and the 'what will she do next' feeling that it sounds will run through the book, for this I say, an easy to read!
queenie by candice carty-williams
Queenie Jenkins can't cut a break. Well, apart from the one from her long term boyfriend, Tom. That's definitely just a break though. Definitely not a break-up. Then there's her boss who doesn't seem to see her and her Caribbean family who don't seem to listen (if it's not Jesus or water rates, they're not interested). She's trying to fit in two worlds that don't really understand her. It's no wonder she's struggling.
She was named to be queen of everything. So why is she finding it so hard to rule her own life?
A darkly comic and bitingly subversive take on life, love, race and family, QUEENIE will have you nodding in recognition, crying in solidarity, and rooting for this unforgettable character every step of the way.
Perfect for fans of Dolly Alderton, Elizabeth Day, Sally Rooney and Diana Evans, and anyone who loved Fleabag.
sophie: There is a reason this book is compared to Fleabag. Queenie has such a strong character voice that is easy to fall in love with. She is definitely a messy character but in a human way. Your heart just goes out for her. With a focus on friendship, group chats and her complex relationship with sex, it quickly becomes an addictive, important read.
Adore the sound of this! Exactly my sort of thing, looking at relationships and life and all the bits in between, and I thought Fleabag was a great and honest watch so it sounds like a winner already! If you haven't guessed, it's a big old, to read!
Have you read any of these books? What did you think to them? How do you find books for your TBR?