Hey everyone!!
So, as the title suggests this is my last wrap up because they aren't working out for me as they work on a specific timescale and I am better at writing my posts ahead of time. Plus they take me ages!! If you want to keep up to date on what I'm doing you can add me as a friend on Goodreads (I review every book I read there) or follow me on Instagram (where I'm more active).
I might do recent reads posts randomly so I can still talk about my favourite new books and this change might not be permeant but for now, no more wrap ups.
---
February is over (well kind of, I'm posting this on the leap day as I won't get this chance for another 4 years so I'm taking advantage).And February was, in fact, my birthday month so that was exciting.
I went to London (sky gardens, food, the tower of London) for the day and it was really fun. Thank you for all the amazing birthday wishes. They meant a lot!! ♥ (Also you see the building on the left on the first picture ⇓ , meant to look like a walkie talkie, that is where the sky gardens were so I've been up to the top.)
Total Read: 5
Total Pages Read: 2,048
Favourite Read of the Month: A Reaper at the Gates by Sabaa Tahir and I Was Born For This by Alice Oseman
Favourite Quote: "The permeance of death will always feel like a betrayal." – Sabaa Tahir, A Reaper at the Gates. AND "In an otherwise mediocre existence, we choose to feel passion."- Alice Oseman, I Was Born for This. 
VENATORS MAGIC UNLEASHED BY DEVRI WALLS//⭐⭐⭐.5
This was a fun YA fantasy that felt like just the beginning of the adventure. It has the 'go through the magical portal' trope which I love. All the characters were likable and well written. It had a lot of classic things in it and overall, it was nothing too special for me.
A REAPER AT THE GATES BY SABAA TAHIR//⭐⭐⭐⭐.5
I absolutely loved this instalment in this series, the plot is so gripping. There is definitely a darkness to this series but there are a lot of good-hearted characters too. This is a wonderful fantasy series that will tear at your emotions and I can't wait for the next one, which will be the finale. ARRGGHH!!
BLACK ENOUGH: STORIES OF BEING YOUNG & BLACK IN AMERICA, EDITED BY IBI ZOBOI//
🎧

//⭐⭐⭐⭐
Short stories aren't really my thing but this has been one of the best collections I've read that worked effectively together. It talked about these teenagers who growing up facing different things but who are also connected by their race. It was a good read and I enjoyed my time with it. It also left a powerful message for the reader.
WILDCARD BY MARIE LU//⭐⭐⭐.5
I enjoyed this sequel. It was fast paced and explored some interesting, deeper topics about morality and the power. I still love the Phoenix Riders and the creativity of this world, so it was great to be back. It was really heart-breaking as well which I didn't expect. I can see why it disappointed some as the character development was lacking and it could have delved deeper into topics but overall a quick, enjoyable read that I'm glad I picked up.
I WAS BORN FOR THIS BY ALICE OSEMAN//⭐⭐⭐⭐.5
I still absolutely love Alice Oseman's writing, characters and friendships. But what made this book special was the in-depth insight into fan culture as we follow a fan and a member of a boyband. It was a wonderful read and I've ramble on my review if you want to read it.
---
March Reading Plans
Margaret @ Weird Zeal is doing a Women's History Month Readathon for March and I've decided to do it, so this is my officially signing up. To find out more check out her post but basically you read books by female authors and you can use the prompts in this bingo board.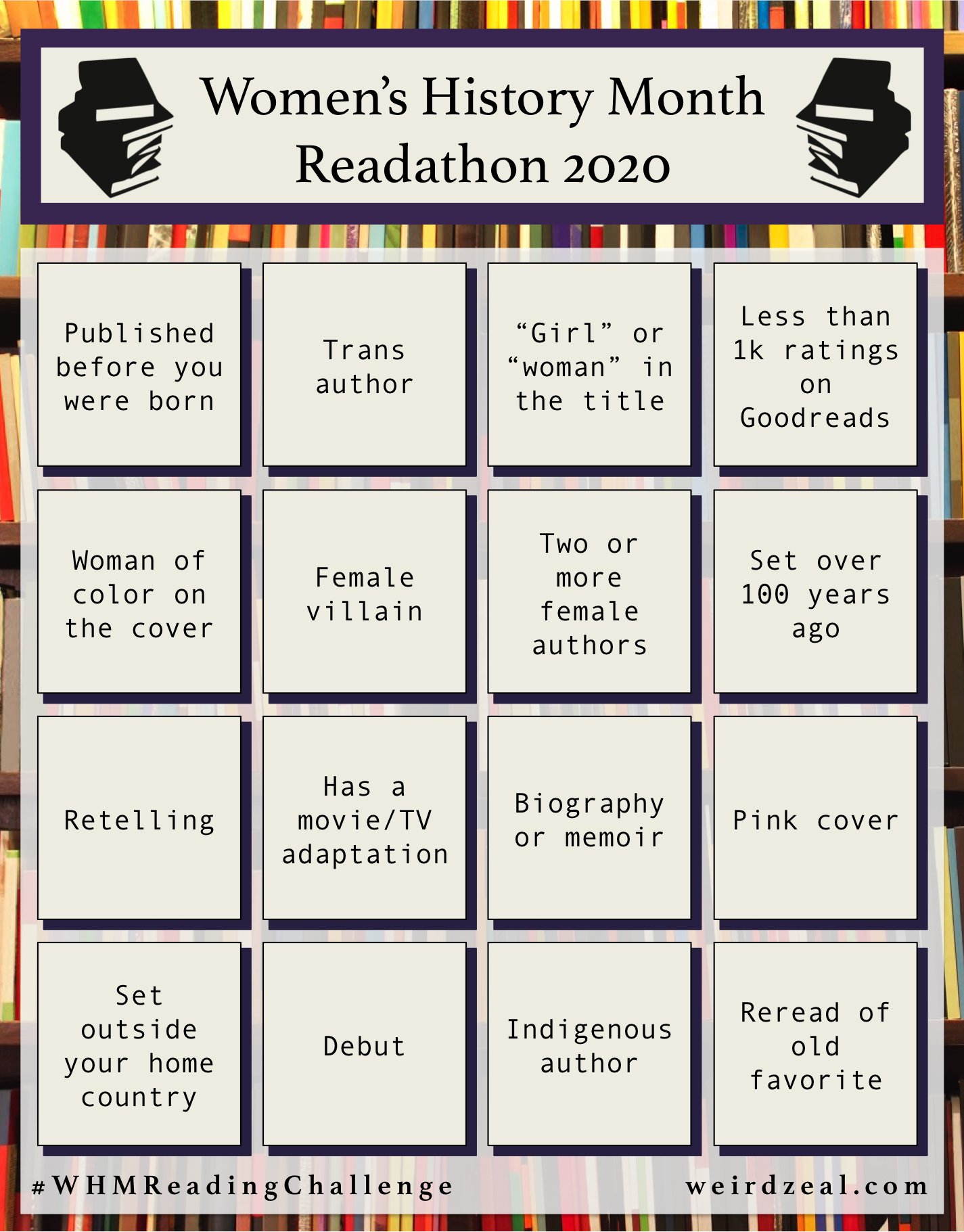 My TBR
Baker Thief by Claudie Arseneault
Less than 1K ratings on goodreads
Pink cover
Girls of Paper and Fire by Natasha Ngan
'Girl' or 'woman' in the title
Woman of colour on the cover
indigenous author
The Familiars by Stacey Halls
Set over 100 years ago
Debut
I Know Why The Caged Bird Sings by Maya Angelo
Published before you were born
Has a movie/TV adaptation
Biography or memoir
Set outside your home country
Fairest by Marissa Meyer (Buddy Read with Miri)
Others I might get to…
Code Name Verity by Elizabeth Wein
The Female of The Species by Mindy McGinnis
Fleabag// Well that decided to be absolutely brilliant, didn't it?!?! I loved the comedy and the way it was filmed.
Skam France Season 5// I've been loving this season. The friendships and relationships have been so good. I think it has also talked about something important by the deaf storyline as well.
To All The Boys, P.S. I Still Love You// This was a cute movie and had some really fun aspects, but I preferred the first movie.
Parks and Recreation season 4-7// I love the rest of this show, it was so funny and I love so many of the characters.
Hair Love// This Oscar-winning short was adorable and so happy. I loved watching and the family felt so real and heart-warming. I would happily watch it again and again.
How To Train Your Dragon: Homecoming// I brought the overly priced DVD for this 20 minute film and I have no regrets because it is Toothless. It was cute and made me feel really emotional actually.
What I've been doing: 
The Latest News:
I've been enjoying the fewer posts per month and I'm trying to keep on top of my schedule so my posts are ready a month before *fingers crossed*.
I also hit 600 followers on Instagram which I have been loving using lately.
Blog Posts I've Loved:
Sabrina @ Wordy and Whimsical posted about the lies that people tell you about reading and why they are in fact, wrong. It was a great read and set out perfectly.
Margaret @ Weird Zeal shared a writing update where she is bringing to revise her WIP and I loved hearing how she is doing it and all her thoughts on the process.
Kal @ Reader Voracious wrote a review for one of my anticipated releases, Ink in the Blood by Kim Smejkal and I loved hearing it. It made me very excited. Check it out.
Lais @ The Bookish Skies shared her favourite 'Broken Musician' characters and I loved hearing about all the characters and just reading it was great.
Divine @ REA(D)IVINE posted about what it is like to read your own book reviews and it was wonderful. I could 100% relate.
Fadwa @ Word Wonders wrote a post with a big list of books with aro-spec main characters which is definitely worth reading so please do.
Tiffany @ Read by Tiffany shared a post with 101 thoughts when watching 'To All The Boys, P.S. I Still Love You' which was a super fun read.
Caro @ Book Cheshire Cat wrote a post all about her favourite romance tropes which I loved reading and we definitely had a few in common.
Dini @ Dini Panda Reads shared a post about all the thought she has whilst writing a review. It was funny and relatable. What more do you want?!?!
Kaya @ A Fictional Bookworm posted a review for Stepsister by Jennifer Donnelly which I loved reading so reading her review was wonderful!!
Marie @ Drizzle and Hurricane Books shared a post on her favourite romance tropes which was a great read and perfect for Valentine's.
Malka @ Paper Procrastinators writes about trigger warnings and why they should be included in books which was a really thoughtful piece that everyone should read.
Ash @ Starlight Strands posted the Never Have I Ever Tag: Writer's Edition which was so fun to read and I loved it.
Favourite songs of the month:
Lookalike by Conan Gray//"But when you look in his eyes. Do you think of mine?" // I've been listening to a lot of Conan Gray this month. I just love the feel of his music.
Dancing Under Red Skies by Dermet Kennedy// "Let me tell you, no one ever got my soul right like she could" // Such a beautiful song and he is a really talented artist. I'm so glad El introduced me to him in her post.
In Case You Don't Live Forever by Ben Platt// "I've waited way too long to say. Everything you mean to me."//This song is beautiful and I'm in love. That is all I have to say.
My Man Music by Stooshe//"Music is my baby"// This is such a fun, energetic song and Stooshe have a unique sound with a lot of personality so I enjoyed listening to their old album
Plot twist of the month: I made gravy really wrong once ages ago and no one has ever let me do it again, but I actually made gravy twice this month so yeah… growth.
Cutest thing my dog did this month: Well she loves wrapping paper so she was very excited on my birthday and wanted to get involved. She was very cute!!
Funniest thing of the month: We were on the train and this woman was still drunk from the night before so she kept pressing the open door button even though the door was open. (she got through and sat down but it did make me smile, does that make me bad?!?!)
Stupidest thing I did this month: I went to a spa and I went in the main pool. But whilst getting out I didn't realise there was a step so I walked into it and then I didn't realise I had to step down so I fell down onto my foot (which hurt). The pool was surrounded by people chilling but I don't think anyone saw thankfully but naturally I still felt embarrassed. Also, I learnt that saunas are so hard to breathe in!!
Writing update of the month: I went back to my old project and decided to outline the whole series (in a brief way) then build character profiles up and copy my world-building notes. It made me fall back in love with this project and I'm still not finished (nowhere near honestly) but it is at 15,000 words (ish) but that is mostly character questions I have yet to fill in.