Hey everyone!!
I bet you weren't expecting this post today!! But I am back with THE SUNSHINE BLOGGER AWARD for my part 2 section. I am very excited to get into these questions!!
I've been very kindly nominated FIVE times* which blows my mind and I'm so, so thankful. It means a lot. I'm sorry I'm late at getting to them but here they are…..
First thing first, the rules….
Thank the blogger who nominated you in a blog post and link back to their blog.
Answer the 11 questions the blogger asked you.
Nominate 11 new blogs to receive the award and write them 11 new questions.
List the rules and display the sunshine blogger award logo in your post/or on your blog
LAUREN'S QUESTIONS
The first set of questions is from Lauren @ Twenty Seven Letters who very kindly nominated me for this award which means a lot so thank you. And of course I think you should be following her as well because her blog is wonderful.
WHAT'S THE LAST BOOK YOU READ THAT ABSOLUTELY STOLE YOUR HEART?
Well I just read The Starless Sea by Erin Morgernstern and it was wonderful. I adored the magic and it involved books which of course stole my heart immediately. Plus it had a whimsical mystery, lyrical writing and wonderful characters so yes, yes, YES.

IF YOU HAD TO DESCRIBE YOURSELF AND YOUR PERSONALITY BY ONLY LISTING THREE DIFFERENT FICTIONAL CHARACTERS, WHO WOULD YOU CHOOSE AND WHY?
Cress. She is one of the few characters I've read who felt fully comfortable being an introvert and wanting someone to save her. She was strong but none of the qualities had to be taken away from that so I related to that.
Adam. Because he is defensive and stubborn which I can be both. But more importantly because of his growth and I think I have grown over time to become a better person. It isn't the most perfect comparison but I like it, okay.
Hermione. She looks for answers in book and is very determined. Plus she likes to follow the rules and typically be 'good' which is very me. So I like to think I channel a bit of Hermione in me too.

WHAT IS ONE FICTIONAL FOOD THAT YOU ARE JUST DYING TO TRY?
It's food. Let's be honest I'm dying to try all of it!!
But the descriptions of some of the food in The Night Circus were insane like the sugar globes which were all a different flavour and the dessert on the anniversary meal!! It was SO magical and whimsical, I need to try it ALL.

YOU CAN INVITE THREE FICTIONAL VILLAINS TO A DINNER PARTY. WHO ARE YOU INVITING AND WHAT ARE THEY TALKING ABOUT?
Yes now this is a dinner party I like the sound of. It better be in a Gothic mansion surrounded by wild moors or else I'm not going!!
Tom Riddle (from Harry Potter) because his Hogwarts days were his pinnacle and I would love to see how he would interact with a crowd. I would be so curious to see it.
Kavinsky (from The Raven Cycle. Is he a villain? I don't really think so but I want to include him). Kavinsky was a really complex characters and I just want to see more from him.
And The Commandant (from An Ember in the Ashes) She is a really dark, smart villain. Plus she is used to holding a lot of power so seeing her in this setting would be really interesting.
Topic of discussion: what they do to relax and the quickest way to convince someone to do something they don't want to.

WHERE IS YOUR PREFERRED READING SPOT, AND WHY IS IT YOUR FAVOURITE?
My bed. I do most of my reading before I go to sleep so reading in bed is ideal. It is so comfy and a great place to get lost in a book.

OUT OF ALL OF THE BOOKS YOU'VE EVER READ, WHICH HAD THE MOST SATISFYING ENDING? NO SPOILERS!
Ohh.. this is a hard question ya know!! (because it turns out I haven't read that many endings- oops). Maybe Kingdom of Ash as I was satisfied with where all the characters ended up and how the events unfolded.

HOW DO YOU USUALLY WRITE BLOG POSTS? DO YOU TAKE NOTES BEFOREHAND?

MAKE

AN OUTLINE? DO YOU WRITE IT ALL AT ONCE THEN POST IT? DO YOU SCHEDULE YOUR POSTS?
I probably have a few different ways but generally…
I have the

'idea'

I fit in it to my plan which is usually 4 months ahead or I will list it for the future
I

start writing it

, most the time I will keep coming back to finish it. (I don't really plan it out except in my head but I will write my headings first for a sense of structure. Occasionally I have notes on my phone from when I was bored and started making notes)
I edit it, probably more quickly then I should.
I schedule it. Hopefully a month in advance but sometimes it is a week or panic done the same day (this is very true as of late)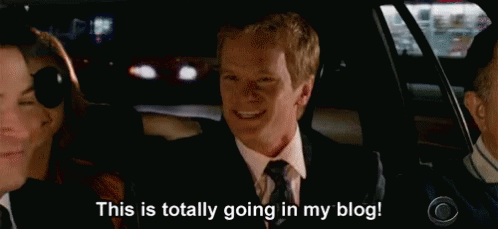 CHARLOTTE'S QUESTIONS
Thank you so much to Charlotte @ Bewitching Books, Ravenous Reads for the nomination. You have always been so nice to me and you are so generous with your support so thank you. Please follow her blog.

ARE THERE ANY 2020 RELEASES THAT YOU'RE ALREADY EXCITED FOR? IF SO WHICH ONES?
Yes there are many!! I did a full post here
But some main ones are We Free The Stars by Hafsah Faizal, Dreamer #2 by Maggie Stiefvater, A Neon Darkness by Lauren Shippen and Darius the Great Deserves Better by Adib Khorram. I'm mostly focusing on sequels this year.
Also When We Were Magic by Sarah Gailey and Late to The Party by Kelly Quindlen.

WHAT'S YOUR FAVOURITE BOOK TO TV ADAPTATION?
Can I say a book that I haven't read (??) because in that case I love 'The 100' TV show. There is so much drama and emotion. I feel like it is one of the shows where the characters don't feel safe AT ALL. Also they are all morally grey which I adore and adds to the complexity.
Also it had one of the best last lines EVER and I respect that.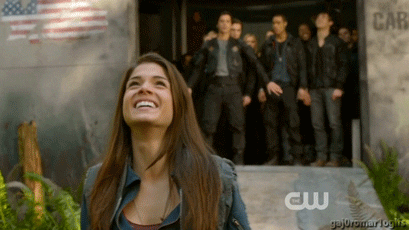 IF YOU COULD STEP INTO THE WORLD OF ANY BOOK WHICH ONE WOULD IT BE?
The Warcross world (by Marie Lu) because I can have my normal life and don't have to worry about the world being destroyed but I can also have this really cool world to step into through this elaborate and creative interactive game.

WHAT AUTHOR WOULD YOU LOVE TO SEE MORE BOOKS FROM?
Adib Khorram as he is a talented author so I can't wait to see what he will do next. I think his writing captured a lot of emotion and felt very genuine so I look forward to read more from him.

DO YOU PREFER ENEMIES TO LOVERS OR FRIENDS TO LOVERS ROMANCES IN BOOKS?
This is a hard question *cries* but at the precise moment I would pick enemies to lovers but I have a very specific version for it and I could probably write an essay about it. But I love the angst and the journey of understanding each other.

IF YOU COULD PICK ANY BOOK TO BE TURNED INTO A MUSICAL, WHICH WOULD IT BE?
I think 'The Infinite Noise' would be cool as a musical because it is about feelings and thoughts so music can really reflect the internal feelings well. Also there are songs for the podcast so it kind of is a musical already. Or 'The Book Thief' that would work as a musical quite well I think. Imagine Death singing?!?!

WHAT SUPERNATURAL CREATURE DO YOU THINK WE NEED TO SEE MORE OF IN FICTION?
There are probably so many supernatural creatures that I don't know about as I don't read that many supernatural books. So I probably don't know how uncommon these are but Hell Hounds. They guard the entrance to the world of the dead, hunt lost souls or guard treasures which I think sounds PRETTY cool and you could do something imaginative with them.

WHAT'S YOUR FAVOURITE TIME OF DAY?
Bed time!! lol.

WHAT TWO AUTHORS DO YOU THINK WOULD WRITE AN AMAZING BOOK TOGETHER?
Maybe Jennifer Donnelly and Patrick Ness because Donnelly does characters like 'Fate', 'Chance', 'Love' and 'Death' so I think it would be so cool to see these two authors explore concepts like that. I picked Patrick Ness because he has some really unique ideas and he is a talented writer.

WHAT ARE YOUR HOBBIES OUTSIDE OF READING AND BLOGGING?
Walking (does that count?) like walking my dog, not just walking to the fridge. I also like to draw and write too.

IF YOU COULD GET EVERYBODY TO READ ONE BOOK WHAT WOULD IT BE AND WHY?
The one I'm writing because it would be a lot easier to get it published.
Joking. I really couldn't let people read that.
I think Radio Silence by Alice Oseman and Darius The Great Is Not Okay by Adib Khorram because they are so well written and have beautiful characters so I think loads of people would love them. Plus they talk about really important things.

MY QUESTIONS AND NOMINATIONS:
Which hero/'good' character do you think would also make a great villain? (They can't already be a bad person)
Which fictional character would have the best twitter account?
Which fictional character would have the best instagram account? (bonus: what would their aesthetic be?)
What do you think of booktube? (any favourite type of videos?)
If you could name a star constellation, what would it be?
What are you afraid of?
What is your favourite type of handwriting?
What is an area of blogging you would like to improve on?
If you had to change your blogging name, what would you change it to?
What is something from the past that you wished still happened nowadays? (i.e. balls, horse and carriages, hand written letters etc.)
What do you think to this song? (TW: depression)

I nominate….. Margaret @ Weird Zeal, Xandra @ Starry Sky Books, Veronika @ Wordy and Whimsical, Abi @ Scribbles & Stories , Caro @ Bookcheshire Cat, Tiffany @ Read by Tiffany, Kristen @ The Brunette Bookworm Blog, Nikki @ The Night is Dark and Full of Books, Ash @ Starlight Strands, Jasmin @ The Writer of Letters
This is entirely optional of course but I think you deserve this award and I would love to see your answers but no pressure at all.
---
Who would you invite to your villain's dinner party?
What book do you think would make a great musical?