Hey everyone!!
Happy blogmas and welcome to day 14!!
Today I am talking about my favourite movies and TV seasons that were released this year and there were some brilliant ones so I am excited to gush about them all here as I really, really love watching movies and TV shows. This will be testing my memories though as it felt like I saw some of these years ago but no it was, in fact, this year!!
So let's get started….
Top 5 Films of 2019
SHAZAM!
I absolutely loved this superhero movie as it felt so unique and it definitely had a strong humour side which I loved but it isn't for everyone. If you don't know, it is about a kid who if he says 'shazam' will be turned into an adult superhero. You can see the opportunity for humour immediately. You get a really unique perspective of being a hero as well because he is a kid who doesn't want to be a hero and isn't ready for all it entails. I loved it as it had all the traditional elements of superhero movies but also a unique twist.
HOW TO TRAIN YOUR DRAGON 3: THE HIDDEN WORLD
I absolutely LOVE this trilogy and I thought this was a wonderful end to it. It had the same Toothless, Hiccup and Astrid that we loved but you can tell they were older and heading into the next stage of their lives. The animation and soundtrack were amazing. I thought the plot was interesting and definitely stepped up to the 'next stage' and showed a growth in the characters. I really enjoyed this and I could watch the whole trilogy again and again…. an epic conclusion. And I just really love Toothless you know!
AVENGERS ENDGAME
This was probably the biggest movie of the year in terms of the talk and the box office and I really enjoyed it. It definitely felt like the end of the era and I was glad we got to focus on the original characters as it added a really personal level to the film. As true to most Marvel movies it did have a running theme of comedy throughout it which I absolutely adore **that America ass** but it really touched on the emotional side as well. One of my favourite things was the epic fighting scenes. There were so many powerful people and the visuals and soundtrack made it!! I felt like I would have changed a few small things about it but overall AH-MAZING and so powerful!!

ROCKETMAN
Musical biopics have been very trendy lately and I have been really enjoying it. I thought Rocketman was brilliant and it was certainly a cinematic experience. You really got to see Elton John's life was the start and see it rise and all the things that came with it. I loved the way it was filmed as it really added something to it. It had these great performances as it incorporated the songs into the movie and to resemble the feelings. The singing was excellent and I felt like it was able to cover the buzz and hardship of being a celebrity. I never recommend watching even if you don't see yourself as an Elton John fan.
FROZEN 2
Yes another cartoon but I love cartoons okay!! I really like the characters and I thought the magic in it was so fun!! This is definitely more of a quest type plot than the first one, in that they are going to save Arendelle and other folks. It still had the theme of family and self-acceptance throughout the film though. I felt like it was a really satisfying journey for the characters to take and they all ended in the right place that was best for them. This movie really goes hard on the overall message. Plus Olaf was hilarious and I loved Mattias!! And let's be honest the fact that this movie had the courage to put an old school boy-band music video with Kristoff in the middle of this was ICONIC!!
Top 5 Seasons of 2019
SANTA CLARITA DIET SEASON 3
This is one of my favourite shows EVER and it has a really unique sense of humour and plot as it is kind of like 'what would you do in present day society if you were a zombie?'. I love the humour and how it is 'ordinary' people trying to do theses crazy and illegal acts. The show has all kind of plot lines and again THE HUMOUR IS MY FAVOURITE. Also it has such a supportive couple at the centre which is so nice to see and the whole family is great. Please watch this, I love it and Joel is amazing. Unfortunately it did get cancelled this year and it did break my heart but I will just constantly rewatch it.
STRANGERS THINGS 3
Stranger Things 3 was the latest season and I really enjoyed it. I liked seeing the characters growth from season one and all the changes. I loved the relationships this season. Max and Eleven were amazing! Supportive friends are what I look for in shows. Dustin and Steve carried on their amazingness this season as well. Also I loved Joyce and Hopper this season– Hopper is probably one of my favourite characters on this show. The 80's vibe and the soundtrack were also AH-MAZING.
OUTLANDER SEASON 4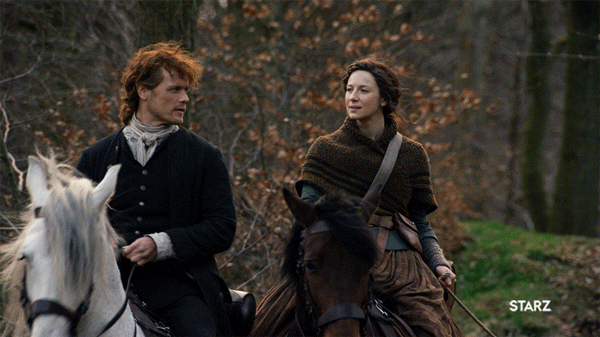 Outlander wasn't a show I would put in my top 10 or 20 but I really enjoyed season 4 this year as it was slightly different. I loved them exploring America and I thought the plot was really engaging. I liked Brianna being a bigger part of the plot as it added a new dynamic for the characters to handle. I also really loved Lord John Grey, he is a wonderful character and genuinely so nice, so I look forward to his scenes a lot. Outlander is a show which has a historical element due to Claire time travelling back to the past. I think it gives weight to a lot of different elements and has very well developed characters. It is not the fastest show but I do enjoy it. Also the gag reel for this season was brilliant. If you haven't, you should watch it.
But it can cover dark themes so beware of that. If you want the trigger warnings, feel free to ask me.
SUITS SEASON 9
I loved the last two seasons of suits. I do really like Mike and Rachel but I felt like the plot got a bit repetitive with them and I think them leaving allowed them to improve the plot. I like suits though. It is slightly overly dramatic and they might overuse 'goddamn' but it's still great. I think it can have a fun undertone whilst also having character that are morally grey and complex. Season nine has been great and I thought the 'bad person' (or 'villain' if you want to say that) was really good. She was a suitable enemy that challenges the characters and annoys them but not entirely wrong in her actions which makes it so interesting. And this was also the final season but I thought the last episode was done perfectly for the show and the fans.
SEX EDUCATION SEASON 1
I loved this on Netflix as it was a really fun show set in a secondary school in the UK. It focuses on Otis who becomes a sex therapist at his local school as he is well versed on the topic due to his mum being an actual sex therapist. He works with Maeve who handles the money side of this arrangement. As he handles other people's issues he also has to handle his own issues as does his friends. I thought it covered original themes but it a really fresh, modern way. The characters were really fun and I got invested in their story really quickly. So naturally I really recommend watching this show.
---
What has been your favourite movie of this year? What movie has been the biggest disappointment?
What was your favourite new show or season of this year?