Hey everyone!!
Welcome back and we are now on day 10!! *cheers for no reason but it feels like an accomplishment*
Today I thought I would reflect on my posts over the past year and like in 'A Christmas Carol' look at my past, present and future of my blog (see it links to Christmas and books)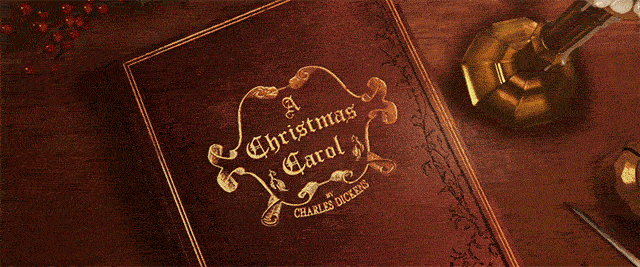 I thought this would be fun and I would love to hear your opinion on all of this as I'm interested to seeing what your favourite types of posts are!!
THE PAST
Favourite Posts to Write:
I think my favourite posts to write are wraps up as they include so many different things and I like reflecting on my month. Also I really like writing discussions as I like coming up with the idea and writing all my thoughts down. Plus I love discussing it with everyone in the comments.
Where Do You Get Ideas Coming From?
Every time I have an idea I write it down even if it is stupid because it might inspire a great idea next time and then you have a big list of ideas to look down on and think 'I can't do all of this'. Also I get inspiration from other bloggers that I see but I always make sure to give credit to them if that is the case. Tags and reviews are classics and are perfect for when you are not feeling the inspiration.
Reviews
Reviews sometimes take ages to write and definitely are the least popular posts in terms of views but I still really like writing them and trying to group all my thoughts together about the book. It makes me think about books differently and I think it helps me become a better writer. Plus it allows me to say everything I think about a book so it is nice to have a space where I can gush about it, hopefully spreading the word or talking to people who loved the book as well. Some of my reviews are better than other but some I am really proud of and I like looking back on them to see my thoughts (plus it can be so useful when there are sequels involved as reviews jog my memory).
Favourite Review: The Seven Husbands of Evelyn Hugo
Discussions
As I mentioned I love discussion, I think it is a great way to interact with others and be like GURLLL YES or GURLLL NO (I promise you I don't say GURRLLL in real life…. that much). Plus they are so fun to read and you get to talk about things that you are really passionate about.
Favourite Discussions:
My Thoughts On Star Ratings!! I liked this one as I was interested in the topic. Plus I liked the way I wrote this (I hope this doesn't sound arrogant) because I wrote it in one go so I think it flowed better than some of my other posts. (fun fact: I accidentally deleted it and had to rewrite this post so it was my second time writing it)
Why I Love Fantasy? I loved this topic because I got to gush about my favourite genre and it is one I would want to read which is a good sign.
Tags
I do tags quite a lot as they are fun to do and allow you to talk about many different books so it allows me to share more about my book tastes. But I do think too many can be bad as they can be a bit repetitive and honestly sometimes it is hard to get books to fill out every section. I think I did too many of them at one point I do like them but I think it is better to spread them out a bit. They are also ideal for when you are struggling for ideas.
Favourite Tags:
The Mid-Year Freak Out Tag is my favourite tag as you get to talk about your favourite reads of the year so far.
The Pancake Book Tag was such a fun tag to do and I loved the graphics for it. Plus it involves pancakes which I absolutely adore.
Writing Posts
I love doing writing posts as it is an activity I am passionate about and it is great to share it with you all. It inspires me to write when I talk about it as well which is always a bonus and it can be a lonely activity so getting to talk to people about it is wonderful, thank you for the internet. Plus I think it makes you think about writing more and different techniques which makes me become a better writer. I haven't done too many yet but I want to do one every month next year. *fingers crossed*
Favourite Writing Post:
World-Building: All The Questions You Need To Answer!! I like the one because I find it a useful resource so I will always go back to it when world building so I was proud of it in that sense.
THE PRESENT
What are you currently doing for your blog?
Blogmas!! And it is taking me a lot of time but I am enjoying it and I'm really excited about sharing all the posts. I try to blog hop and reply to my comments regularly but I do seem to struggle with this lately. Just the usual stuff really. I have been thinking about future posts and when I can write them as thinking ahead is so useful.
How far in advance do you write your posts?
I try to stay a month in advance but sometimes it is the same day if I am being honest. I need to get better at planning ahead but I do try and I am getting better to be fair, even if it is slowly.
THE FUTURE
What blog posts do you want to write more of?
I would love to write more discussions that I am really passionate about, I have some ideas which I am really excited for. Also to do more writing posts as I want to write more and I like discussion progress and habits etc. So more discussions and writing posts in the future, yay!!
Also my sister might have more posts in the new year which is so exciting, we have to organise it a bit yet but it will definitely be happening.
What do you want to improve on?
Organisation, blog hopping and balancing blogging with life. This year I wanted to prioritise blogging but I would put it lower on my list so I have more time for writing and being social (scary, I know). Organisation is something I will definitely get better at as I want to buy a year planner and get my life together.
What do you think about writing posts?
I like writing and I really enjoy it as a hobby. I think it is rewarding (although sometimes it is stressful) and obviously I am talking about books which I am very passionate so I love that. If I didn't love writing the posts, I think I would stop.
Do you think you will always be blogging?
I think my blogging will change a lot as I grow up as it got to fit in with my life and I don't think I will always be blogging but definitely for the foreseeable future. I think next year it will be different as I will be blogging less maybe 4 posts a month as a maximum and instead of doing the top 40% of my idea, I will do the top 10% so I am really passionate about the posts which will hopefully make my quality better and give me more time for other things.
---
What are your favourite posts? How you keep getting new ideas? Do you think you will always be blogging?