---
Hey everyone!!
Welcome back to blogmas and we are on day 8!!
Today is another fun tag!! I think this tag was created by A Thousand Lives of Daisy on YouTube (If I am wrong please correct me) and you can watch the video!! It is really fun and definitely perfect for blogmas!!
1) WHAT FICTIONAL CHARACTER DO YOU WANT SANTA TO LEAVE UNDER YOUR CHRISTMAS TREE?
Umm… Toothless because I love him SO MUCH!!! He is the literal definition of perfect. BUT I have actually read the books so that it is a bit of a cheat so a fictional character I would love to be under my Christmas Tree would be Adam Parrish because he is my favourite character from The Raven Cycle because he is so caring, dedicated and thoughtful so I feel like he would be a really nice person to meet. Also I can give him a Christmas present as I feel like he deserves one.
2) WHAT CHARACTER DO YOU WANT TO KISS UNDER THE MISTLETOE?
Umm… all the characters are in couples and I wouldn't want to kiss someone if he was with someone else so I'll just go stand by the food instead of the mistletoe because let's be honest that is exactly where I would be anyway.
3) YOU WRITE YOUR CHRISTMAS LIST FOR SANTA, WHAT ARE THE TOP 5 BOOKS ON IT?
Wow only 5 this is going to be hard to narrow down from 1000….
A Darker Shade of Magic by V E Schwab
Baker Thief by Claudie Arseneault

Mythology: Timeless Tales of Gods and Heroes, 75th Anniversary Illustrated Edition by Edith Hamilton

Crier's War by Nina Varela
The Song of Achilles by Madeline Miller

4) IT'S SECRET SANTA AT HOGWARTS, WHAT DO YOU MOST WANT TO RECEIVE?
I did a whole post about what I want from Hogwarts here so you know check it out if you want but I have always wanted to have Wizard's Chess. I would love to learn how to play and it look so fun plus it smashes stuff which is AMAZING!!

5) YOU GET TO THE SPEND THE DAY WITH THE CHARACTERS AND MOVIE ADAPTATION ACTORS FROM ONE FANDOM, WHAT DO YOU PICK?
Not to be all about Harry Potter but Harry Potter. All the characters and actors look amazing. Plus I could ask so many questions like 'what is Hogwarts like?' 'Can I have magic?' 'It is nice to eat a chocolate frog?'
) WHAT FICTIONAL ANIMAL WOULD YOU LIKE TO REPLACE RUDOLPH AND BE ABLE TO MEET ON YOUR ROOF?
Without a shadow of a doubt, Toothless from How To Train Your Dragon. I love him so much and actually want to cry when I remember he isn't real. So it would be a dream come true to meet Toothless. I wouldn't even care about meeting Santa if Toothless was there.
He's adorable… look at him….*cries because he is perfect* (I'm very emotional about this dragon)

7) YOU INVITE 10 FICTIONAL CHARACTERS TO YOUR NEW YEAR'S EVE PARTY, WHO DO YOU PICK?
Oh wow I am having a New Year's Eve party that doesn't sound like me at all and inviting people… very unlike me again but I would invite….
Luna Lovegood
Wylan Van Eck
Adam Parrish
Aristotle
Dante
Izzy O'Neil
Nikolai
Thorne
Cress
Tom Riddle (oohh… plot twist– it would be interesting to see how he would react to it all)

8) WHAT CHARACTER WOULD MAKE A GOOD SANTA (DOESN'T HAVE TO BE APPEARANCE, PERSONALITY COUNTS TOO)?
Well Santa's personality would be caring, giving, organised, selfless, strong and a leader so I am going to say…. Hermione. I feel like she would rise to the task easily and be able to solve any issues that come up. She would be a great leader by being strong and thoughtful. Plus she would genuinely care about making sure everyone gets a gift.  C'mon, you know there is nothing Hermione can't do and she is a Gryffindor so red is already her colour.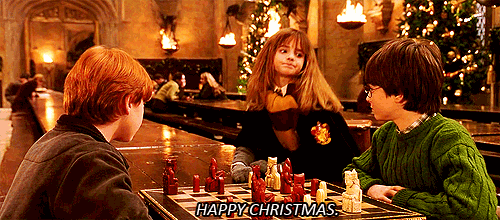 ---
What fictional character would you want to be under the Christmas tree? What characters would be at your New Year's Eve party? Which fictional character would be a great Santa Claus stand-in?
Also tell me if you love Toothless in the comments!