BEN GALLEY ULTIMATE BLOG TOUR
Hey everyone!!
Today I have a very exciting post as part of the Ben Galley ultimate blog tour *screams with excitement*
This blog tour was organised by Dave from @The_WriteReads which is an amazing online community which you should definitely follow. Thank you so much for organising this which it is the biggest book tour in terms of number of blogs ever which is amazing. It includes 4 different books by the author Ben Galley. Follow @WriteReadsTours on Twitter to keep up to date with the #UltimateBlogTour.
And thank you so much to The Write Reads and Ben Galley for sending me the ebook to review. Quotes are taken from this ebook. But of course all the thoughts in this review are my own.
The Written: Book one of The Emanska Series

His name is Farden.
They whisper that he's dangerous.
Dangerous is only the half of it.

Something has gone missing from the libraries of Arfell. Something very old, and something very powerful. Five scholars are now dead, a country is once again on the brink of war, and the magick council is running out of time and options.

Entangled in a web of lies and politics and dragged halfway across icy Emaneska and back, Farden must unearth a secret even he doesn't want to know, a secret that will shake the foundations of his world. Dragons, drugs, magick, death, and the deepest of betrayals await.

Welcome to Emaneska.
Here is the Amazon link to this book.
Content Warnings:

violence, death, drugs.
My Review
This book was Galley's debut book that he self-published and I thought it was impressive for this. This book has many good qualities. First of all it says 'follow the dragon's' and that is the type of energy I want it my life. Also it involves tattoos with magic, can I have one please? And I do love a good mission to save the world. Can we just appreciate that this book includes werewolves, vampyres, dragons, magick, a cat and more. I am living for all of this.
This book is an epic dark fantasy with themes of violence, war and magick. In this book we follow, Farden, who is a member of The Written which is an elite fighting force who are trained in terms of fighting and magick. I found The Written to be a very interesting group of people which you get to learn more about throughout this book. Not only was how they got their powers interesting but I found them to be very developed in terms of how the world treated them and how they worked and adapted. They are described as incredible warriors who are capable of lots danger and destruction.
"A written walked with a certain self-assurance; a swagger that only a living weapon can sport."
Due to certain events, which the opening scene immediately sets, Farden is called upon to navigate the situation and to stop war being inflicted on Emaneska. This is no small mission with plenty of monsters, dragons, distrust and lots of danger.
The Writing
"A blank canvas for tomorrow to bleed all over."
The writing throughout this book guided you through the world where you could easily be immersed in all the details. The writing was effortless to read as it easily flowed from one point to the other. As this was a debut I thought the writing was impressive with the way it was put together and how well it kept your engaged with the story. I thought it reached a high standard and as you can see below it had some beautiful quotes.
"The early sun has a habit of stealing the memories of dreams from the mind, as if they are too dangerous to hold onto."
I would say that for me, the pacing was off and that the beginning could have progressed a bit faster but it did allow for there to be lots of details which got you absorbed. I found that closer to the end the pacing had sped up and I read it faster wanting to get from one point to the other.
The Plot
The plot has plenty going for it with high stakes, as mentioned before I would have liked a faster pace, but it still had lots going down especially near the end. I find books which tackle subjects like war and conflict have to handle them quite well which I felt this did. It touches on many things such as the weight of words, betrayal, tricky relationships and how war should try to be avoided at all costs.
"'You can't hammer a nail with words'… 'No but you can start a war with them'"
The plot also had plenty of character development which I do like to see. It also dealt with a mystery element as you were wondering who caused this situation– it has some predictable parts but other bits were able to catch me off guard. So overall I would say it was a good reveal. Even if it did enter a bit of a villain monologue at one point.

The Characters
As I have mention we follow Farden, a member of The Written but as you explore more and more of his character, you get to see that he more than this dangerous warrior. He is one of the best Written there has ever been and he does all his work alone. Although he is very powerful this didn't stop him from having obstacles to overcome. You get to see him grapple with his uncle's violent past and what it means to him, as well as dealing with drugs and of course trying to stop this war. I think you get to see him grow over the space of the book and deal with his own issues which was really nice.
"I am not becoming someone different, I am simply getting to know the person I already am"
They were plenty of secondary characters but it was written clearly so you didn't confuse them which can sometimes happen in fantasy. I really liked some of the secondary characters and wished we got to see more of them in fact. Farfallen the dragon (yes a dragon) was a wise character who navigated tricky situations well. Opposite to his Siren, Svarta who I thought was an interesting character who was bitter and angry with past hate. I think she can bring a lot to the plot and can even have a lot of growth. I liked Durnus, the vampyre, he was a fun character and he and Fardan had a great relationship. Elessi who only played a small part in this story but I think she is a nice contrast to the world and I really enjoyed her character, if only we got to see more of her (but I suspect I will in the stories to follow).
A few of major secondary characters I was unfortunately less interested in but they did play an important part such as Cheska and Vice. For me, I wasn't connected to these characters so I wasn't invested in their relationship with Farden and their scenes weren't my favourite but not without there good parts.
Overall
//⭐⭐⭐.5//
This was a great debut novel which had many good elements that would appeal to fantasy lovers and this was just the first in the series. I feel like this was just the beginning of this story and it had laid out so much potential for the rest of the series. I would have liked more to have been covered in this first book but it was still a very enjoyable read. This book also demonstrated Galley's clear talent for writing and world-building so I imagine his later works show this even more so definitely an author worth checking out.
About The Author
Ben Galley is an author of dark and epic fantasy books who currently hails from Victoria, Canada. Since publishing his debut The Written in 2010, Ben has released a range of award-winning fantasy novels, including the weird western Bloodrush and the epic standalone The Heart of Stone. He is also the author of the brand new Chasing Graves Trilogy
Twitter: @BenGalley Website: www.bengalley.com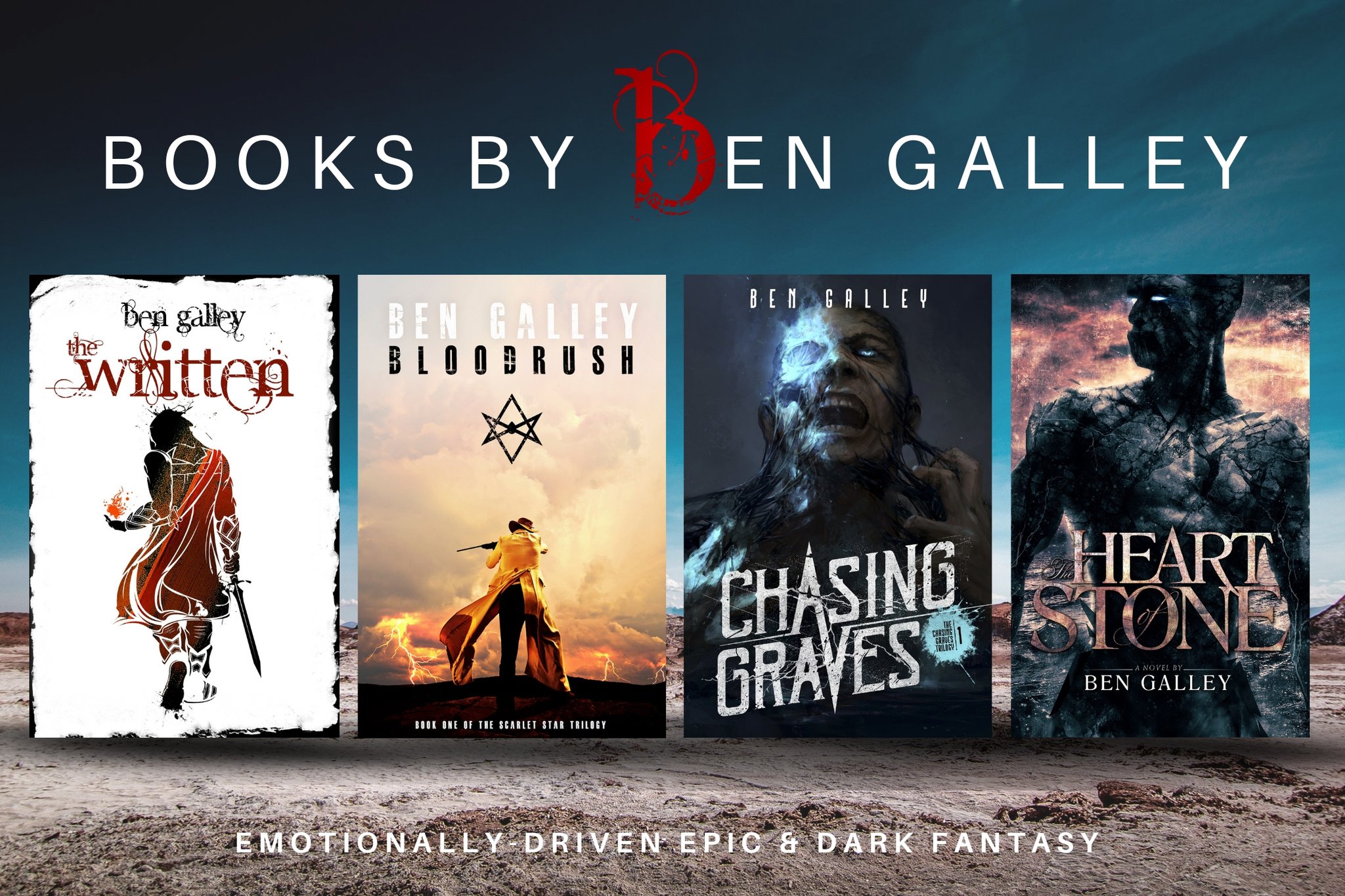 Thank you for reading and be sure to follow all the socials to keep up to date with the ultimate blog tour.
CHECK OUT ALL THESE OTHER BLOGS TOO
---
Have you read this book? If so, what did you think? Do you want to read this book?
What are some of your favourite fantasy books?