Hey everyone!!
I recently read 'The Poppy War' By R. F. Kuang. And I had some thoughts and I am going to share them with you all in a SPOILER-FREE review.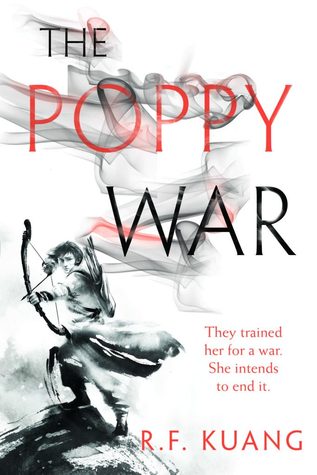 This is book 1 in an adult historical military fantasy series. It was released in May 2018.
I did this as a buddy read with Becky @ Blogs of a Bookaholic. Thank you so much for the buddy read and please check out her review of it here.
CONTENT WARNING

S: Gore//Violence//Drug Use//Sexual assault//Self harm//Genocide// [This book is heavy and involves vividly horrific scenes. please be aware before reading]

Brief Synopsis:
In this story we follow Rin, a peasant girl who ends up going to the most elite military school in Nikan. Nikan's history is full of war and pain, as Rin learns all this at her school, she also learns how her differences make the school experience all the more difficult. However she ends up learning about the mythical art of shamanism which can help her get through school and might even help her in the third poppy war which seems to be getting nearer by the minute.

But, what you are willing to lose to win– is losing your humanity worth it??
Interesting Fact about The Poppy War: Although this is a fantasy series it is inspired by historical events that took place in 20th century China— including the Second Sino-Japanese War which was primarily between the Republic of China and Japan during 1937-1945. It is even inspired by the Opium wars which are a part of Chinese history. Kuang studied Chinese military strategy and more meaning she is well educated in the topic and this was reflected in her writing. 
REVIEW
The Plot
"THIS IS NOT THE TIME FOR HEROISM. THIS IS WAR."
As the title suggest this is about war and it is a very good military book. With Kuang's storytelling she was able to capture many aspects of war. From the anguish, internal conflicts, why people would commit terrible acts, the extremes you will go and how it can bring people together and apart on the same side.
War is full of epic battles, clever planning and dangerous fighting but it is so much more. It's long and emotional where you go through many different phrases of succeeding and losing if you can call it that. This is a plot-led story but I think Kuang did a good job at putting the characters feelings central as well— covering what war would do for the individual. You see how far are they are willing to go and it brings to question how far should they go. It was brilliant at showcasing war– it was hard and heartbreaking and powerful. It didn't romanticise it at all and I loved that— it wasn't about finding hope and nurturing it to win the war but about surviving and even vengeance.
"WAR DOESN'T DETERMINE WHO'S RIGHT. WAR DETERMINES WHO REMAINS."
The book is split into different parts and the first part is slower than the other two as you are building the world and getting to know the characters and history. I preferred the second and third part as it really got into the story and the war. But the beginning is essential as talks about important things and I still enjoyed it. I just preferred the other parts.
This is Chinese inspired fantasy. And the world was wonderfully built. The author knew exactly what this world was and where her characters fit in. You really got a feel for the places and it felt a rich country with lots of history and talk about an old, forgotten religion. All I can say about the world building was that it was excellently done.
The Characters
You go on a roller-coaster with these characters (every character develops so much) and I'm not going to describe why because of spoilers. But you go from liking them to not liking to understanding them. It is definitely a journey and it certainly requires good writing to make you go through this.
Rin: She was so determined and it was really inspirational. How she wanted something and she went for it. She made decisions and she was going to work for it. She was very head-strong and persistent. She had to work hard for good things and deal with a lot of bad.
"FEAR WAS IMPOSSIBLE TO ERADICATE BUT SO WAS THE WILL TO SURVIVE."
You definitely go on a journey with Rin, she is determined, fierce, intelligent, stubborn and the list goes on. She also had a terrible past. And as this book covers a few years I think it is great for seeing Rin's growth and changes– you can see the seeds that are planted and the internal conflict she goes through. She is definitely an interesting character to read about— she goes through many emotions which are reflected well in the writing. I also like how she was powerful and didn't shy away from that fact.
"I WILL DIE WITH FLAMES IN MY HAND AND FURY IN MY HEART."
---
Kitay: He is the kind one. And the teapot scene with him was absolutely ICONIC!! Also he was a contrast to Rin's life really and I do love it when you show contrast in a book. You could see how this affected their school experience and how they acted in the war, I thought it was really interesting.
"WHAT A DIFFERENCE AN ACCIDENT OF BIRTH MADE"
---
Other characters: I don't want to name them because I think readers should experience these characters first-hand. But, anti-heroes are present in this book for sure "XXX was a commander who would burn down the world to destroy his enemy" which made sense given the circumstances and honestly I still not know what to think of some of the characters but I think that shows that they were well written and were such rich, complex characters.
My Personal Issues
Lots of information: you get a lot of action and a lot of information. Sometimes I got slightly confused and it would have been nice to see more of the characters at parts.
Characters are all morally grey which can make it hard to root for someone but saying that it suited the fact that it was a military based and added to the complexity but I like to have that character I am rooting for completely. I appreciated it though, I just wasn't sure I really loved it

(personal opinion).
Overall
//⭐⭐⭐⭐//
I would rate The Poppy War four stars as it was excellently put together and I really recommend it to readers especially if you like military books which have lots to offer to the reader. But it didn't have that 5 star feel as it is a heavy book and I missed having the character I was really routing for but that is down to personal preference really. I am intrigued to see where this series will go.
---
Have you read The Poppy War?? What did you think of it?? Is it on your TBR?? What is your favourite military based book??