Hey everybody!!
I finally did it. I read The Seven Husbands of Evelyn Hugo by Taylor Jenkins Reid after so many people talked about it and *drumroll* it did indeed live up to my expectation.
So let's talk about it…. and what made it so good because I am going to tell you right now, it was a 5 ⭐ read for me.
This post is spoiler-free but it does include quotes and talks about themes/character qualities.
CONTENT WARNINGS

: Domestic abuse, alcoholism, mention of drugs, death of a parent, cheating, sexual assault, homophobia, biphobia, mention of suicide.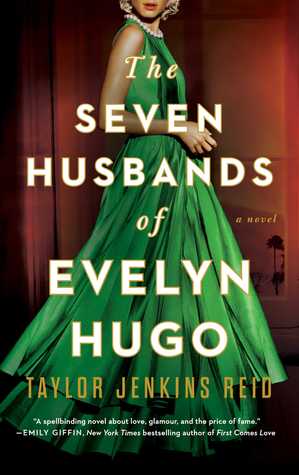 This book is about the life of a Hollywood actress. The full life. The full story. Which definitely isn't my usual read but because of how big the hype was I wanted to check it out. Anyway this is a story of fame, love and ambition. It was an interesting story but the way it was delivered is what made it a great story.

5 things that made this book SO good:
1. FAME!! (I'm gonna live forever)
Being famous is something I have always thought about, you know you wonder what is it like and wouldn't it be great to be adored? to be rich? You know if a child says 'when I grow up I want to be famous', it would be a typical answer and when you're a broke adult, you sometimes agree with that child.
And this book kind of tells you about the life of glamour and what fame takes from you so it kind of answers those questions. What I particularly liked about it was that it doesn't romanticise it at all which made it feel like a real insight into a famous person. You know the always wanting more, the need for praise, how much it can confine you. It shows it may look perfect but it certainly isn't. Reid touched on this in brilliantly composed sentences.
2. The Narrative!!
This story is told as someone interviewing Evelyn Hugo and she tells you her life story so as a reader you are following her life but you get a few parts where it's the interviewer's POV whether she is talking to Evelyn or living her life.
Obviously Evelyn's life is the main attraction of this story but I actually enjoyed Monique's (interviewer) brief parts because it show the impact of Evelyn Hugo. She was considered this Hollywood icon because of beauty, her films and the story with her husbands but when you get to know her she became a different kind of icon– one that empowered you and made you fight for what you want.
Also the foreshadowing in Monique's part was genius!!
Throughout Evelyn's story you get little newspaper articles that were about Evelyn's life at the time and I thought this was a great addition to the story. Media carries fame and it also carries a bunch of judgements (that are usually based on limited information or the most gossip-worthy lies) and we know Evelyn told us the truth so it was interesting to see how the media told it– you can see how media distorts the truth and misses out the facts. It also highlighted the way the media would talk about Evelyn— at the end of the article it says "We just hope Evelyn can get it right one of these days."– it kind of blames Evelyn for the downfall of her marriages and how could it possibly be the man's fault. I think it highlights the normalised sexism in society.
3. Evelyn Hugo's character
Throughout this story you can to learn about Evelyn's identity; Cuban, bisexual, woman, beautiful, mother. And then you got to see Hollywood's effect on it and it is so sad really. But I think Reid did a really good job at capturing them all and unfortunately the challenges that came with someone of them. At one point Evelyn said 'its like they put on tax on happiness', where to be happy and to be yourself it will cost you something. Reid had the ability to capture it in a sentence at times you know how she talked about how being a woman and a mother were mutually exclusive.
And of course being a woman was a big thing as basically it is a big bundle of double standards but I really love the way Reid showcased sexism and how people treated Evelyn. You know it was very normalised and Evelyn was interesting in how she used this built-in gender norms, she broke them but she also used them to her advantage.
One of the most admirable traits of Evelyn was her determination and her ambition. She didn't back down when it got too hard or it wasn't what she was supposed to do. I love this quote (below) because it shows who Evelyn is and I think the notion that someone would never want you to change is a special kind of love.
4. IT'S A LOVE STORY.
Love stories are great because people always talk about it and it never gets boring. The fact that it occurs so often and it is always different is practically a miracle. The story was more of a love story that I thought it would be but this is a story will many highs and lows. It covered many aspects and it was never a break and make up. It was complicated and messy. I think the fact that the book covered a large amount of time really helped to capture it. You go on a journey with the characters and watch as they realise things and sacrifice things and as they grow. 
5. Complex Characters
We are always on about flawed characters as it is a strong point for stories. Complex characters are real and interesting. I think Reid did an excellent job at making many complex characters and it makes them all the more lovable. She developed flaws around their good traits and put the characters in situations that pushed their relationship or their flaws. Even with the characters you don't particularly like, they weren't a walking list of bad qualities there were just as complex because people are rarely just one thing. I think this story really showed how anyone can be good and bad and no one's life is perfect. 
For all the (many) things I have just talked about is what made it a great book and I really do recommend it and whilst reading it I was like Monique "I welcomed the excuse not to go back to my own life for a little while"  and after all… that's what all great story do.
RATING

: ⭐ ⭐ ⭐ ⭐ ⭐
---
Have you read The Seven Husbands of Evelyn Hugo?? Did you enjoy it?? Who was your favourite character??
Is is on your TBR?? Did you ever dream of being famous??