Hello everyone!!
♥Happy International Women's Day to everyone♥
So feminism is quite a big social movement that you see on the media and hopefully in society. It's the idea that there should be an equality of the sexes. And I 100% support this. For me feminism is about allowing people to be themselves freely instead of being boxed in to fit a gender. To stop putting rules and restrictions on how people should be and remove the built in system of oppression. To inspire change for the better. It allows everyone to be themselves and you get to choose who that is.
I can definitely say I am a better feminism now than I was in the past— you continue to learn or unlearn things and I am always ready to improve myself. A big cause of this would be the media through twitter, art, film, celebrities and of course books. So today I had written a list of 6 feminist books I would love to read (and I shall) as I am sure they will teach me things, inspire me and show me another perspective…
1. Promising Young Women by Caroline O'Donoghue
A fictional story following 26 year old Jane who is navigating life and getting involved with her married boss by the sounds of it. She also is an online agony aunt helping thousands of strangers with problems. But when it comes to her life it seems she doesn't follow her own advice. It sounds like a solid, average plot but what drew by attention is that it is described as gothic and darkly witty and emphasises being women in a man's world. So I am interested in reading it.
You can check it out on Goodreads here.
2. What would Boudicca do? By E. Foley and B. Coates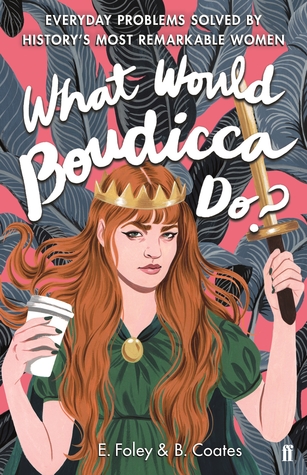 I was drawn to this book because of how unique of an idea it seemed. "It is time to start channelling the spiky superwomen of history to conquer today. It is time to turn to women like Frida Kahlo and Josephine Baker, Hypatia and Cleopatra, Coco Chanel and Empress Cixi. In this irreverent guide they will help you figure out how to dispatch a loverat, back yourself, kill it at work and trounce FoMo." So it seems to be a guide to help you through life using amazing women from the past. I mean does that sound good or what? And it has some illustrations in which I always love.
Check it out on Goodread here.
3. Bygone Badass Broads by Mackenzie Lee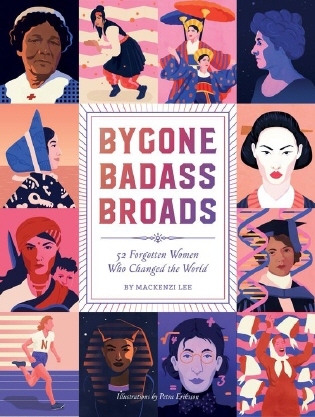 I love alliteration and this title is perfect for that. And what's inside sounds amazing too. It is a book about 52 forgotten women from all over the world (big yes from me) in history who were remarkable and need to be remembered. Written by Mackenzie Lee who has written popular YA books gives a humorous storytelling whilst celebrating who these women were. And to top it off it has more beautiful illustrations inside. Sounds good, right?
Check it out on Goodreads here.
4. Good Night Stories for Rebel Girls by Elena Favilla and Francesca Cavallo
A children's book which goes over the story of 100 amazing women from the past and present. Full of illustrations done by 60 different female artists across the country which I think is a lovely detail. I love finding out about different inspiring women and I think this is great for all ages and all genders. And the visual aspects of this book are absolutely gorgeous and it has been very well put together.
Check it out on Goodreads here.
5. The Female of the Species by Mindy McGinnis
And another fictional book that definitely explores darker themes. It is a YA contemporary which does cover rape culture (so trigger warning and trigger warning for animal cruelty as well I've heard.). The main character Alex use violence to get justice for what happened to her sister and other crimes against women which go unpunished. It follows two other teenagers as well. I want to read this because I've heard really good things about it– the way the characters are developed and the topics it covers but I also know people say it is a very brutal hard story so it might not be for everyone.
Check it out on Goodreads here.
6. Feminists Don't Wear Pink And Other Lies by Scarlett Curtis 
And last but not least, a book featuring many different women who wrote essays about feminism– and some of these women will be ones you know like Emma Watson, Kiera Knightly and Saoirse Ronan. It is talking about what feminism is like through personal stories. It sounds inspiring– telling people how they found their voice or how they dealt with the presence of sexism in society.
You can check it out on Goodreads here.
♥Thank you for reading♥
If you have read any of these books I would love to know what you thought to them. Do you want to read any of these books? Have you got any recommendations for feminist books that I can read?